Peter Kuper Crosses Donald Trump With Winsor McCay
New Yorker and Mad magazine cartoonist Peter Kuper and Sunday Press have created an 11" x 17" poster print of his classic reworking of a Winsor McCay strip from 1905, Little Sammy Sneeze, that parodies Donald Trump as Little Donald's Sneeze. All the proceeds go to benefit Feeding America.
The prints are $10 each plus $2 postage and handling US. Signed and numbered by Peter Kuper for $20 plus $2 p&h US. For orders outside the US, postage will be determined at checkout.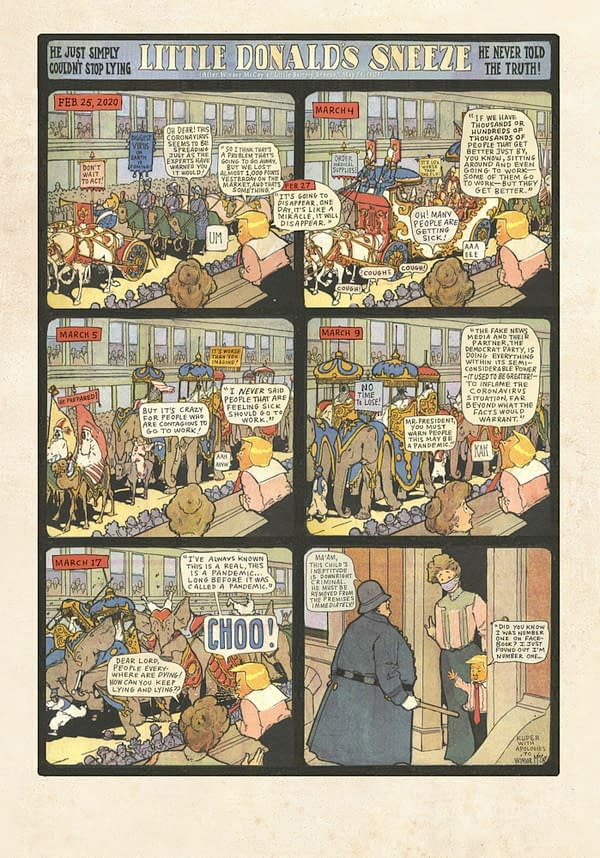 Little Sammy Sneeze was a comic strip by American cartoonist Winsor McCay. In each episode the titular Sammy sneezed himself into an awkward or disastrous predicament. The strip ran from July 24, 1904 until December 9, 1906 in the New York Herald, where McCay was on the staff. It was McCay's first successful comic strip; he followed it with Dream of the Rarebit Fiend later in 1904, and his best-known strip Little Nemo in Slumberland in 1905.
The strip followed a simple concept: in each weekly instalment, Sammy sneezes with such power that it wreaked havoc with his surroundings. His sneeze builds until its release with the onomatopoeia "Chow!" in the second-to-last panel. In the last panel he suffers the consequences[—being driven away by one of his victims, or often receiving a kick in the rear.
In contrast to Little Nemo, Sammy Sneeze was confined to a rigid grid and followed a strict formula: Sammy's sneeze would build frame by frame, contorting the protagonist's face until it erupted in the second-to-last panel. In the closing panel he suffered the consequences—often a kick in the rear. Sammy was inarticulate, making little more than mouth noises; the adults around him conversed, but in a monotonous manner that did not invite careful reading. Neither did he learn from his foibles nor grow as a character. Sammy takes no pleasure in the trouble he causes; rather, as the strip's header declares: "He just simply couldn't stop it."
McCay's artwork was finely detailed and highly accurate in its persistent repetition. He delved into modernist experimentation, shattering fourth walls and even the strip's panel borders. The panel-by-panel buildup displayed McCay's concern with depicting motion, a concern that was to culminate in his pioneering animated films of the 1910s, such as Gertie the Dinosaur.
Sunday Press Books released a deluxe 11 in × 16 in (28 cm × 41 cm) landscape-format hardcover volume called Little Sammy Sneeze: The Complete Color Sunday Comics 1904–1905 in 2007.