Pop Culture Rounding Up With Geof Darrow And His Shaolin Cowboy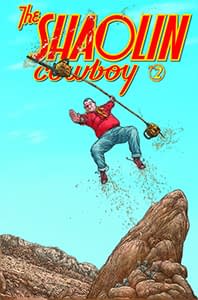 [audio:http://popculturehound.net/podpress_trac/web/2808/0/PCHPodcastEpisode64.mp3]
by Chris Thompson
Hot on the heels of my last episode with Riley Rossmo (which you can listen to here) and my recent film podcast (which you can listen to here) I bring the world of comics and film together with the legendary Geof Darrow (Hard Boiled, Big Guy & Rusty The Boy Robot, The Matrix) to discuss the long-awaited return of his Shaolin Cowboy from Dark Horse Comics.
We discuss his early years in advertising and animation; working with fellow legends like Jack Kirby, Jean Giraud (Moebius) and Frank Miller; his concerns about how people might interpret and view his work; plus his efforts to raise funds and awareness for PROTECT.
To get in touch, send feedback or submit projects for consideration, please email reviews@popculturehound.com. And if you missed last week's episode (or any others) you can find them right here or subscribe via iTunes.
You can also support the Pop Culture Hound podcast by clicking here to make a donation. Your contributions are greatly appreciated and will help us maintain the site, get new equipment, and encourage us to keep going on those cold lonely nights.
Chris Thompson's Twitter: @popculturehound
Orbital Comics' website: www.orbitalcomics.com
Geof Darrow's Facebook: www.facebook.com/geofdarrow
Geof Darrow's website: www.geofdarrow.com