Portrait Cards Of Comics Pros Celebrate Seth Kushner And Benefit His Family – Talking With Christopher Irving Of Graphic NYC
The Graphic NYC project was hugely ambitious in its inception, perhaps even more ambitious than its creators, Seth Kushner and Christopher Irving realized. Their goal was to photograph and profile, in essence, as many comics creators as possible, and ended up creating portraits the like of which no one had ever seen before and massive interviews that often ranged to several thousand words and more. It meant untold hours of work for the photographer and comics historian, and trumps the use of the phrase "passion project" we tend to throw around in the comics industry. This was so much more than a passion project, that it was an obsession project. And it was all posted online for free, an accessible data base celebrating the people behind the comics we love and admire. Eventually Graphic NYC spawned a print book, Leaping Tall Buildings, released through Powerhouse Books in Brooklyn, where Kushner was a native. The book was steeped in high production qualities and careful design, and also captured several members of the comics community who were no longer with us by the time the book was published, a testament to the importance of chronicling the development of the medium while we can.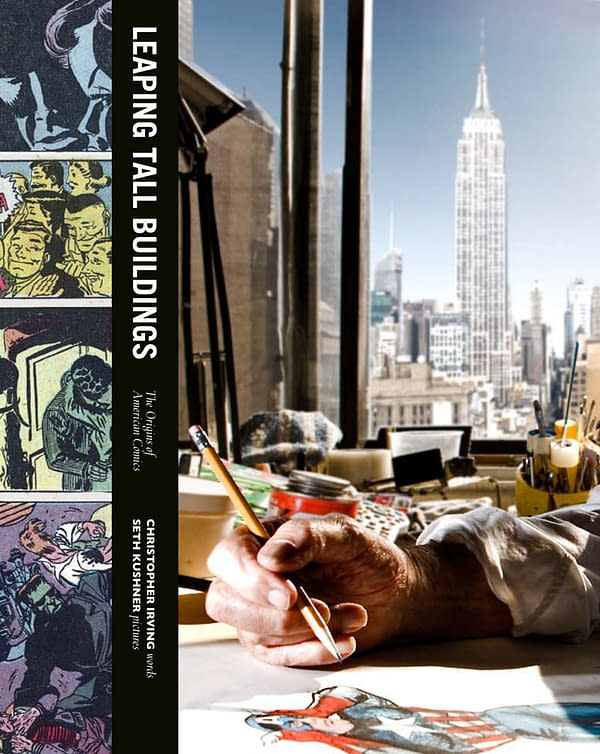 That all happened a few years ago. In fact, in my first year as a comics journalist, I hosted the Leaping Tall Buildings panel at New York Comic Con in 2012, and I struggled to even put into words how monumental the book was in terms of recording comics for our generation and for posterity. To sum things up more briefly than they deserve, the comics community lost Seth Kushner to a rapidly developing form of Leukemia this past May after a year long struggle with the deadly disease on his part. It was a struggle that brought a lot of people together through benefits to combat the massive medical bills Seth's wife and young son were facing, and also to think about how to spread his story and his work to the public more widely. Though Seth's transplant failed to cure him, he also experienced a somewhat miraculous recovery via alternative medicine and managed to spend 6 more months at home with his son and even with his friends, a time we will all continue to value. In that time he helped complete his successfully Kickstarted graphic novel Schmuck, releasing this autumn through Hang Dai Editions and Alternative Comics, and several comics scripts still in development.
But now we're also taking stock of his immense impact as a photographer once again. Someone who changed how we see comics creators and even how they see themselves. It's clear how Seth felt about his subjects from his photographs–he gave them the dignity and energy their work commanded in a way they probably never expected until they saw the finished product. Seth's studio imprint, Hang Dai Editions, and friend and collaborator Christopher Irving, who has recently been working on trading card projects, came up with the idea of creating limited edition trading card sets featuring some of Seth's most brilliant and personal photographs, having some of them autographed, and raising money by selling the sets through auctions and conventions in order to benefit Seth's wife Terra Kushner and their son Jackson. They are available now, and they will be available through various modes as the autumn rolls on.
I spoke with Christopher Irving to get the details and also hear some of the stories behind these photos.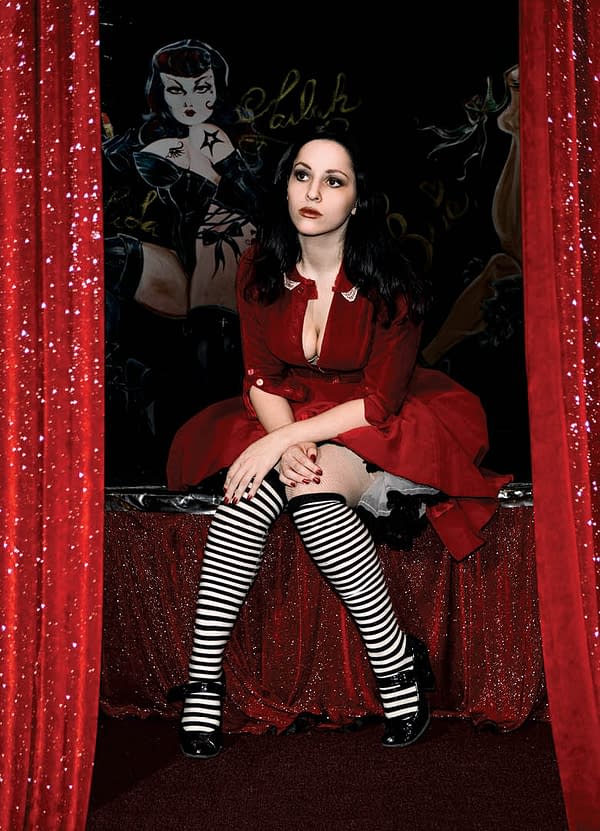 HMS: How many years did you and Seth Kushner work on the Graphic NYC project, and how many profiles do you think that you two did in that time?
Christopher Irving: Dean Haspiel hooked us up sometime in early 2008 and we worked from (maybe) June of that year up through mid 2013. Overall, I think we did about 70 profiles, give or take. Needless to say, I haven't written much about comics since because Graphic NYC utterly burned me out, in a good way.
HMS: How did you select the portraits to use for the 13 cards in the set given how extensive Graphic NYC and Leaping Tall Buildings became?
CI: My first thought gravitated towards the biggest names we had for the project, that also had some of the best and biggest portraits for Seth himself. Bendis was a huge one, as he's Seth's favorite writer, and the day we met up with Brian to shoot them–let's just say about 30 years disappeared from Seth and he was a kid meeting his favorite comics pro. So, Bendis had to be in there. Dean, being one of our best friends (and the reason behind our friendship) was a must. Molly Crabapple was also close to Seth and was one of his favorite portraits. Becky Cloonan was a good friend and neighbor, with such an atmospheric look to her pic (and let's not start on what a comics genius she is). Art Spiegelman was the piece that, I think, Seth may have been the most proud of: getting Art to agree to it was a huge (and crucial) win for the book. Chris Ware's photo was taken on our trip to Chicago and, again, was another huge win. Jimmy Palmiotti was such a cheerleader for us from day one, so he had to be in there. Larry Hama has been a hero for both of us since childhood.
I also decided that it was best to include people who would commit to signing a number, to further help sell packs and raise money. Not a single person turned me down for the opportunity, and I actually wound up with two more cards than originally planned because of it. I know that, if I kept asking, more people would have happily volunteered.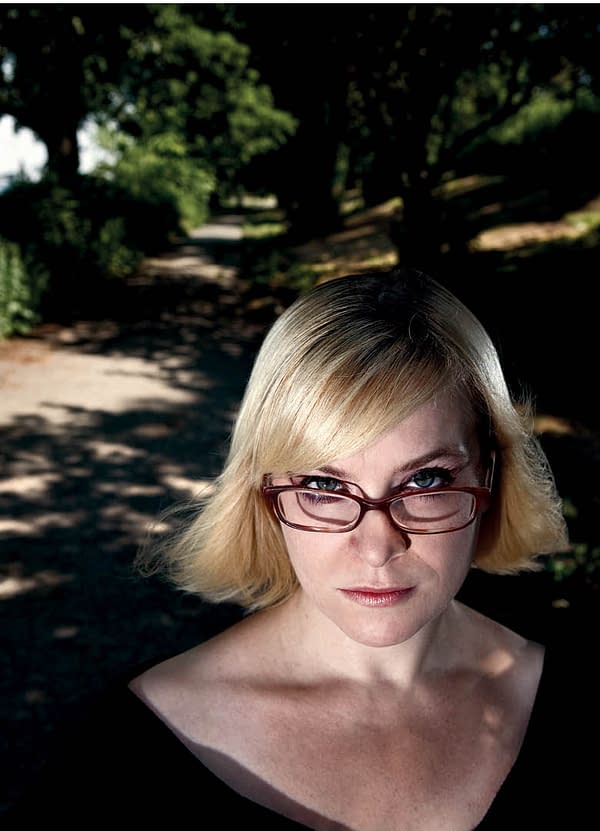 HMS: Do they have special resonance for those who knew Seth and for his family?
CI: The fact that so many of these creators were kind and open enough with their time to let us include them meant so much, as is. Each profile we did was a celebration of that specific creator, so having all 12 of these creators be part of a celebration of Seth and his work has, I feel, its own resonance.
The card that gets me most, as it stares out from my sorting trays (all packs are put together by hand), is the portrait taken of Seth by his dear friend Carlos Molina. It captures how handsome Seth really was, and also has this otherworldliness to it. HMS: Can you tell us the story behind some of these portraits as far as you remember them, in terms of creating that creator's profile or chapter?
CI: My ideal was for Seth to photograph and myself to interview separately, but that rarely happened, due to schedules and availability of the subjects. I wasn't there for many of the ones in this card set, however, and since I wrote each piece as differently as possible, that's a bit tough to say. What I can say though, is that I remember us photographing Brian Bendis outside the Flatiron and Seth clicking away with this sort of mad glee, and us having coffee with him during the interview, and just seeing the sheer happiness Seth had getting this time with Bendis. Seth was such a professional, yet he had this really cool enthusiasm about everything. But I remember that day as being the one time it was even hard for him to keep it in check. It was one of the best days we had on the project.
We had a great time with David Mack, who we talked with and photographed in a very cool noodle bar in the Village. That was one of the more chill times we had seeing a creator, and I think that came through in the copy (and definitely the photo).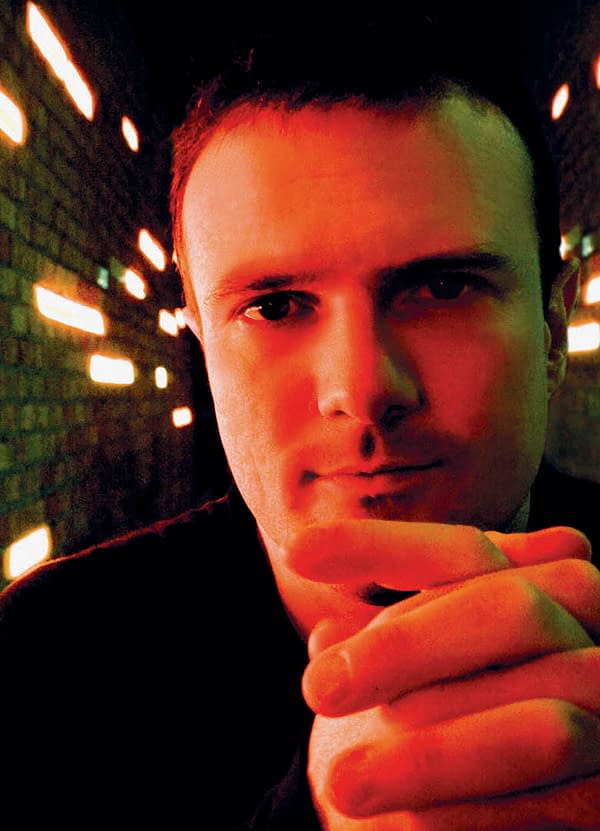 Scott McCloud was one of the best days we had together! We had lunch in Gowanus, near the comic book studio, and then Seth photographed Scott in one of the comics studios–after arming him with a piece of chalk and telling him to go crazy. Reilly Brown, who's still in that space, told me recently they still haven't erased that board, years later. When Scott was down here to speak at Virginia Commonwealth University, I passed that on to him; his response was that he was upset the chalkboard wasn't being used anymore.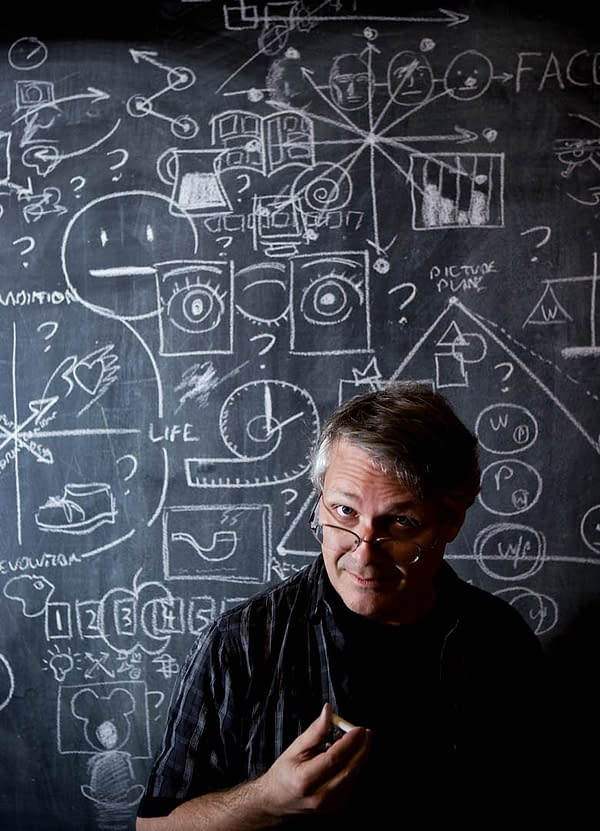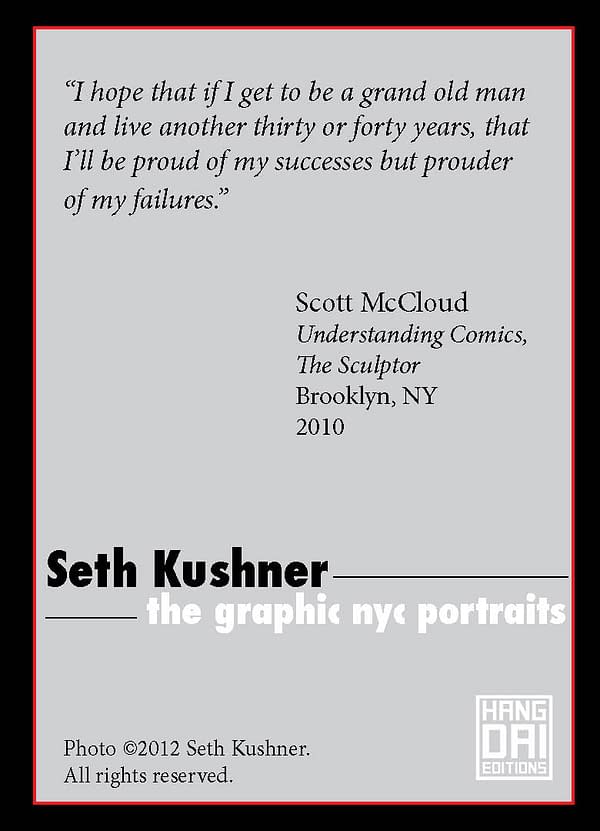 Both Alex Ross and Chris Ware were on our trip to Chicago. I held Alex's cup of Starbucks as we set up the photo a few times, and I remember him being nothing but Midwestern polite about it. Helluva nice guy, and a nice mix between an utter professional and a big comics fan. His photo has that iconic blue sky, like in his painted artwork, that Seth just nailed.
For Chris Ware, we accidentally showed up at his awesome Victorian house an hour early, and he and his family were so kind and welcoming. Chris was one of the most fun times we had on this whole project, and his portrait reminds me of the work of my favorite painter, Edward Hopper–there's a real comfort and atmosphere, yet a slight awkwardness that seeps in.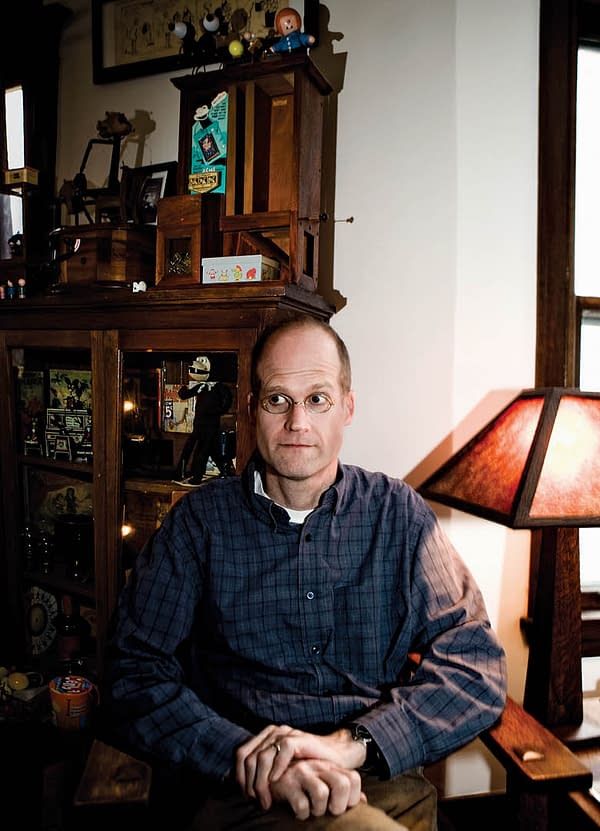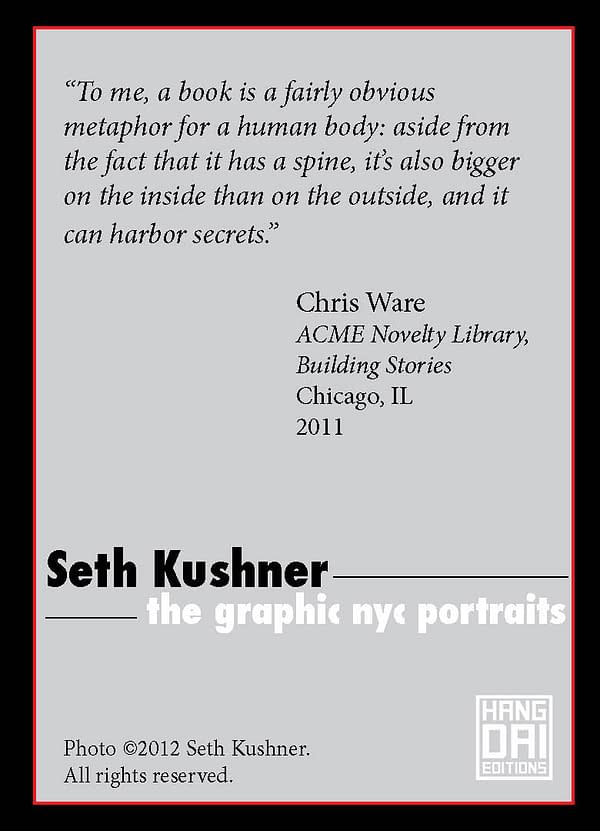 HMS: Though I know it's incredibly hard to describe, can you tell us a little about what you think makes Seth's photographic style so significant and unique?
CI: He had a very cool lighting technique, for starters, that I refuse to divulge here. More importantly, because Seth was such an unassuming guy, he put people at ease. I realized those years I was lucky enough to work on GNYC that was what made him such a great photographer: he was great with people as much as with a camera, and brought their defenses down for their portrait.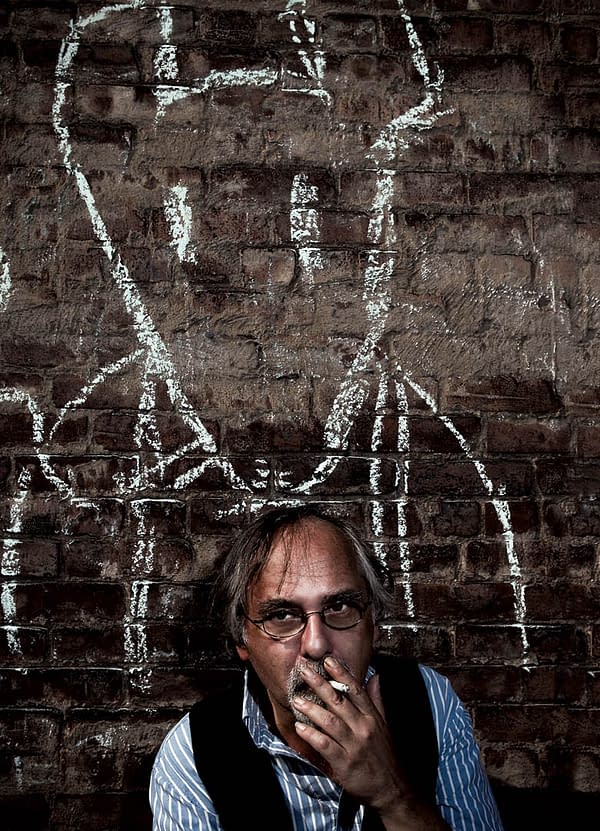 HMS: Tell us about the auctions that the autographed card packs will be featured in. How did that come about?
CI: There will be five fully autographed packs available for auction, which will also be the only way to get Neil Gaiman's autograph. The other subjects will be available there or through packs with their card autographed, which will be available at the cons. I'm looking at a limited number of single card autograph packs: likely 20.
We're still working on the auction side: there has been talk about a Seth benefit auction, I've also been chatting with the folks at Baltimore Comic Con, and that leaves a single fully signed pack that I have big plans for. Stay tuned.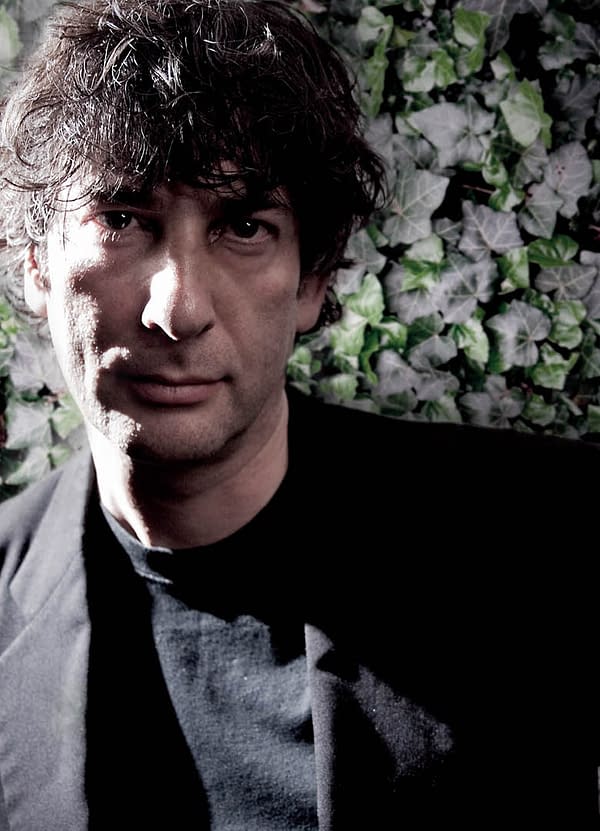 HMS: How will sales and proceeds be set up for the rest of the 500 print run packs? How can people find them and support Seth's family by purchasing them?
CI: I went ahead and set up a simple Paypal page for a limited number of packs just the other night, and have already been getting some orders. What we have left will debut at SPX in Bethesda, and what stays after that will go to Baltimore Con.
And, if we have to do a second run due to demand, so be it…
HMS: How did you come up with the idea of creating portrait card packs to celebrate Seth's work and help out his family?
CI: I'm shoulder-deep in the Madman Comin' Atcha 3D trading card Kickstarter project (Christian LeBlanc is currently working away on converting to 3D), had just gotten started designing trading cards for metal legends GWAR (they're here in Richmond, Virginia), and it felt like a natural way to celebrate his work and raise money.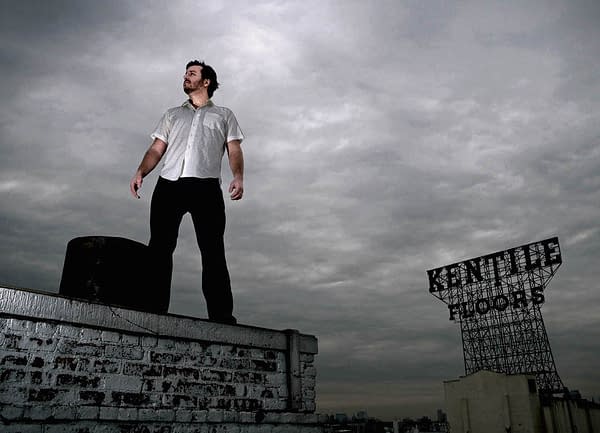 HMS: What's it like seeing them ready for distribution? Is it emotional for you?
CI: God, yes. If not for my friend and fellow comics scholar, Francesca Lyn (you'll be hearing more from her in the future) coming in to help me sort and mail cards, I'd surely have lost it. Also, my friend Richard Parks, who is an indy trading card publisher (he does Three Stooges, Basil Wolverton, and all other types of cards) has been my hero, as has my print broker, Karen Cowan of Iconix. This is literally the first shipment of trading cards I've ever gotten in, and they both held my hands while I waited.
Yes, there has been some crying here and there, but also this–
Look, I miss living in Brooklyn. For a little while, I had a chance to discover New York and meet many of the heroes I'd not yet seen with my best friend. Even when I do make it back up there, it won't ever be the same without him. Looking at these cards makes me remember how exciting this project was for us, and what an outright thrill making the book with him could be at times.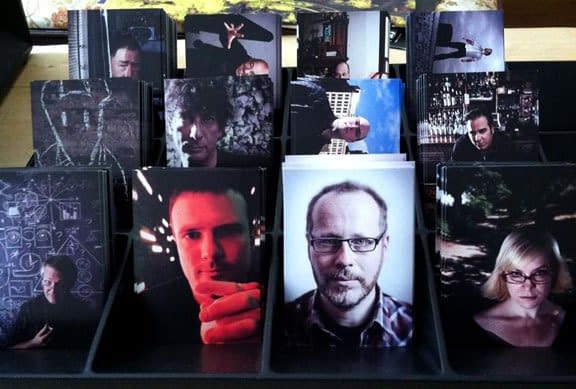 The Kushners also have a GoFundMe page, where you can also donate to help Seth's wife, Terra, out with medical bills and living expenses.
The cards will debut at Small Press Expo (Sept. 19-20) at the Hang Dai table (#w35) with Kushner's partners Dean Haspiel, Gregory Benton, and Josh Neufeld. The cards retail for $15 a pack, and $25 for a pack with a single creator signature.
The portraits included in the 13 card sets are:
Seth Kushner by Carlos Molina
Molly Crabapple
Art Spiegelman
Chris Ware
Dean Haspiel
Larry Hama
David Mack
Alex Ross
Becky Cloonan
Jimmy Palmiotti
Neil Gaiman
Brian Michael Bendis