With great power there must come great responsibility. Written by Stan Lee as narration in Amazing Fantasy #15, the first appearance of Spider-Man, later attributed to Uncle Ben, popularised by the Spider-Man movies and now turned into parody by the Deadpool movies. And Spider-Man's biggest motivating force in the comics – his inaction caused the death of his uncle and now he wikll never be inactive again.
And this plays out in four, count them, four Marvel Comics titles published today that I can find. Two written by Chip Zdarsky. There may be more. Let me know…
In Amazing Spider-Man #21, Spider-Man and Dr Curt Connor, the Lizard, have a stirring conversation about responsibility.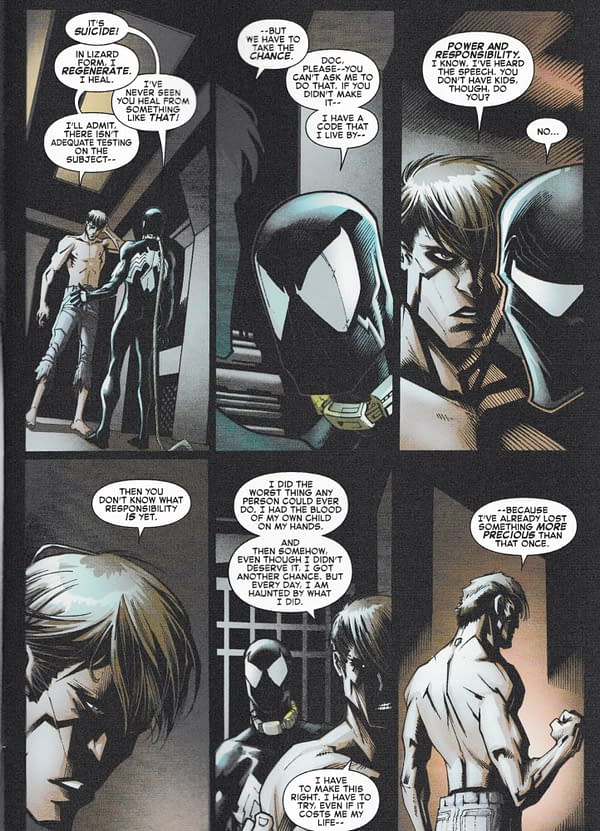 And yes, he doesn't have kids. Having kids does soething weird and primal to you, it turns self sacrfice into absolute second nature and will allow you to step into traffic to save your child without once caring for yourself. It also leads some to commit suicide, as long as the kids are supposedly taken care of. And that, it seems is where Dr Curt Connors is.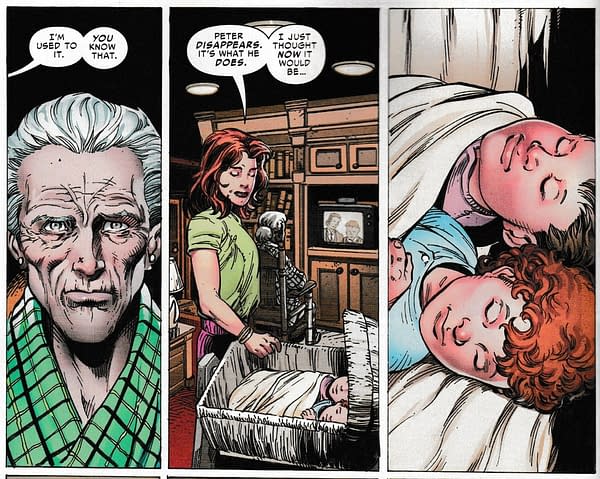 But of course this feeling isn't always universal. And in Spider-Man: Life Story, we have a Peter Parker who does have kids. but also has a symbiote. And, like an alcoholic, it is that which takes his attention. What price now, power and responsibility?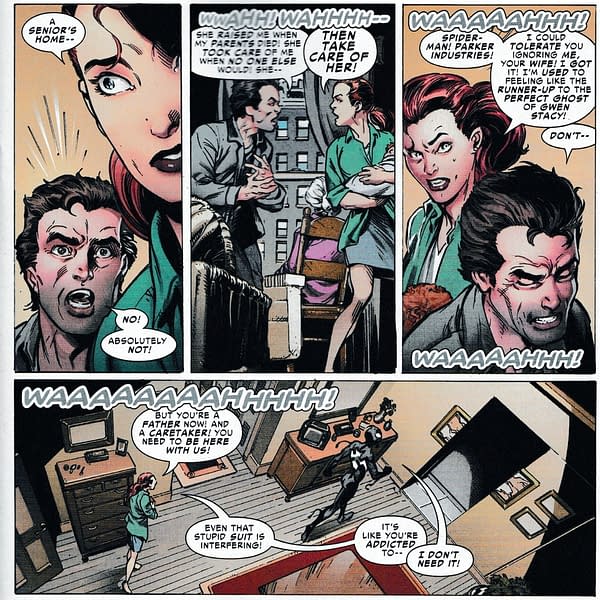 Playing out in real time, will he just… stop? That's his advice in Chip's other book also out today, with Daredevil now admitting that he has killed a man through his actions and reacting , well, in a very responsible way.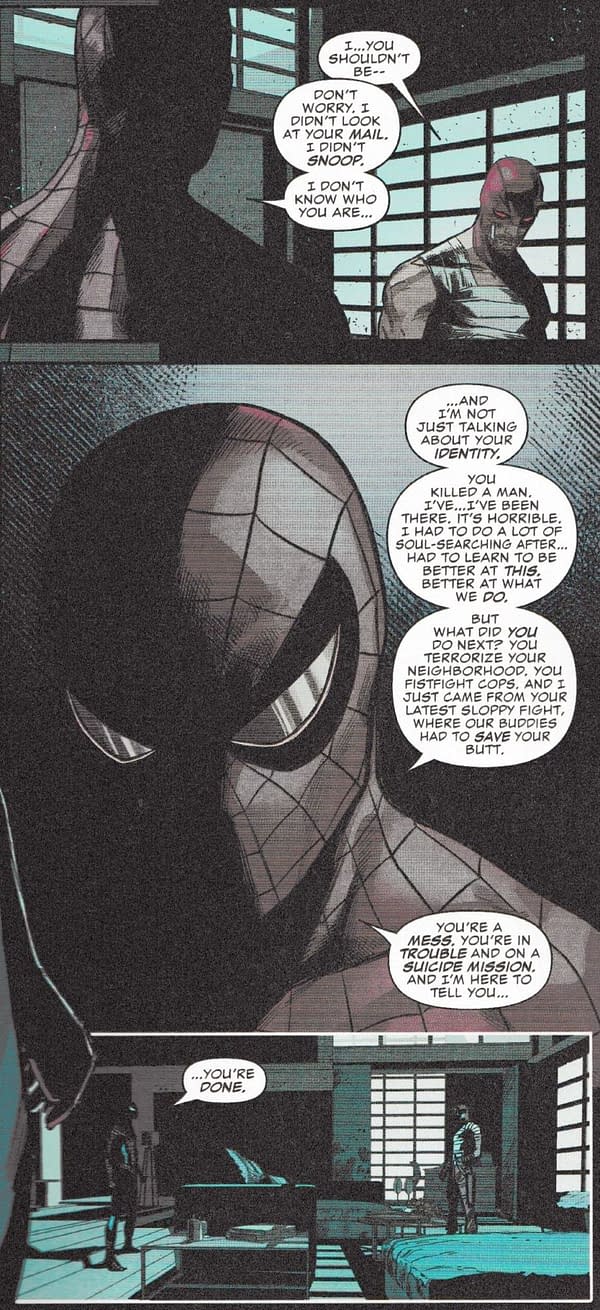 It's time for Spider-Man to speak truth to powers….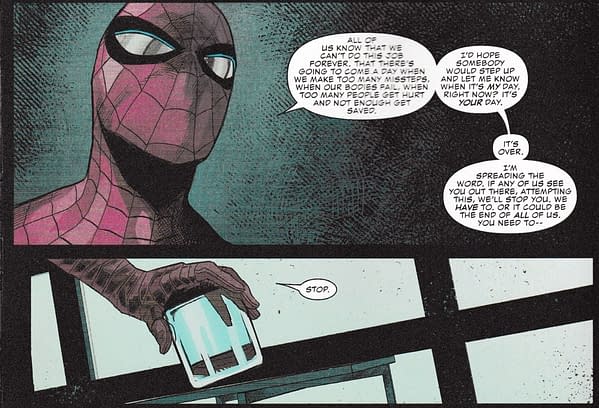 This is what he does to a devil.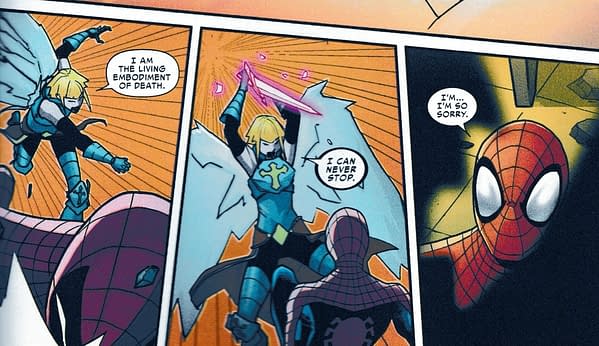 And, with a rather brighter pallette, he does a similar thing with an angel, over in The War of The Realms: Spider-Man & The League Of Realms #1.
With great power, there must come great responsibilities. And, it seems, accountability…
AMAZING SPIDER-MAN #21
(W) Nick Spencer (A) Gerardo Sandoval (CA) Humberto Ramos
THE CLIMACTIC CONCLUSION OF "HUNTED" IS HERE!
• Spidey faces an impossible situation that will push him as far as he's ever been pushed.
• Who lives and who dies when the hunters become the prey?
Rated T In Shops: May 15, 2019 SRP: $3.99

DAREDEVIL #5
(W) Chip Zdarsky (A) Marco Checchetto (CA) Julian Totino Tedesco
• Accused of murder, Daredevil has been on the run trying to prove his innocence. But even he can't outrun judgment forever.
• Don't miss the explosive finale of Chip Zdarsky's first arc of DAREDEVIL!
Rated T+ In Shops: May 15, 2019 SRP: $3.99

SPIDER-MAN LIFE STORY #3 (OF 6)
(W) Chip Zdarsky (A) Mark Bagley (CA) Chip Zdarsky
THE REAL-TIME LIFE STORY OF SPIDER-MAN CONTINUES!
It's the 1980s and Peter's life gets upended with wars both global and secret. And death stalks him at every turn. With a family and a world to protect, can he save everyone before it's too late?
Rated T+ In Shops: May 15, 2019 SRP: $4.99

WAR OF REALMS SPIDER-MAN & LEAGUE OF REALMS #1 (OF 3)
(W) Sean Ryan (A) Nico Leon (CA) Cully Hamner
WAR OF THE REALMS TIE-IN!
• In order to win the War of the Realms, we need a LEAGUE OF REALMS!
• Thor once led this team with one representive from each fantastical realm, but the League has a NEW leader and representative of Midgard- SPIDER-MAN!
• Spider-Man must Frodo-Up and lead this ragtag group of SCREWBEARD THE DWARF, UD THE TROLL, RO BLOODROOT THE WIZARD, SIR IVORY HONEYSHOT THE LIGHT ELF and TITANYA THE MOUNTAIN GIANT! But who will represent ASGARD?!
• And, as Spidey is a terrible leader, could this team possibly achieve ANYTHING?!
Rated T In Shops: May 15, 2019 SRP: $3.99
Enjoyed this article? Share it!