Darran Robinson is the Associate Art Director of Periodical Covers at DC. As he says on his Twitter bio, "any opinions shared here, however misguided they may be, are my own and not representative of my employer." But he does share little slices of his work and process on Twitter that are often, basically, fun.
Every time @TomTaylorMade and @Ben_Abernathy put out a new DCeased comic there's a "movie poster homage" and I get to take the art work supplies and add the text etc to make it feel like the original poster. Here's the V for Vendetta one!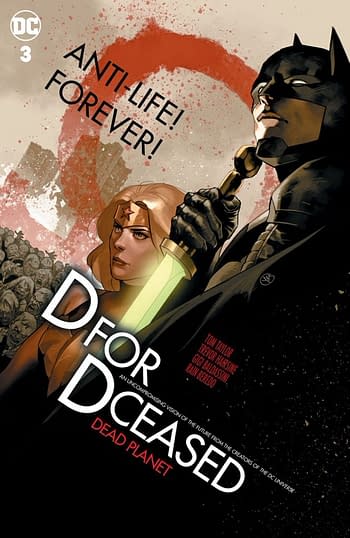 New Flash out this week! I got to have a little fun with the logo and the cover copy on this one! #theflash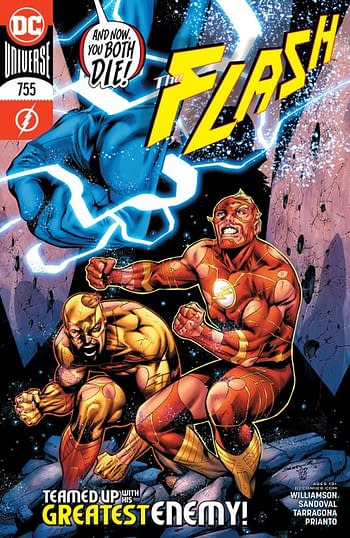 You see? Fun. But he also shared one tweet that has been since deleted;
Last year my design for The Batman Who Laugh's logo got chosen and he was the biggest new character of that year. I just got another new logo approved…for what I think is DEFINITELY the biggest new character of THIS yeah! I'd tell a joke but I always forget the…
A new logo for Punchline? Say, you don't suppose that, like The Batman Who Laughs, that she is getting a comic book of her very own?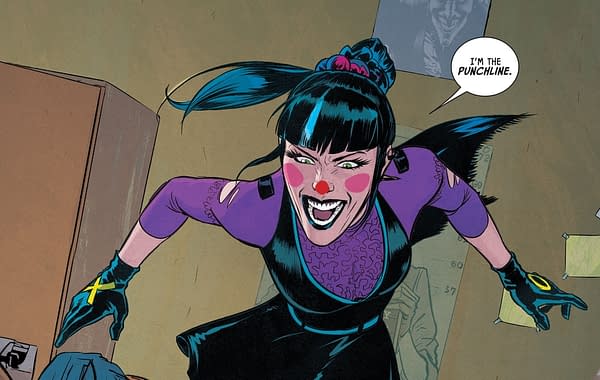 Created by James Tynion IV and Jorge Jimenez, Punchline first appeared in Batman #89, dubbed the Princess Clown of Crime and Joker's new partner. Real name Alexis, she was a student at Snyder College (appropriated. Tynion was a student of Scott Snyder). She was infatuated with The Joker and he helped her perfect her own Joker Venom, experimenting on the homeless before using it on her own dean. Hired as a new underboss by The Joker in lieu of his coming war against Batman, she was first was assigned for a stake-out on Catwoman who had gone to dig a Joker-lookalike corpse, informed the Joker, held Mercy Graves hostage while Joker dealt with Lex for using the help of The Batman Who Laughs, and in the recent Batman #92, encountered Catwoman and Harley Quinn while working with Underbroker and fights the latter. More to come…
Enjoyed this article? Share it!