Quicksilver: No Surrender #1 Review – A Brilliant Character-Focused Comic
[rwp-review-recap id="0"]
Quicksilver, with the help of Scarlet Witch, barely destroys the sphere that has frozen the world's heroes. However, whatever reaction from destroying this sphere has left the world frozen to Pietro Maximoff. He has saved the world, but he is now alone. But what if he's not alone? What if he has company, but it's not human or friendly?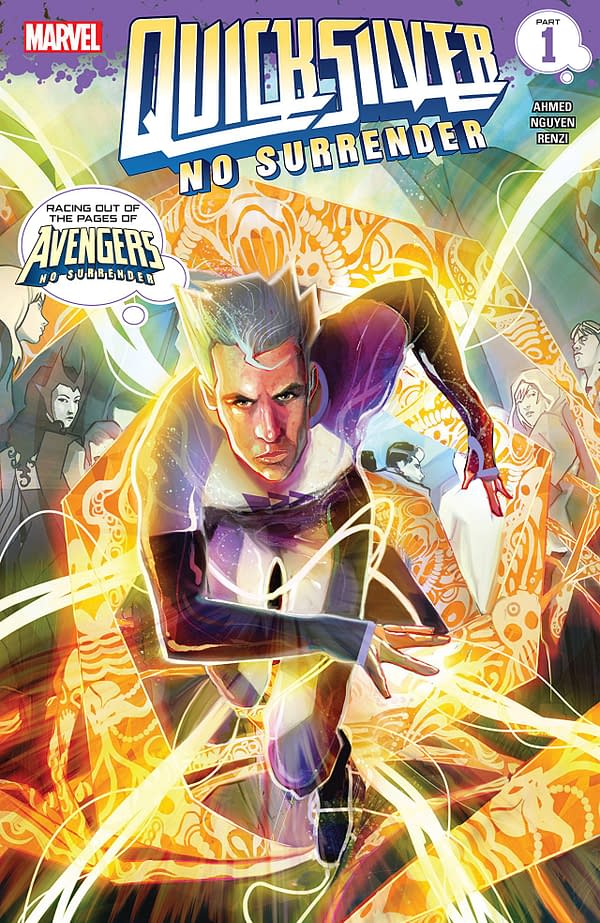 Quicksilver: No Surrender #1 brings an interesting adversary to someone with an ego like Pietro Maximoff: solitude. The condescending and arrogant speeding Avenger must cope with the fact that he cannot interact with another person at this time, and he has no idea how to relieve himself of this situation.
Saladin Ahmed focuses on the interiority of Quicksilver primarily in this comic. There are funny moments where Pietro decides to humiliate his father and his Avenger rivals. He tries things he's never been able to do with others constantly around like timing himself running the Great Wall of China. However, this is all only putting off him dealing with the fact that he is totally alone in this state.
The threat that arises at the end is mysterious and vague, but it does have interesting potential as an existential threat to compound Quicksilver's loneliness.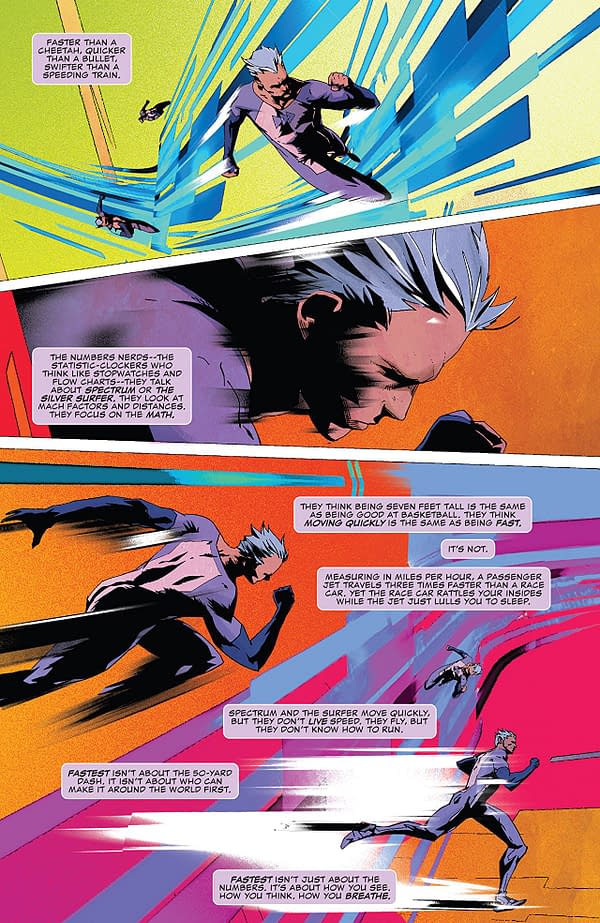 Eric Nguyen's artwork makes all of this even better. It is a heavily textured, lightly detailed, and dynamic style which highlights the speed and movement of Pietro incredibly well. Plus, the world around him speeding by as a blur looks gorgeous too. This all works wonders with the color art of Rico Renzi, which gives a vibrant, heavily contrasting, and at-times wild palette of vivid colors for the book.
Quicksilver: No Surrender #1 starts off on the right foot with a ponderous and self-reflective issue for Pietro Maximoff. Ahmed, Nguyen, and Renzi provide a compelling conflict for our hero with brilliant artwork and stunning color. This one gets a strong recommendation. Give it a read.
[rwp-review-ratings id="0"]
[rwp-review-form id="0"]