R.L. Stine's First Graphic Novel, Just Beyond: The Scare School, Has Advance Sales of 200,000
Last year, we learned that R.L. Stine – one of the biggest authors in America, having created Goosebumps and Fear Street – signed a four book deal with BOOM! Studios to create his first ever original graphic novels under the Just Beyond banner.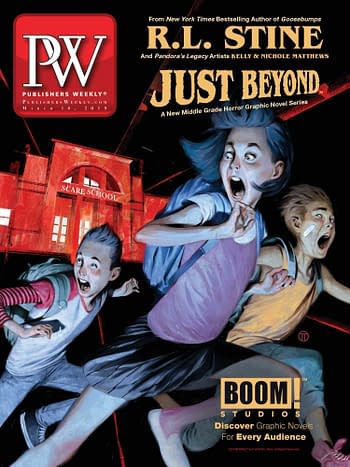 And now we know that Just Beyond: The Scare School, the debut graphic novel in the series, has already sold over 200,000 copies – well before it releases everywhere books are sold on September 3rd.
It's been clear that BOOM! Studios has been putting a lot of muscle behind this book- spotlighting it for key librarians at ALA Midwinter, taking over the cover of Publisher's Weekly (right), releasing a sizeable first look at the debut book, Just Beyond: The Scare School and bringing R.L. Stine to BookExpo in NYC later this month to meet with fans who pick up an advance copy of the graphic novel.
This is the biggest graphic novel launch in the company's history – it could rank as one of the biggest graphic novel releases by any American comics publisher.
I mean, Asterix gets five million. But that's the French for you.
But given this is the company that's sold over 1.5 million copies of Lumberjanes, over a million copies of Giant Days and over a million copies of Mouse Guard, expect that sales number to grow even more by the end of the year.