As a serious Superman collector myself, I've wanted one of the three known copies of this Superman Comics Ashcan ever since I started reading Gary Colabuono's articles about the DC Comics ashcans in the mid-1980s. Historic, incredibly rare Superman? Sign me up. As a matter of fact, I made a point of checking out Colabuono's display of some of these ashcans at Wizardworld Chicago in 2011. There's special about seeing such historical artifacts with your own eyes that's hard to explain.
Sadly, I'll miss my chance at the copy on offer at Comic Connect tonite, and will just have to hope I get another shot at one of the three, someday.
I will claim a consolation prize here, however, because researching this post made me realize that the Superman logo trademark registration has something historically important to tell us about how the earliest days of the publication of the character played out, which I don't think has come to light before. We'll get to that shortly, but meanwhile, Colabuono has sent us the following:
The Superman ashcan edition is arguably one of the most important comic books in existence.  The first time that the iconic, dramatic SUPERMAN logo ever appeared on the cover of a comic book was on this issue.  This ashcan was created to trademark what some marketers have claimed is one of the top 3 trademarks in history (along with Apple and Coca-Cola).  For 80 years the Superman logo has appeared on not only comic books, but on tens of thousands of consumer products from toothpaste to t-shirts. Superman films have crossed billions of dollars worldwide.

The Superman logo was created by legendary DC Comics designer Ira Schnapp, who designed many, if not most, of the famous logos for DC comic books well into the 1960s.  It's reported that he was most proud of this design.

The cover art is from Action Comics 7 – the rare second cover appearance of Superman.  The interior is the complete Superman story from Action Comics 8.

One of only 3 known copies, this book was acquired by Gary Colabuono directly from Sol Harrison the former president of DC Comics in 1986.  Colabuono is the hobby's foremost authority on Golden Age ashcans (see page 14 of the current 47th edition of the Overstreet Comic Book Price Guide, and the 38th edition of the Guide for a major feature penned by Colabuono on DC ashcans including the Superman ashcan).  He sold this particular copy in 2001 for $37,000. It subsequently changed hands in 2007 for $90,000. Who knows if it will ever see the light of day again after this sale. This is a once-in-a-generation opportunity to own a true piece of pop-culture history.
I'll make a small correction to Colabuono's blurb here, and note that Joe Shuster designed the Superman logo, and that Ira Schnapp's version is a refinement — albeit a well-crafted one — which first appeared on the actual printed version of Superman #1.  Then, in a historical quirk that nobody can quite explain, Shuster re-drew the logo again… at least twice! … for Superman #2-5.  Schnapp's clean version finally reappeared on Superman Comics #6.
Schnapp is an unparalleled craftsman, but Shuster's versions still have a raw charm that I've always liked, and that's what you're getting on the Superman Comics Ashcan.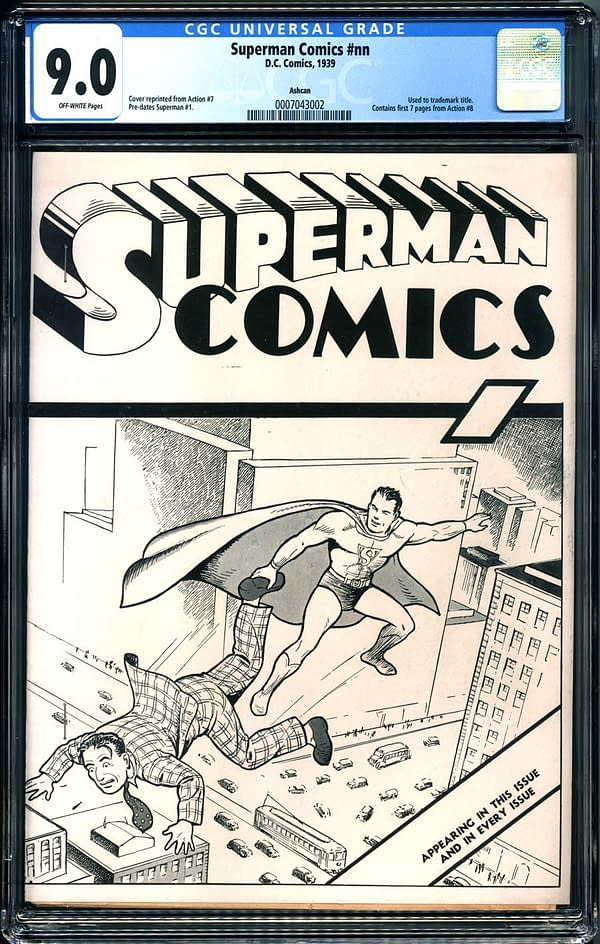 I've studied the Superman logo trademark registration issue pretty carefully over the years, and also have to make a more important correction to the above blurb which you almost never see noted, and certainly not discussed in a substantive way:  This Superman Comics Ashcan was not intended to trademark the Superman logo itself. DC had previously done that on August 27, 1938.
That's an interesting fact in its own right, but then there's a bit of a historical bombshell: that 1938 registration claims use since January 3, 1937.
Which is weird, because we know that Detective Comics, Inc did not own Superman on that date:  Jerry Siegel and Joe Shuster did.  There exists a $130 check (which sold at Comic Connect in 2012 for $160,000) with which DC Comics purchased Superman, along with a signed agreement, both dated March 1, 1938.
Most DC Comics ashcans that I'm aware of have a corresponding U.S. Patent and Trademark Office registration, but  there's no known ashcan or other publication of any kind that uses the Superman logo in any form, that corresponds with the date January 3, 1937. One can be certain that after decades of fierce legal battles, if there was the tiniest hint of such publication produced by DC Comics on that date for trademark purposes, it would be well-documented by now, even if the item itself had been lost to the ages.
No version of the Superman 'discovery' story puts the character in the hands of Detective Comics, Inc on that date. In discussing this briefly with historian Bob Hughes recently, he maintains that DC Comics founder Major Malcolm Wheeler-Nicholson likely had received a finished version of some Superman comic material by that time. Wheeler-Nicholson took on partners Jack Liebowitz and Harry Donenfeld to help with cash-flow issues in early 1937, and was maneuvered out of the company entirely by early 1938.
The details of Superman's evolution towards the character we know today between 1933 and 1937 are known in a a general way, but there's not much concrete detail, and some accounts conflict. Generally speaking, it's assumed that comic strips featuring the now-famous form of the character were complete (or complete enough to show prospective publishers and newspaper syndicates) by 1937.
Crucially, the phrase "Claims Use" as shown in the registration here, means more specifically "Claims Use in Commerce".  The relevant regulations in force at the time, the Trademark Act of 1905, states:
Mark is used in commerce among the several States, or with foreign nations, or with Indian tribes, and that the description and drawing presented truly represent the trade—-mark sought to be registered. If the applicant resides or is located in a foreign country, the statement required shall, in addition to the foregoing, set forth that the trademark has been registered by the applicant, or that an application for the registration thereof has been filed by him in the foreign country in which he resides or is located, and shall give the date of such registration, or the application therefor, as the case may be except that in the application in such cases it shall not be necessary to state that the mark has been used in commerce with the United States or among the States thereof.
Ashcans sometimes don't contain an appearance of the character you might expect them to contain, as they are used to secure title and logo trademarks, and the Action Comics ashcan contains no Superman, for example.   Did Malcolm Wheeler-Nicholson himself possess something that could be considered a Superman ashcan or sample booklet of some sort which satisfied the requirements of the Trademark Act?  We may never know, but that certainly tracks with the notion that Sol Harrison didn't have this earlier ashcan… or whatever it actually may be… in his possession when Gary Colabuano bought the DC Comics ashcans from him in 1986.
All this said, I've just realized we do now have a complete explanation for the timing of the second cover appearance of Superman on the cover of Action Comics #7.  The timeline looks like this:
Action Comics #1 (release date per Library of Congress, April 18, 1938)
Action Comics #4 (July 25, 1938): Per Jack Liebowitz in court testimony during the DC v Bruns Lawsuit, and Harry Donenfeld in media interviews later, they realized that Superman was the driving force behind the success of Action Comics by doing a reader survey.  What they actually mean by this is a survey/contest page which appeared in Action Comics #4.
Superman logo trademark registration is filed on August 27, 1938.
Action Comics #7 with the second Superman cover is released on October 25, 1938.
That's a completely plausible timeline. A month after the release Action Comics #4 with the survey page, they have enough response to realize that Superman is a hit, and act accordingly by filing for the logo trademark.
Action Comics #7 with the second Superman cover hits the stands about two months later. That's just about the right amount of time to make sure they have cover art in time to get that issue off to the press within that release date timeline.
And I suppose that's a rather detailed example of why I like ashcans so much.  They usually contain a lot of secrets.
Enjoyed this article? Share it!