If you want a hope of avoiding Batman #50 spoilers, get offline. Bleeding Cool ran a few teasers, but The New York Times went for the jugular, including in the headline.
Ugh. Batman 50 spoilers are now out there. Ignore/avoid them (or try to) and read the issue.

— Tom King (@TomKingTK) July 1, 2018
Bleeding Cool also had access to Batman #50 but had not been asked to embargo any coverage. Nevertheless, we are committed to preserving spoilers from those who want to avoid them. And it is possible — hell, I avoided all Last Jedi spoilers for three months until I got to see it with my daughters. It can be done. To that end, no spoilers in the headline, front page visual, social media link and the like. That's standard practice here. And we never break anything we have been embargoed on.
But today The New York Times gave a very detailed spoiler on the issue, including in the headline and on social media that it seems has been very hard for people to avoid.
Can we run social media reaction without running spoilers? Let's give it a go. But if you are in any way nervous, turn back now…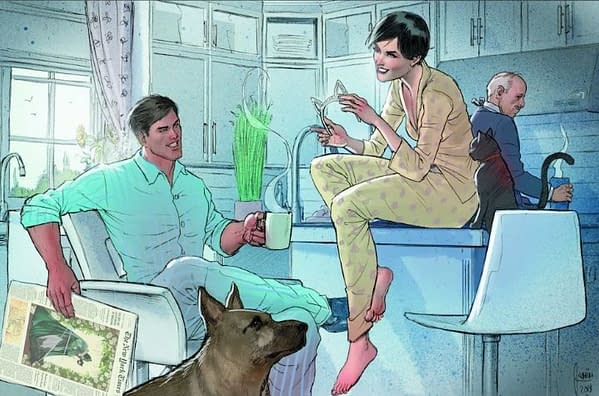 Woke up first thing I see is Batman wedding spoilers 😡 pic.twitter.com/PIS0LTngrW

— PJ (@PJSM23) July 1, 2018
And some are rather upset at what they may have discovered.
The New York Times today spoils Batman #50 (out this Wednesday) with headline, photo caption, and lengthy recap, because… they think comic readers don't read the NYT and won't be exposed to spoilers? Because they think comics are 'who cares?' worthless? Anyway. Disappointed.

— Jeff Jensen (@EWDocJensen) July 1, 2018
I've read the spoiler of #batman50 on #NewYorkTimes @DCComics. And @TomKingTK have betrayed us…You're like the Marvel… I will use my money for something else #goodbye #batman #catwoman #comics

— Piparodata (@fumodipipa) July 1, 2018
I HAVE TO KNOW IF I SHOULD CANCEL MY PREORDERS

— ɾíɾí ✨batscat (@_batscat) July 1, 2018
There are far more important things in the world, but letting the NYT spoil your Batman comic three fucking days before release is an impressively bad decision, DC.

— Graeme (@graemem) July 1, 2018
I hear BATMAN #50 spoilers are already out in the wild. If you don't want a great issue of a comic ruined, be cared out there.

And if you know the spoilers already, keep them to yourself. Don't be THAT guy and ruin the comic for others. #Batman

— Jed W. Keith (@JedWKeith) July 1, 2018
the nyt article is,,, the first? search result,,,,, so like if you're avoiding spoilers don't even search batman 50

— ray (@casstephs) July 1, 2018
lol i can't believe the new york times posted a detailed spoiler of batman #50

— justine (@casscains) July 1, 2018
Batman 50 spoilers right in the headline @nytimes ? I live for spoilers but a lot of people don't. Would it have hurt to bury this lede?

— Maya (@mayak46) July 1, 2018
Though some have their own narrative…
Just read the "spoiler/twist" of Batman 50 and it feels straight out of a telenovela. Combined with the Maury storyline in Deathstroke v Batman, and DC Comics has become the daytime TV of comics.

— Albert Santos (@albertinho) July 1, 2018
i knew it. batman is pregnant out of wedlock. that was the batcat wedding spoiler

— percy (@newtartemis) July 1, 2018
But I am going to say one thing. Whether you have been spoiled or not, there is something else in this comic which transforms it rather and rewards those who have been reading the current run by Tom King and friends. So do, at least keep that in mind.
No, no, I'm not spoiling that. Not yet, anyway.
Enjoyed this article? Share it!