Read Gold Key Alliance #1, Part of Dynamite's Latest Digital Bundle
Dynamite Entertainment's parent company, Dynamic Forces, is turning 25, and they've hooked up with Humble Bundle to create the Dynamic Forces 25th Anniversary bundle featuring a wide variety of comics from their long history. This new digital bundle features over 150 issues and three art books. Fans can pay what they want via the different thresholds starting today, March 21st at 2 p.m. EST, and is available for a limited time here.
To help promote that bundle, they've sent us some free comics to run over the next few days. The here we have Gold Key Alliance #1. Pulling together some of the classic comic heroes like Magnus: Robot Fighter, Turok: Dinosaur Hunter and Solare: Man of the Atom, written by Phil Hester with art by Brent Peeples.
Turok, Dinosaur Hunter. Magnus, Robot Fighter. Solar, Man of the Atom. The Mighty Samson. The legendary heroes whose adventures have thrilled comic book readers for over half a century are back, only this time they all share the same time and the same world – ours! In this breakneck first issue, each warrior wrestles with the perils of the twenty-first century, but a greater evil is approaching, one that will unify the legendary champions in a struggle that will change each forever. Join Eisner-nominated writer Phil Hester (Wonder Woman, Green Arrow, The Bionic Man) and rising star artist Brent Peeples (Last of the Greats, Legenderry: Green Hornet) for the latest and greatest chapter in the Gold Key saga.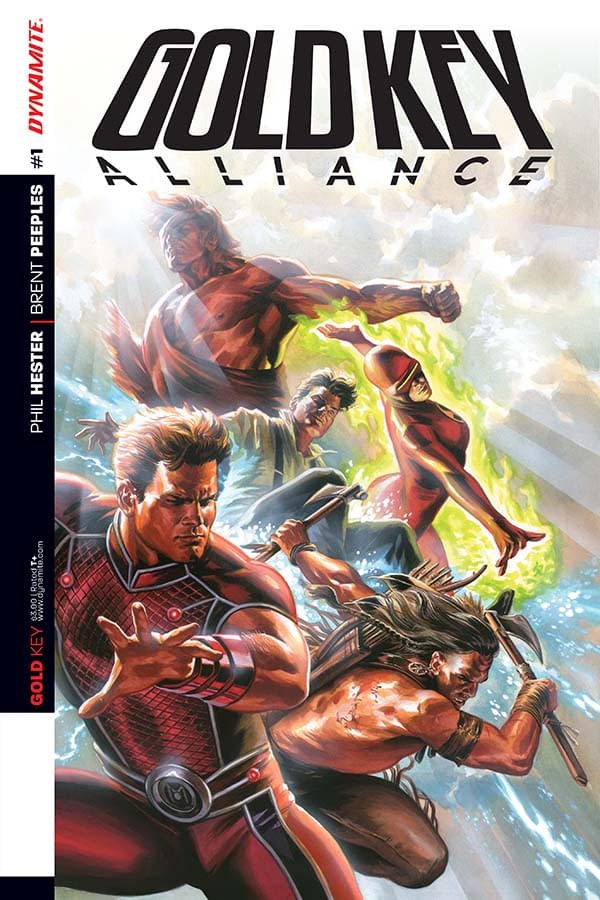 The cover above is by Felipe Massafera. All five issues of Gold Key Alliance are available as part of the bundle for a limited time here.