A Bouquet Of Alan Moore Interviews Arrives Online Including 'Lance Parkin's Magic Words: An Evening with Alan Moore'
Bleeding Cool was there in the person of Rich Johnston. Our own Pop Culture Hound was there in the person of Chris Thompson, taking down his podcast reporting of the event, but the tireless Alan Moore scholar and interviewer Pádraig Ó Méalóid has now transcribed the entire interview section of the "Lance Parkin's Magic Words: An Evening with Alan Moore" that happened in London on the 26th of November 2013 from Thompson's recording. The event celebrated the release of Lance Parkin's biography of Moore, Magic Words: The Extraordinary Life of Alan Moore. [Photo credits to Pádraig Ó Méalóid at slovobooks.wordpress.com]
In the transcription here you can find conversations like this one:
Lance Parkin: I've been studying the works of Terry Wogan and what you're meant to do with these things is start with a nice easy softball question that allows you to plug your latest product, if you like, so my first question is this: are you a curmudgeonly old hermit who hates life and is fuelled by anger and rage?
[Sound of microphone being thrown to the floor by Moore, as he rises to leave. General laughter]
LP: It's the question that everyone's asking.
Alan Moore: Yeah, yeah, I kind of am. I didn't want to be, but it's just how circumstances have worked out. I hope you'll bear with me. I wanted to be a much more loveable and happy person than this, but it's just, it's just the way that things have worked out, you know. Bear with me.
And topics covered include Moore's "Marvel generation", Moore's work on The Bojeffries Saga, Warrior Magazine, his approach to a "Block Universe" model that relates to his theories of time and existence, and Moore is joined by Melinda Gebbie, Mitch Jenkins, Kevin O'Neill, Siobhan Hewlett, and Robert Goodman as well. Dig in here.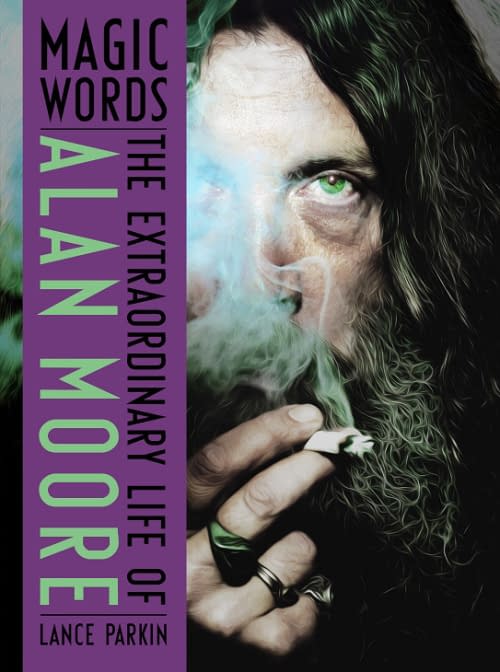 But while we're on the subject of Magic Words, Lance Parkin's biography of Alan Moore released in 2013, Parkin has also recently put up massively extensive interviews with Moore that were conducted for the composition of the biography on his website in 5 parts. Topics range from Moore's novel Jerusalem to his Arts Lab days, his work on Warrior and with DC Comics. All well worth an exploration. You can find all those interviews here.