By Olly MacNamee Settling into the panel at last Saturday's first-time Comics Festival in Birmingham, I don't think I was expecting to witness the high levels of passion on parade that I did, but it certainly made for one of the more talked about panels of the day as Kat Nicholson (Silicon Hearts), Laura Howell (The Beano), Jessica Martin (Vivacity) and Sonia Leong (Manga Shakespeare: Romeo and Juliet) discussed the role of female creators in comics today, each with their own views and experiences that they shared with the audience. But then, maybe I shouldn't have asked the question about the great Frank Cho debate that I did. I just couldn't help myself, but more on that later.
Moderated by Julie Pickering, the starting point for this panel was a look to the patriarchal past and the business models of the present, with Jessica Martin making the salient point that any large company, producing media or otherwise, will always push successful brands and products and not necessarily take gambles. Hence, the Big Two still relying on their Batmans, Spider-Mans and their Justice Avengers of America lines. If we do look at the grand experiment that was the 'The New 52' DC universe building back in 2011, the attempt at diversification and experimentation has led to these titles being cancelled and a return to a line of comics that are heavily reliant on spin-offs of their own successful superfolk, on the whole. Albeit, this expansion of these successful franchises have seem the expansion of diversity within the confines of such lines, for example the success stories of Spider-Gwen and Batgirl, so there is that to consider too.
Diversification is happening, and the very nature of comics as a medium and not a specific genre, means that diversification can and does happen, as was evident from the women creators on the panel, with these creators working in humour, manga, sci-fi, romance and even biographical comics. Given that for at least three of the creators at the table have had some experience with self-publishing and crowd funding, this model for breaking into comics was one that was favoured by all as another feasible means of diversifying comic book content. You only needed to walk through the festival's main dealers' hall to witness – particularly from the indie press presence – the variety on offer. Indeed, look out for my thoughts on three titles in my regular review, Mac's Books, before the end of the month and you can read for yourself my comments on these very different kind of comics.
But how to start down the route of self-publishing to begin with? Martin suggested that one should look for collaborators, support. She herself had been fortunate enough, only two short years ago, to attend a comic con and offer up her early art and storytelling to Mark Buckingham (unfortunately not in attendance due to illness, but still able to draw a commission inked by Mark Farmer for the winner of a comics' quiz held in the run-up to the day). Buckingham recognized in Martin a talent for storytelling and has been the Jedi Master to her Padawan ever since. We aren't all as fortunate, but it does happen. And, furthermore, collaboration does not have to come from working professionals. Cast your net afar.
Laura Howell was fortunate enough to have entered a locally run art competition in Birmingham, having come from an editorial background and holding an English degree not an Art degree, winning a place on a 10 week course tutored by John McCrea (Convergence: Plastic Man and The Freedom Fighters, Hitman) and Hunt Emerson (Calculus The Cat), two locally based artists (and boy was I surprised by just how many artists in attendance at the con were originally from Birmingham; Steve Pugh, Matt Dixon, Richard Elson and the aforementioned Mark Farmer). Before the course, she doubted her own skills, as many aspiring artist male or female do without formal education, but being on the course gave her the confidence, the validity to launch her successful, sustained career in comics. It was this lack of confidence that she felt was the key factor that held her back and not her gender. Howell even when as far as saying that while she was The Beano's first ever female artist/creator this was more coincidence than groundbreaking.
Britain and the British tradition of comical, vaudevillian weekly anthologies full of cheeky chappies and bullish boys can be an unwelcoming place for young female readers at times and as such, it was felt that this could be one factor in the lack of female creators in the established British comics' tradition at least. I can see this being a reason for the lack of female voices in American comics previously to today's comic book landscape; they just don't (or rather, didn't) always appeal to girls. And yes, my daughter was one of many annoyed at the lack of Big Hero 6 merchandise that did not depict the female members of the cast. Thankful, in the world of comic books that does include more variety and voices, this is being addressed, to some extent. But then, if Kaboom Comics are printing stories based on successful Cartoon Network cartoons (a gateway to other comics for my own daughter), once again we have a publishing model reliant of predominantly male orientated heroes, Uncle Grandpa but no Auntie Grandma. Thank the gods for Steven Universe.
What was felt collectively however, was the belief that they had not been held back necessarily because of their gender (all artists have their horror stories of editorial bullying regardless of gender was one point made by a panelist) and the worry was that for many young, female artists, this was possible a pre-conceived idea and not a healthy pre-conception either, given the success stories these fantastic four females shared with the crowd.
At one point we even took the time to consider the delivery of this art form into the curriculum. Thankfully, that is slowly happening and as an English teacher with the responsibility to buy in the text books for the pupils, even I was surprised to see the inclusion of Jeff Smith's Bone as the comic strip of choice to teach Grade 7 kids about the language of comics. I suppose the comic geeks of yesteryear are now shaping the curriculums of the future and it's good to see comic books, art and language, being included even if more could still be done. But then, awards like the previously covered Excelsior Awards support this push too. It isn't hard, if you are a teacher, to start up a comic book club. School magazines are a dime a dozen, but who produces a school comic? After all, Howell and Martin work with schools providing workshops and giving advice and are a welcome addition to an enriched curriculum. I can say this with some certainty, having had Howell come to our school on several occasions as part of our Literacy Week. Now, if only I could arrange for the current British Comics' Laureate, Dave Gibbons, to get involved when I next teach Watchmen to my A Level Media Studies students.
But I digress from the theme on the panel: women in comics.
So, onto the Frank Cho debate and my question; why there seemed to be a lack of female voices either siding with Rodriguez or even Liefeld and co. And the fuse was lit.
That is not to say there was a simple answer either, but Leong was happy to answer, denouncing the trolls that lurk in the social media backwaters and often hiding behind the anonymity offered to cowards and bullies on the wild west show that is the world wide web and many social media providers. Using the British example of Sue Perkins, a well-loved comedian and television presenter here in the UK, who was rumoured to be replacing the oafish Jeremy Clarkson on Top Gear after his recent sacking for fisticuffs with his producer, Leong reminded us all that because of the bullying, name-calling and death threats, Perkins, like many female creators across the media, gave up on social media, being hounded off by a minority, but a vocal, boorish minority.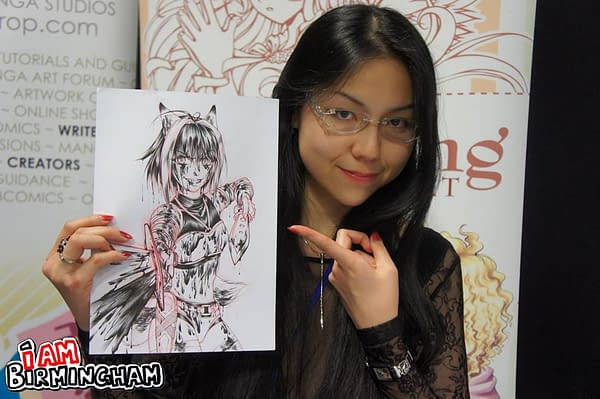 Yes, as has been stated, there is a difference between 'sexy' and 'sexist' but, in the words of the panel, you just need to show some tact. Some art posing as 'provocative' simply isn't and it's just more of the same being 'shoved down our throats.' Martin added that, 'the objectification of women is just wrong… It's lazy and disrespectful.' If the media is a mediation of the world – and it is – then the drip feeding of sexist images of women across a number of formats does accumulate in the minds of the masses; a dominant ideological 'norm' begins to form that is harder to counter; whether it's argued as 'playful' or not. There are, of course, many alternative representations of any and all social groups, but should they be so hard to find? Ask yourself that when picking up your comics the next time you visit your local comic book store. And before anyone starts, remember while we started off with Cho, the debate very quickly turned to the representation and objectification of women in comics in general. No one, I don't think, was pointing at Cho, but arguably the implication could very well be seen to include such artists. You're either part of the problem or the solution, I suppose.
These were female creators making a difference. In the stories they tell and the strong female characters they are molding and forging to diversify comics, to offer alternative voices and representations and getting out there and doing something about it. It was the punk rock attitude of these four that will stay with me and reminded me of a position taken by Canadian punkers, Propagandhi, many, many years ago on their Less Talk, More Rock LP (1996). To paraphrase, if you are in a privileged position, and have a voice in the mass media, whine, complain and offer solutions, because you can when others can't. And, you too can lay a path and a legacy for future female fans and would-be creators to follow and build upon until the sound of the traffic cannot be drowned out.
The revolution has begun, ladies. Are you part of it yet?
Olly MacNamee teaches English and Media, for his sins, in a school somewhere in Birmingham. Some days, even he doesn't know where it is. Follow him on twitter @ollymacnamee or read about his exploits at olly.macnamee@blogspot.co.uk. Or don't.
Enjoyed this article? Share it!