Agent May, Skye And Carter Get Their Own Comic Books In September Last week's Agents Of SHIELD made it official, Skye is "Daisy Johnson".
Better known in the Marvel comics universe as groundshaker and son of Mister Hyde, Quake.
There she is a mutant Agent of SHIELD. Though the TV show isn't allowed to use mutants due to the publisher's deal with Fox Studios, she has become an Inhuman.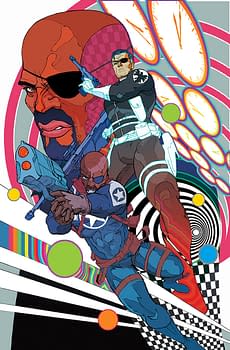 And, as part of Marvel's 30th Anniversary Of SHIELD promotions, Marvel will be putting out five one-shot comics, each focussed on a Shield figure drawing for their prominence in the Marvel Cinematic Universe, Nick Fury, Agent Carter, Agent May, Quake and Mockingbird.
For both May and Skye this will be their first solo comic book outing.
Fury will be written by David Walker "a really fun story involving time travel and the father-son dynamic between the two Nick Furys".
Agent Carter will be written by Kathryn Immonen and will "shed some more light on her past and give some insight into her relationship with S.H.I.E.L.D."
Agent May will be written by Orphan Black's Jody Houser.
Quake will be by Matthew Rosenberg and Patrick Kindlon and will "fill-in some of her backstory and explore her relationship with her father and previously unseen mother."
And Mockingbird will be by novelist Chelsea Cain. Additionally, Marvel will publish, as we notes, SHIELD: The Complete Collection Omnibus in October, along with the SHIELD By Stan Lee & Jack Kirby: Complete Collection. And in SHIELD #9 by Mark Waid,, the issue will revisit Jack Kirby's very first, previously unpublished, two page S.H.I.E.L.D. story"The Man Called D.E.A.T.H…" and will incorporate pages from that issue written and pencilled by Kirby and inked by Jim Steranko as part of a test by Stan Lee. It will also bring back the late Dum Dum Dugan and the Howling Commandos in a strip written by Al Ewing… who says,
"Spy fiction's always been popular, and S.H.I.E.L.D.'s always been a little bigger, better and madder, telling the spy stories of the era but infused with a little of the beautiful strangeness of the Marvel Universe to take it over the top. Back in the 60's, for instance, S.H.I.E.L.D. was all about futuristic Kirbytech gadgets and Steranko savoir-faire, beating Bond as his own game, while in the modern era, S.H.I.E.L.D. reflects a much murkier, grimmer and more morally dubious spy story, one that sadly isn't nearly as fictional as we'd like. So it's stayed relevant to the times and the various narratives the times like to spin us to keep us sweet. Personally, I'm quite looking forward to picking and choosing from that history and I'll be fully embracing some of the wildest and weirdest ideas S.H.I.E.L.D. and Marvel have to offer!"
Could this be the monstrous Howling Commandos seen at the weekend as well? And is Dum Dum literally back from the dead, Frankenstein style?