Apple Greenlights Video Game Comedy Series from 'It's Always Sunny's' Rob McElhenney, Charlie Day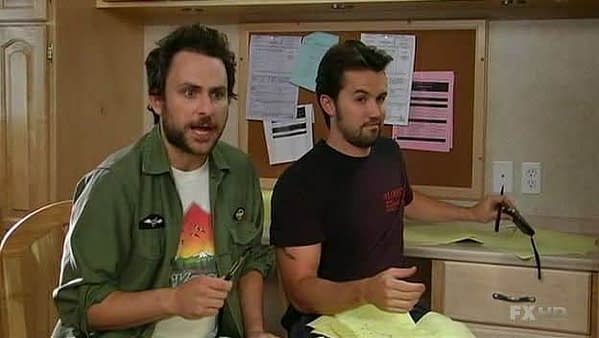 Rob McElhenney and Charlie Day are going to be commuting from the Sunny streets of Philly to the "big" Apple (see what I did there?), with the media company giving a straight-to-series order for a half-hour comedy from the It's Always Sunny in Philadelphia duo. Set in a video game development studio, McElhenney is set to star, write, and executive produce the project alongside Day via their RCG banner. Lionsgate-3 Arts Entertainment and video game publisher Ubisoft are set to produce; Michael Rotenberg and Nicholas Frenkel will executive produce on behalf of 3 Arts, with Gérard Guillemot, Jason Altman, and Danielle Kreinik of Ubisoft also executive producing.
McElhenney and Day co-created the new Fox comedy The Cool Kids, which is set to bow in September. McElhenney and former Sunny writer/executive producer Rob Rosell currently have an untitled comedy pilot in consideration for a midseason pick-up by Fox, starring Sunny star (and McElhenney's wife) Kaitlin Olson in a lead role.
Written by McElhenney and Rosell, the untitled comedy centers on Jean (Leah Remini): a "patriot" who loves her country and firmly believes in everyone's right to be left alone. Jean in many ways fits the stereotype of a typical conservative. However, she leads a very progressive lifestyle as she is now married to a woman, Birdie (Olson). Together they're raising Jean's two boys with the help of the boys' father and Jean's ex-husband, Richie (Rob Riggle), who currently lives in the garage.

Here's a look at FXX's teasers and official synopsis for the upcoming season of It's Always Sunny in Philadelphia:
The Gang Returns… mostly…. in the 13th season of the FXX original comedy series It's Always Sunny In Philadelphia. Mac (Rob McElhenney), Charlie (Charlie Day), Dee (Kaitlin Olson) and Frank (Danny DeVito) return to their duplicitous, scheming ways at Paddy's Pub, while Dennis (Glenn Howerton) takes on the new role of father in North Dakota.

Even without Dennis Reynolds, the Gang has its hands full as Charlie hopes to have a child with The Waitress, Mac sets out to understand his newfound sexuality, Dee takes feminism to new heights, and Frank goes to great lengths for the Gang to experience the greatest moment in Philadelphia sports history – an Eagles Super Bowl victory.