Attending The General Entry Cosplay Contest At ACBC – Plus 95 Cosplay Photos
By Adam Wolfe
The "main event" cosplay contest at Atlantic City Boardwalk Con aka The Mr. and Ms. Cosplay USA competition had quite rigorous entry demands of the contests. To be in the Mr. and Ms. Cosplay USA competition held last Saturday night, the entrants had to submit photos of three different cosplays before entry. They also had to have three different cosplays from completely different categories. In an attempt to appeal to the masses ACBC partnered with Club Cosplay and put on more accessible cosplay contest at the end of the convention on Sunday. The panel of judges included Abby Dark Star (www.facebook.com/abbydarkstar) Chris Burns (twitter.com/actorchrisburns) and Miracole Burns (twitter.com/miracoleburns). The rules were simple enough, to be considered an entrant had to have made at least 50% of their costume. No props would be considered in the judging. The judge's decision was based on creativity, skill, and presentation. After about 40 entrants, the completion closed (sadly I was too late to register).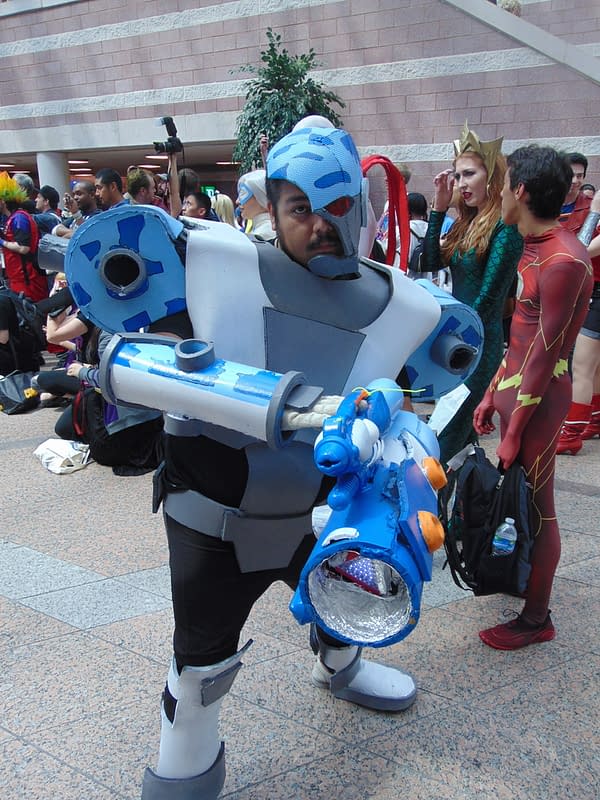 The hosts for the contests Berine Bregman (cosplaying as Ace Ventura) and Bernadette Bentley (cosplaying as rhinestone Wonder Woman) called out the contestants one by one, some were asked questions by judges, and others struck glorious poses. When it was all said and done Mr. Bregman brought out the top ten one by one. Some hits included an amazing Ultron, shiny Vaporeon (with a light up tail) a clicker from The Last of Us, Lady Loki, and an 8 year old Slender Man (Slender boy?). When the dust settled however, the winner was a Maleficent cosplayer who used a jaw dropping 50 yards of silk to create a truly magnificent costume.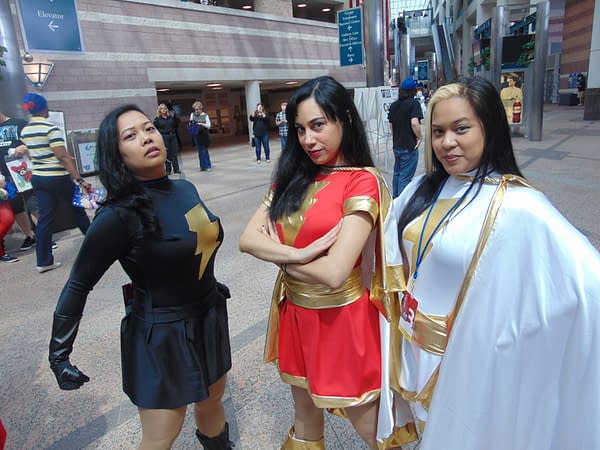 It was great to see ACBC provide a more "low key" cosplay contest as many seemed disheartened by the demands of the main event. With this event everyone in costume got to have fun and be a part of something. ACBC really tried to appeal to the cosplay community and it showed. Despite starting almost thirty minutes late, the contest hall was packed with viewers as well as entrants. The world of cosplay continues to grow and be a dominant force in the convention world as people of all ages are taking to their sewing machines to join in the craze. I for one love it and am always blown away by the creativity and skill these men and women have. Out of all the panels and events I attended, the cosplay contest had one of the highest turn outs, which just speaks volumes to the importance of appealing to cosplayers is to new cons like ACBC. They seemed to have gotten the message, and provided a great safe healthy environment for it.
Here's a photogallery of cosplay at ACBC: