Batman #85 – and the Marriage Of Batman and Catwoman (Spoilers)
Tom King has said that his run on Batman was the story of Batman and Catwoman. The halfway point was marked by their wedding – or rather a lack of it. Selina Kyle was persuaded against it by her best friend, Holly Robinson, being manipulated by Bane and the Psycho Pirate, as a way to break Bruce Wayne. It kinda worked. But with Bane gone and Thomas Wayne dealt with in Batman #85, what now for Bruce and Selina? They have a Batman/Catwoman spinoff series that will continue and conclude Tom King's Batman story away from the main book, drawn by Clay Mann possibly starting in April. But will you have to wait that long for the marriage issue to be revisited and resolved?
No. Today's Batman #85 by Tom King, Mikel Janin and friends, recalls the wedding that wasn't.
And in Batman #85 wonders if that drunkard judge is still available.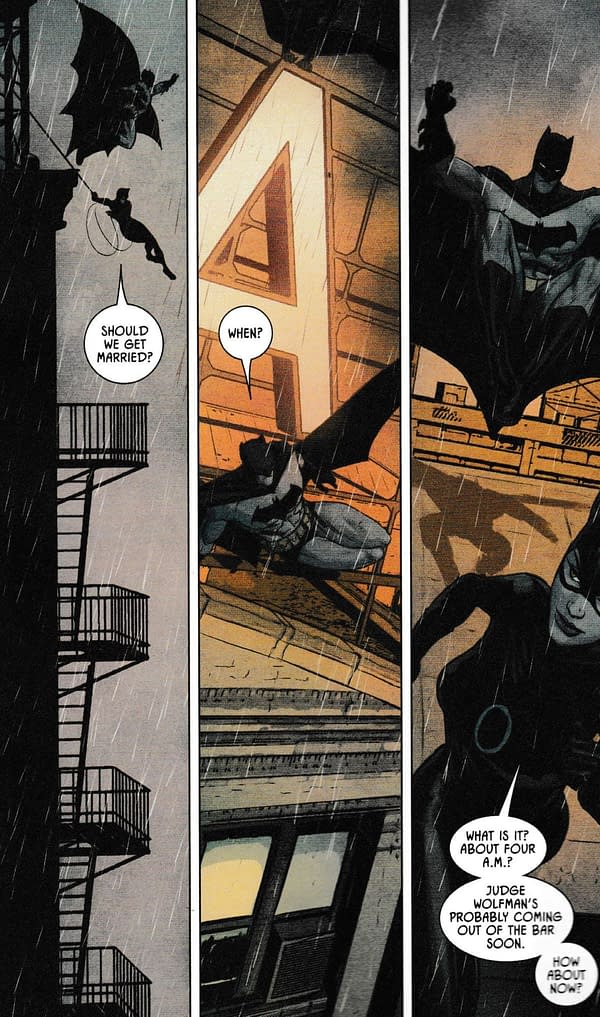 Could it be?

No. But here's the thing. It may have been official, but it would not have been a legal ceremony anyway. Top many secret identities to hold.
From here on in, to all intents and purposes, Batman and Catwoman, Bruce Wayne and Selina Kyle, are married. They just don't need a piece of paper to say so. And that is both Tom King's present to Batman fans – and a reason to pick up Batman/Catwoman in (probably) April to see where he goes with it…
BATMAN #85
(W) Tom King (A) Mikel Janin (CA) Tony S. Daniel
The stunning conclusion to "City of Bane" is here! How will Flashpoint Batman be vanquished from our dimension? What will become of Gotham Girl now that she's betrayed all she knows? How will the Bat team cope without Alfred? Will Catwoman stick around? Who will rebuild Gotham City? Is Batman ever going to be Batman again? The event of the summer now closes out the year, setting the stage for a whole new path for the Dark Knight Detective. You don't dare miss the extra-sized concluding chapter to Tom King's epic run on Batman-and it all leads to the new Batman and Catwoman series!In Shops: Dec 18, 2019
SRP: $4.99
Batman #85 by Tom King and Mikel Janin is published today from DC Comics. I bought mine from Piranha Comics in Kingston-Upon-Thames. Piranha Comics is a small south London comic store chain with a small south-east store in Kingston-Upon Thames's market centre, which runs Magic The Gathering nights on Fridays, and a larger south-west store in Bromley, which also runs Magic nights and has an extensive back issue collection and online store. If you are in the neighbourhood, check them out.