Win a Chance to Cook Up a Batch with Breaking Bad's Bryan Cranston and Aaron Paul – For a Great Cause
Bryan Cranston (Walter White) and Aaron Paul (Jesse Pinkman) are using the celebration surrounding the 10th anniversary of AMC's Breaking Bad for a good cause, joining with Omaze for a unique fundraiser campaign to support the National Center for Missing and Exploited Children and the Kind Campaign.
In a short intro video on their fundraising site (which you can see below), Paul welcomes viewers back to Breaking Bad's iconic RV: "The Krystal Ship" — only to find out that someone has been living there for a while (and having a hard time letting go).
One (1) winner and one (1) friend will be flown out to Los Angeles, California and put up in a four-star hotel. During their stay, the winner and their guest will get to celebrate the Vince Gilligan-created series' 10th anniversary by cooking a meal with Cranston and Paul aboard "The Krystal Ship."
To donate to Cranston and Paul's Omaze fundraiser campaign and enter for a chance to win, click here before the contest ends on August 30th, 2018 at 11:59 p.m. PT/2:59 p.m. ET.
"I won." –Walter White / you. It's been 10 years since Breaking Bad's groundbreaking premiere, and you're going to celebrate in the coolest way possible! You'll pack your favorite tighty whities and fly to LA with a friend to check out the actual RV from the show. But wait—did you hear someone knock? It's Bryan Cranston and Aaron Paul, and they're here to cook! That's right, the real Walter White and Jesse Pinkman will join you in The Krystal Ship to whip up some delicious food, take tons of pictures and bond over the most addicting show ever made. Flights and hotel included, b*tch!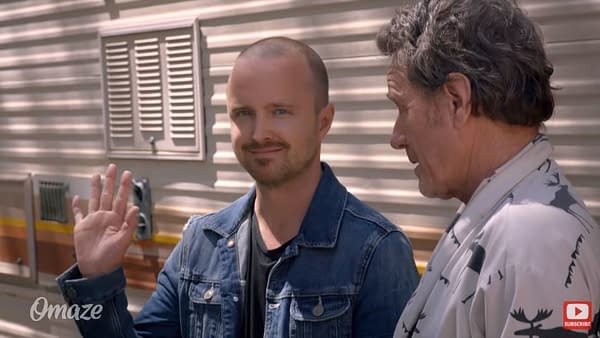 National Center for Missing and Exploited Children (NCMEC): The National Center for Missing and Exploited Children's mission is to help find missing children, reduce child sexual exploitation and prevent child victimization. Since 1984, NCMEC has served as the national clearinghouse and resource center for families, victims, private organizations, law enforcement and the public on issues relating to missing and sexually exploited children. They operate a 24/7 hotline (1-800-THE-LOST®) for tips and leads, and have assisted in the recovery of more than 260,000 missing children. NCMEC also operates the CyberTipline®, a mechanism for reporting suspected child sexual exploitation. Your donation will help NCMEC lead the fight against abduction, abuse and exploitation—and ensure every child enjoys a safe childhood.
Kind Campaign: Kind Campaign is an internationally recognized nonprofit organization that brings awareness and healing to the negative and lasting effects of girl-against-girl bullying through their global movement, documentary film, in-school assemblies and educational curriculums. Kind Campaign is proud to share that with the money they raise, they are able to provide all of their assemblies free of charge to schools and communities across the world.