'Castle Rock' Co-Creators on 4 Must-Read Stephen King Books [SPOILERS]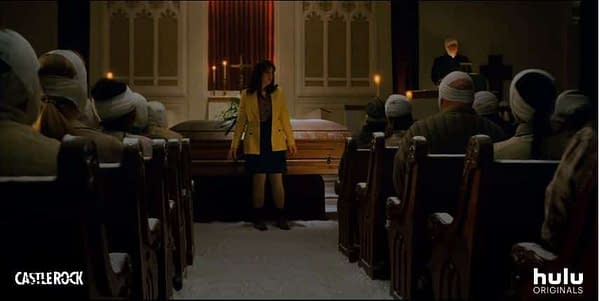 With its freshman season halfway over and a second season renewal already in place, Hulu's horror-drama anthology Castle Rock has been a huge hit for the streaming service. Combining elements from a number of Stephen King's works into a "shared universe" narrative based around the famed (and infamous) fictional town, Castle Rock has proven accessible to those new to the author's works while also planting obvious and not-so-obvious Easter eggs for King fans throughout the season. Perfect example: in episode 5, 'Harvest', Jackie Torrance (Jane Levy) sits in a car with "The Kid" (Bill Skarsgard) as she smokes pot and tells him about the town's history — and an incident with a very Cujo-like ring to it ("People bitch about the bad old days when there were serial killers and psychopathic dogs"). Oh, and does her last name sound familiar? It should, since her uncle is Jack Torrance of The Shining fame/infamy.
"Like an all-you-can-eat buffet, we've tried to cater to all tastes in this show. Part of it is we were Stephen King nerds. We arrived at the material from a place of slightly OCD obsession with some of the works that had meant a lot to us as kids. We've tried to construct a story that will be engaging and surprising and a fun ride for viewers who may not even identify themselves as Stephen King fans." – Shaw
For viewers enjoying the experience but also looking for a way to dig deeper into the mythos sorrounding Castle Rock, series co-creators Sam Shaw and Dustin Thomason have got you covered: here's a list of four of King's works that heavily influenced the series.
Different Seasons
Published in 1982, this collection of novellas yielded two stories that would go on to become two of the author's more acclaimed adaptations: "The Body" (adapted into Stand by Me) and "Rita Hayworth and Shawshank Redemption" (adapted into The Shawshank Redemption).
"Dusty knows that I'm indecisive and therefore a surf and turf guy, so my first answer is going to be 'Different Seasons,' because it'll give you a four-pack. I think 'Different Seasons' speaks to the depth of Stephen King's character writing and the breadth of his imagination. It also happens that there is more than one story in that collection that touches on Castle Rock. 'The Body' is set largely around in the outskirts of Castle Rock and Red, the character played by Morgan Freeman in Shawshank Redemption, is in prison having committed his crime in the town of Castle Rock — and obviously, Shawshank also figures prominently in the season." – Shaw
The Green Mile
Published monthly between March and August 1996, King's tragic yet inspiring tale of magical hope and harsh reality would be adapted into a popular, award-winning film starring Tom Hanks and the late Michael Clarke Duncan.
"It's the other iconic prison and death row book [aside from 'Shawshank'] and in some ways there are some aspects of the storytelling in this season that engage with and play with 'The Green Mile.' In some ways, it's a photo negative of that story, in the sense that that's a story about a prisoner who seems to be almost God-like or Christ-like in his benevolence, and there's a prisoner at the center of this story who may be something considerably more ominous." – Shaw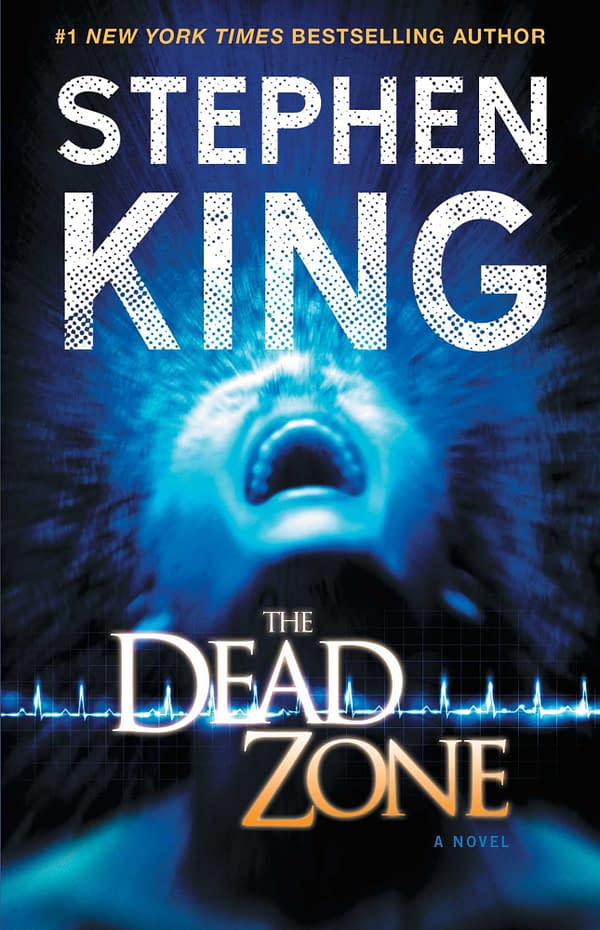 The Dead Zone
Published in 1979, King's thriller about a man who awakens from a five-year coma with clairvoyance was adapted into a 1983 film directed by David Cronenberg and starring Christopher Walken. The novel would later be adapted as a television series, running for six seasons on USA Network.
"Although the story in this season is not in any way taken from 'The Dead Zone' directly, what it does is it's the first true Castle Rock story. I think that there's something really interesting about seeing the way in which King first touched on this place and the way in which he set it up. The other thing that's fascinating about 'The Dead Zone' … is that it really takes some very unexpected directions when it comes to the storytelling. It almost has an Alfred Hitchcock's Psycho kind of approach to the storytelling, in terms of the way that it follows different characters and follows different storylines, but ultimately adds up to something really fascinating and surprising." – Thomason
Needful Things
Published in 1991 and initially billed as the "last Castle Rock story", King's tale of a mysterious shopkeeper whose business exchanges goods for money and mysterious deeds performed by customers, In 1993, a film adaptation of the novel — directed by Fraser C. Heston and starring Max von Sydow and Ed Harris — was released.
"The character of Alan Pangborn [played on Castle Rock by Scott Glenn] and the context that you get for him and for the town of Castle Rock and the people who live in that town and the very strange happenings when that antique store opens are all things that would provide great context for our show." – Thomason
A psychological-horror series set in the Stephen King multiverse, Castle Rock combines the mythological scale and intimate character storytelling of King's best-loved works, weaving an epic saga of darkness and light, played out on a few square miles of Maine woodland.

The fictional Maine town of Castle Rock has figured prominently in King's literary career: Cujo, The Dark Half, IT and Needful Things, as well as novella The Body and numerous short stories such as Rita Hayworth and The Shawshank Redemption are either set there or contain references to Castle Rock. Castle Rock is an original suspense/thriller — a first-of-its-kind reimagining that explores the themes and worlds uniting the entire King canon, while brushing up against some of his most iconic and beloved stories.

From J.J. Abrams' Bad Robot Productions (Star Wars: The Force Awakens, Lost), best-selling author Stephen King and executive producers/writers Sam Shaw and Dustin Thomason, Castle Rock stars André Holland (Moonlight), Melanie Lynskey (Togetherness), Bill Skarsgård (IT), Jane Levy (Suburgatory), Sissy Spacek (Carrie), Scott Glenn (The Right Stuff), Terry O'Quinn (Lost) and Chosen Jacobs (It).