Rod Lamberti of Rodman Comics writes weekly for Bleeding Cool. Find previous columns here.
Everything changes. Some things never change.
School is starting back up. With that means customers leaving us to go to college in far-off places. New customers coming that will learn about the store. We have a nearby community college that does bring people in.
After nearly eight years in business, we have changed. When we first opened, we carried comics, HeroClix, statues, toys, and manga. Manga did poorly for us and had to be discontinued. Magic the card game I learned was still around. I used to play it years ago and had thought it faded away. Just my luck, the first day we opened was the same day a new set of Magic came out and people were stopping in wanting to buy it. After a few months, we started carrying Magic. I learned that Magic players associated comic stores with Magic. Meaning, to them, a comic store was a place that sold Magic. Luckily, I designed our back issues bins for HeroClix play. Meaning we could just throw on a countertop on top of the back issue bin and we had a place for HeroClix gaming. People assume that I had the tables made for Magic gaming but I did not. The size of the back issue bins were made to have the original old school HeroClix maps on them. Back when the maps for HeroClix were bigger.
I know comics, HeroClix, Magic the Gathering, action figures, statues, and games. That is what the store sells. Finding someone who knows all these things and wants to sell is a challenge. A comic collector knows comics and sometimes action figures. A Magic player usually knows just Magic. When hiring, finding someone who knows at least one of these things can be challenging. Here at the store, I need people who are willing to learn what they do not know.
Employees change. I have one leaving that I wish would stay. When I hired her, I told her one of the things I have learned is, there are two types of people in this world. Those who try and those that do not. I need people who are going to try on staff. Meaning, willing to learn, willing to adapt, willing to try. It sounds easy. People, at times, say almost anything to get a job. So if I want her to stay, why is she leaving? College, she found out she will be going to school Monday through Friday and already has another job. That said, next semester she might return.
It looks like we will be returning to reduced hours.
In February, we had reduced hours and though January and February are our two slowest months of the year, we had plenty of cash on hand. I was thinking of giving myself a bonus. Not just a few hundred dollars. A few thousand dollars. Instead, I ended up buying a new air conditioner unit for the store (or for the property owner since I do not own the building) and expanding staff. Various Magic players were worried I would not get the air fixed. As a joke, the staff put a collection jar up for air condition. Oddly enough, while most comic customers knew, it was a joke and found it funny, most of the Magic players did not find it funny and were worried come summer they would be playing in a non-air conditioned room. I was surprised they thought the collection jar was an actual thing since I know I would not want my employees working all day without air.
At the start of the year, I was thinking about dropping Magic gaming from the store. Wizards of the Coast had made so many changes that for me hosting Magic gaming was becoming less and less worth the hassle. Toward the end of last year, Magic sales were slowing down for us. We would still carry Magic products just not have the gaming for it. Most of our sales for Magic come from people that play the game in the comfort of their own homes, not die-hard gamers who teach newer players to play for as cheap as possible at a store and take it for all the price support you can then buy all their magic material online. Then at what I thought would be our last Pre Release Magic event Wizards of the Coast finally decided to let us do what was being done at Pokémon Pre Releases. They let us sell booster boxes during the Pre Release which are held before release dates so we wouldn't lose out as badly sales wise to big chain stores that were breaking street date while we were still to follow release dates. It became worth having Pre Releases events again for Magic.
I foolishly keep thinking comic ordering will not keep being as chaotic as has been in the past but it is. The re launches make it challenging. Once a title goes to another first issue all the previous comics to that first issue featuring that same character or characters are dead product for us. New 52 books? Dead after Rebirth came along. The first issue of the new 52 Batman we used to be able to sell for over $80 bucks. Now no one has even asked about if we have a copy. Amazing Spider-Man, Black Panther, Captain America, Doctor Strange, Immortal Hulk, Tony Stark: Iron Man, Avengers, and all the other Marvel titles that re launched no one comes in looking for the previous series. They are dead product that will live out their remaining days in our dollar bin. Dan Slott's Red Goblin story arc in the previous Amazing Spider-Man was red hot. Now totally forgotten.
This for us means we need to make sure we do not over order. I know Marvel relaunches their titles yearly so there is no need to keep any on hand for more than a few months, especially once a title is announced as being relaunched. Once that happens most people will wait until the next first issue before picking up the title. Which I understand, why get into a comic that is ending?
Ordering for October and I see DC is having foil covers for some of their titles. For DC's Metal one shots their gimmick covers really helped sell them. Yes, I know those were "Metallic". Will these be as popular? I tried finding better pictures but so far, I am not sure how they will actually look. I hope that actual detailed pictures of how the final cover will be released before final orders are due. My DC order is currently high for October though ready to be cut down if I do not get to see what the final foil covers will look like. Of course, if they do not look "cool" to me I will cut the order down.
Marvel for October, of course, as usual, has plenty of issue number ones. It would not be Marvel if it did not feel like ordering in a sea of first issues along with a sea of variant covers.
Almost screwed up ordering on Spider-Geddon #1. For some reason Spider-Geddon #2 is on the page before it and then I originally ordered the first issue not reading the line apparently thinking it was issue 3. Whoops, glad I caught myself.
Oh boy, Spider-Geddon is going to have spinoffs. Spider-Force, Vault of Spiders, Spider-Girls, and Spider-Gwen AKA Ghost Spider will be spinning out of Spider-Geddon. In addition, of course they will not just have one cover per issue. They will all have more than one.
How many different covers does Spider-Gwen AKA Ghost Spider have? Eight. Artgerm is doing a variant cover for Spider-Gwen AKA Ghost Spider so that has the potential to be in demand. Just one problem. When I click on the Artgerm cover to check it the picture it shows up as "Image Coming Soon." Not helpful. In addition, in order to order it we have to " Meet or exceed 250% of orders for Spider-Gwen #34 (MAY180860) with orders for Spider-Gwen #1 regular cover and this variant is order all you want." This is part of the fun of order comics from Marvel.
So, say I want to order the Jee Hyung variant for the same issue of Spider-Gwen AKA Ghost Spider the order says, "You may order 1 variant for every 100 copies you order between the combined total of Spider-Gwen #1 regular cover and Spider-Gwen #1 Marvel Battle Lines variant." I freely admit I do not believe we will come close to selling a hundred copies of this so no Jee Hyung variant for us. KIM MARVEL BATTLE LINES variant is order all we want, so that is easy. Then there is the Robinson variant cover. "You may order 1 variant for every 25 copies you order between the combined total of Spider-Gwen #1 regular cover and Spider-Gwen #1 Marvel Battle Lines variant." Wow, Marvel that is mighty kind of you. I might have been able to hit that magic 25 mark if the Artgerm covers were included, though I am not sure due to not even knowing what the Artgerm cover looks like. There is a Rivera variant. "You may order 1 variant for every 50 copies you order between the combined total of Spider-Gwen #1 regular cover and Spider-Gwen #1 Marvel Battle Lines variant." I might order that many if I was ordering completely drunk. So no, go there. An Animation variant. "You may order 1 variant for every 10 copies you order between the combined total of Spider-Gwen #1 regular cover and Spider-Gwen #1 Marvel Battle Lines variant." Wow, Marvel, that is very nice of you. Again, I have no idea what it looks like thanks to the all so helpful "Image coming soon" caption instead of showing the actual cover.
As a comic fan, Spider-Geddon sounds cool to me. If I did not own a store, I would be interested in checking it out. Here is where I would start losing interest though as a fan, Spider-Geddon #1 will have four different covers along with four titles spinning out of it in the same month. That is a good chunk of change to drop on something that "sounds" cool to me. My thinking is: if I was a fan is I would buy just one cover of Spider-Geddon 1 and check it out. The spinoffs look like cash grabs and not interesting reading, to me at least.
As a comic storeowner, I look at Spider-Geddon and think that can sell. Spider-Verse was popular. This looks to be a continuation of Spider-Verse. Then I see it has four different covers. I roll my eyes. The spin offs make me think of the Hunt for Wolverine limited series. Too much material, which will lead to people to be turned off and not even trying Spider-Geddon or dropping the spinoffs or main series due to not feeling they are getting their money's worth.
Marvel's motto is not "Keep it simple, stupid" — it's "Keep it complicated and throw out as much material as possible and hope something sticks". That is a barrier for new readership. A flood of non-stop new series that do not last. The comic market is too chaotic to attract new readers.
The comic market currently is a big gimmick market flooded with material. That is all short-term sales, there needs to be long term plans to get actual new readers into comics. To expand the comic market with more people reading comics instead of getting the current readership to buy multiple copies of the same issue due to variants.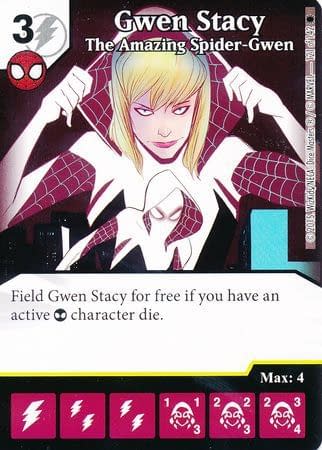 Enjoyed this article? Share it!