By Cameron Hatheway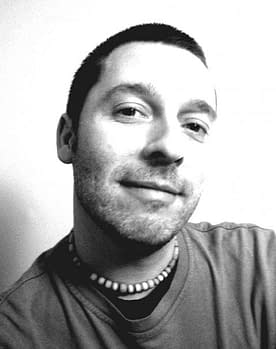 On February 24th, Princess Decomposia and Count Spatula by Andi Watson debuts from First Second Books. Revolving around an overworked princess finding help in the unlikeliest of places, Watson takes the reader on a journey throughout the Underworld with werewolves, mummies, and fantastical dishes aplenty. Watson was nice enough to answer some of my questions about the upcoming all-ages graphic novel via email.
Cameron Hatheway: Princess Decomposia has a lot on her plate, and her father the royal king isn't being much help pretending to be sick to get out of work. What inspired you to tackle such a dysfunctional father-daughter relationship with an undead twist, and what message did you want readers to take away from it?
Andi Watson: I suppose my initial inspiration was to write a book that combined the character and relationship side of my work with some genre fun that I could sink my teeth into. I've always enjoyed writing character and dialogue and wanted to combine that with interesting things to draw. The Underworld presents lots of drawing and design opportunities. I also wanted to create a graphic novel. Previously the longest single works I'd created were the Glister books, or Gum Girl, about 60 pages long or serialised. Even after 20 or more years of making comics I'd yet to create an original graphic novel. Princess Decomposia is over a 150 pages, so it was a fresh challenge for me.
The father/daughter relationship developed naturally as I wrote, and the book has a romantic element and the King is one of the obstacles to that. Also, I wanted the Princess not to have a pampered existence, she's working a job in less than perfect surroundings, shabby gentility at best. I think we all know what it's like to feel unappreciated and stressed, so even though she's in a spooky setting, it helps to make her relatable. Of course, when the Count arrives he upsets the dynamic and is central to the story.
I don't think I have any messages to impart, beyond observing how families work, how children and parents interact and I dunno, maybe reveal subconscious anxiety about how much more capable than me my own daughter is!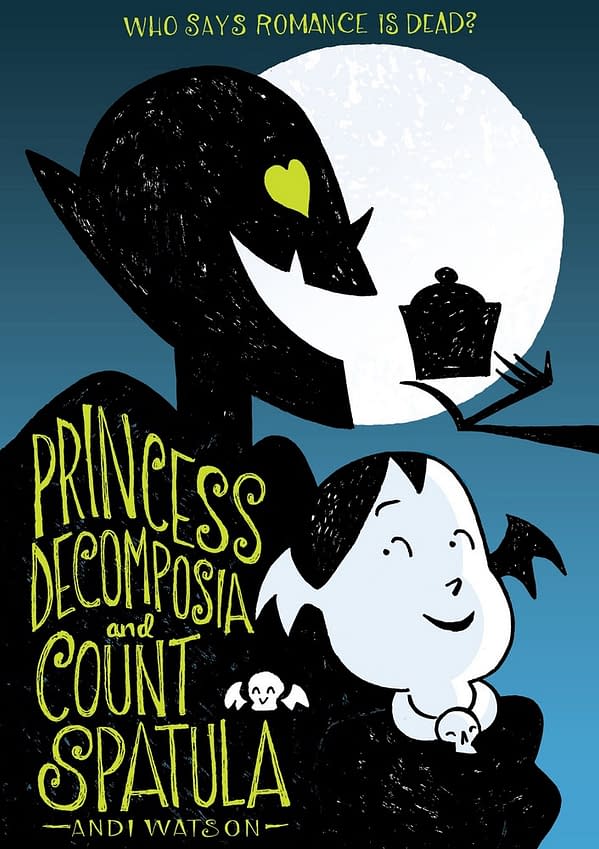 CH: Food is one of the main courses in this graphic novel, and Count Spatula has some really brilliant ideas for dishes throughout. Are you a fan of cooking or cooking shows? How did you come up with some of his delicious ideas?
AW: I started baking when my daughter was little, as a fun thing to do together. I still use the kid's recipe books now as they're the recipes that have been tested and actually work. Kids love to get stuck in, play with the ingredients and make a mess, with an edible treat at the end. It's a perfect way to spend an afternoon. Baking is a kind of magic, in its way, like mixing a potion. You collect up the ingredients, combine them in carefully measured amounts and watch them transform into something wonderful.
Truth be told, I can't actually cook. I can bake a little, but mostly simple things I can rely on being edible and are reasonably quick to make. If it takes four hours and has the possibility of being a complete disaster, then it's probably not for me. It comes in useful at birthdays though, but I don't know how I'm supposed to top the four layer cake with hidden Smarties compartment in the middle I last made. I might have reached my ceiling.
As for recipe ideas for Count Spatula I flicked through recipe books and tried to come up with things that would work within the story, be something special and also be visually interesting. They're of the most difficult and fun things to come up with.
CH: Your art style throughout is very raw and inviting, definitely making it all-ages friendly. The concept art for the characters and various creatures in the back of the book shows that the look and feel for Princess Decomposia could have gone in a very different direction. What made you feel that the final version of her was the right one?
AW: The art style tends to be directed by the type and tone of the story. As I write first and develop the characters, I begin to get an idea of the style that's appropriate. Some photo-realist kind of thing wouldn't work for a fairly fun fantasy story like this. Realistic zombie flesh would put you off. The art also tends to be influenced by what I've done before and want to move away from. So, previously I'd been working on a full colour book, Gum Girl, with lots of rounded shapes, clean lines and no black. It also meant I was spending a lot of time squinting at the computer screen, which is the least fun part of the process for me. I knew I wanted some texture so used a brush pen for the shadows, it to be in black and white, which was appropriate for the Underworld and for almost all the work to be on the physical page, which would cut back on staring at the screen. It all comes down to being able to find the right tone and most importantly bringing the characters to life on the page. They're undead but I have to bring them to life!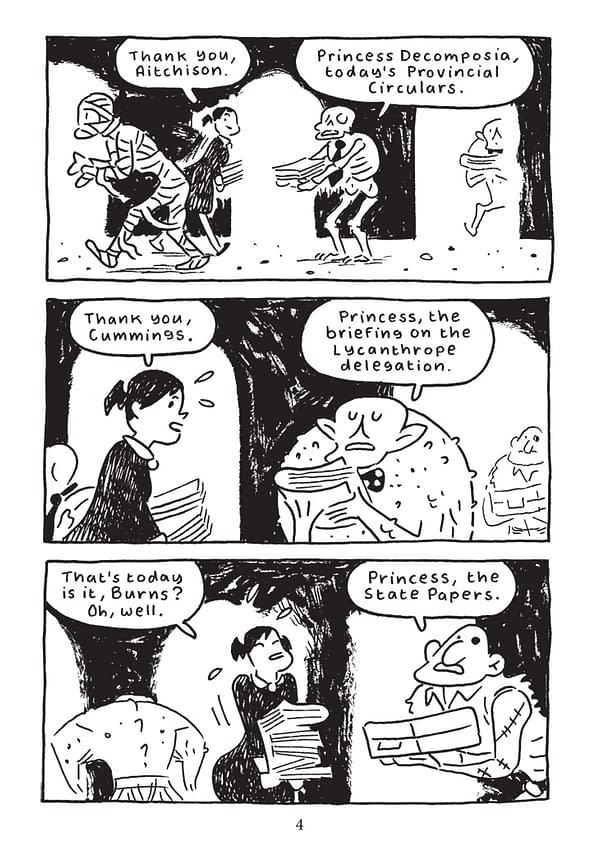 CH: The idea that Count Spatula is a vampire cook with a sweet tooth is marvellous. Can we expect another book in the future featuring him and the Princess? Hopefully not cooking with garlic, however.
AW: It's funny because the Count isn't affected by garlic, or is impervious, as his assistant in the kitchen is Clove, a living clove of garlic with a growing family. I have lots of ideas for more stories with these characters and in this world and I've had a great time creating a couple of short strips expanding the cast. I actually finished the book autumn 2013 but it's been easy to return to the Underworld and draw the Count and Princess. So, yes, I'd love to do more books but I guess I'll have to wait and see if they find an audience. The book's been well received so far, so I'm hopeful.
CH: What about First Second made you choose to take your story to them?
AW: I created the book first, completely finished it before looking for a publisher. In fact, dumb as it may sound, I tried to keep the idea of publishers out of my mind while I made the book. I just wanted to do the book the way I wanted to do it and not be influenced or worried about what the market might want. When I was done I was wondering who I should send it out to when it occurred to me that, yeah, First Second would be a great home for it. They publish all kinds of stories, specialise in graphic novels and know the book market and libraries…naturally I figured they wouldn't be interested. Publishing is never that simple. My concern was working with another book publisher and knowing how slow the book world can be, but they were really quick in making a decision, communicative and friendly and so everything worked out in the end.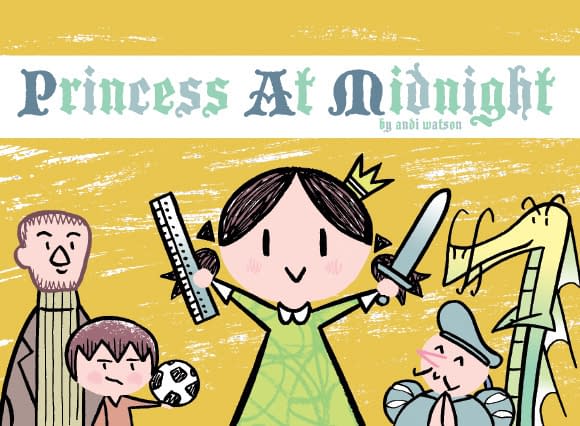 CH: This isn't your first project featuring a princess: the webcomic Princess at Midnight has been going on for the past few years. Any plans to one day collect the series through a publisher? What is it about princesses that call to you to write about them?
AW: Princess at Midnight was a story that started in one of the Mammoth anthologies from Constable & Robinson back in 2005. I dunno, sometime around then. I wanted to develop and follow it through and also thought it'd work well in colour. That's why I went with the webcomic format. The story finishes at the end of January and it'll be a little weird to write "The End" after so much time. And yes, I'm definitely looking for a publisher for it. It'd be great to see it put under one cover be able to read the whole thing on the page.
I suppose the princess is a popular character type. They're privileged with power, but their lives are also circumscribed. The classic "with great power…" dilemma that we're all familiar with. I guess Midnight looks at the privilege end of the spectrum and Decomposia looks at the circumscribed end. In that way they're quite different in tone, style and content. Midnight looks at power and sibling rivalry, while Decomposia deals with duty and responsibility.
CH: What's next on the horizon for you?
AW: As well as Princess at Midnight I've completed a graphic novel for grown-ups, something closer to what I did with Breakfast After Noon, that I'm hoping to find a publisher for. I'm waiting to hear on that. I've also written a new spooky graphic novel that I'm about to start drawing. I've written and drawn a bunch of fun short strips and extras for the Princess Decomposia release, including a short for the Tor website and another for an upcoming CBLDF anthology. So, yeah, I'm looking forward to having lots of new work out in 2015.
Princess Decomposia and Count Spatula will be available to purchase February 24th. Special thanks to Watson for taking time out of his busy schedule and Gina Gagliano for helping put this together.
Princess Decomposia and Count Spatula (First Second Books)
By Andi Watson
176 pages, B&W, $14.99
On sale February 24th, 2015
Cameron Hatheway is a reviewer and the host of Cammy's Comic Corner, an audio podcast. You can cook him an Oreo pudding cake with gummy worms on Twitter @CamComicCorner
Enjoyed this article? Share it!