Watch Amazon's Trailer for Bryan Cranston's The Dangerous Book for Boys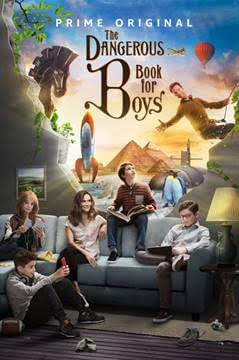 Breaking Bad's Bryan Cranston and Superbad's Greg Mottola are about to unveil the secrets of one of the most unusual and complex creatures to ever walk the earth: boys. Amazon Prime has released the official trailer for their comedy series adaptation of Conn and Hal Iggulden's book The Dangerous Book for Boys; as well as setting the premiere date for Friday, March 30th.
Mottola is directing the series, with Michael Glouberman serving as showrunner. Mottola, Cranston and James Degus serve as executive producers, with Moonshot Entertainment and Sony Pictures Television handling production.
The series stars Chris Diamantopoulos as family patriarch Patrick McKenna and Patrick's twin brother Terry; as well as Gabriel Bateman as youngest son Wyatt. The Dangerous Book for Boys also stars Erinn Hayes as Beth, the matriarch of the family who finds herself having to raise her boys as a single parent; Drew Logan Powell and Kyan Zielinski as other sons, Dash and Liam; and Swoosie Kurtz as grandmother, Tiffany.
Here's the official trailer and overview for Amazon Studios' The Dangerous Book for Boys:
The Dangerous Book for Boys follows the McKenna family as they cope with the untimely passing of Patrick (Chris Diamantopoulos), their patriarch and a whimsical inventor who touched the lives of everyone who knew him. His death has left the family reeling, but hope appears in the form of a book called The Dangerous Book for Boys that Patrick created as a handbook to help his three sons. The book is a how-to guide for childhood that inspires fantasies for his youngest son, Wyatt (Gabriel Bateman). While in his fantasy world, Wyatt reconnects with his father and learns life skills that help him navigate the real world.
The original The Dangerous Book for Boys served as a handbook for kids that's filled with advice about fishing, tree fort-building, histories of epic battles, and a number of other very important yet "dangerous" skills. The series is expected to utilize the book in the same manner during the series.