Daredevil #1 is the Most Daredevilist Daredevil Relaunch You Could Have Asked For (Spoilers)
Much has been hushed about Chip Zdarsky and Marco Checchetto's Daredevil launch, tomorrow. But Bleeding Cool has been granted a sneak peek. And for those of you despairing about no Season 4 of Netflix – this comic book seems to have been designed for you. As well as the comics' regular fans. It's an intriguing mixture.
First off, Chechetto is superb. This is a familiar Daredevil Hell's Kitchen, but the grime and the dirt are given a viscousness through his detail, just before it explodes all around him.
You have the pickups in the seedy bars…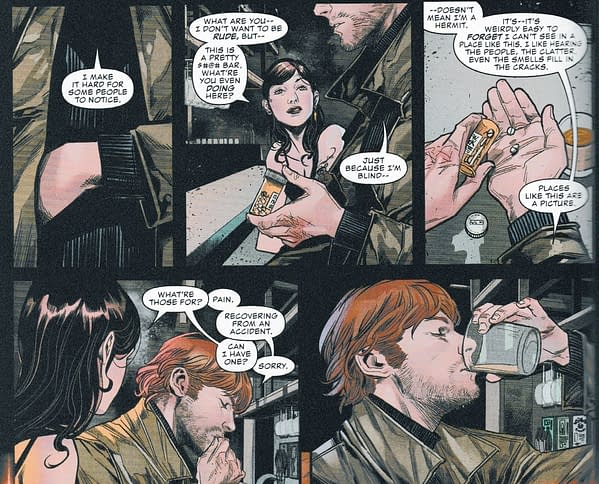 …as well as a little continuity for what came before the relaunch. Nothing much, just enough. We have a new cop in the scene, transferred in from Chicago…

…Detective Cole North, an Untouchable it seems. We have the sex-scenes with the noir frame silhouettes and a new reaction to Matt's blindness…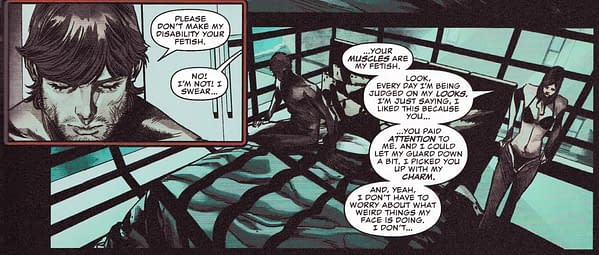 The mask is back, again with a little recent comics continuity nod…
But the Frank Miller original Man In Black costume also makes a return…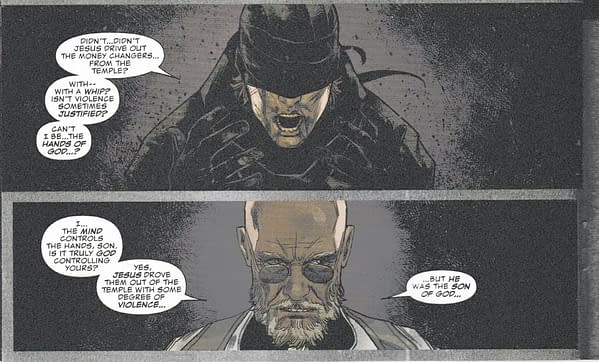 …as does CATHOLICISM.
This really is the most Daredevilist of Daredevils it could have been. With an ending that may even change the way the character is seen in the Marvel Universe, but is utterly consistent with the conversations had throughout the comic. More on that tomorrow of course.
And writer Chip Zdarsky who has put all this together even draws his own Daredevil-point-of-view strip to wrap things up. It's a Daredevil comic book for people who really, really like Daredevil. And possibly for some who have just heard of him as well…
Daredevil #1 is published tomorrow by Marvel Comics.
DAREDEVIL #1
(W) Chip Zdarsky (A) Marco Checchetto, Chip Zdarsky (CA) Julian Totino Tedesco
CLASSIFIED
Rated T+In Shops: Feb 06, 2019
SRP: $4.99