'The Dark' Review: Sad, Heartbreaking, and Disturbingly Real [Tribeca 2018]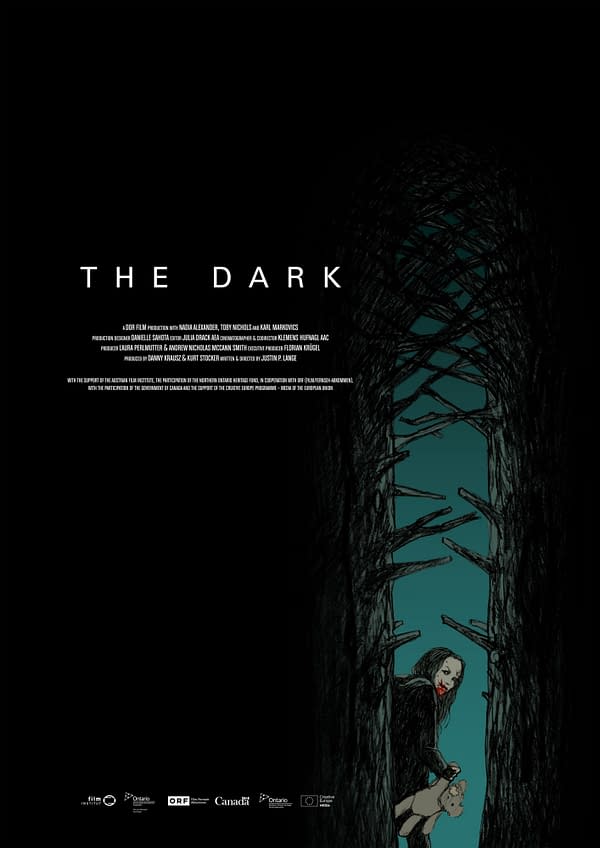 As part of our access to this year's Tribeca Film Festival in New York City, Bleeding Cool had the opportunity to screen writer/co-director Justin P. Lange's feature film debut The Dark. The unflinching horror-drama introduces us to Mina (Nadia Alexander), a young flesh-eater who haunts the woods near her childhood home. When Mina befriends Alex (Toby Nichols), a victim of abuse, she begins to question his motives — and why she doesn't feel homicidal around him.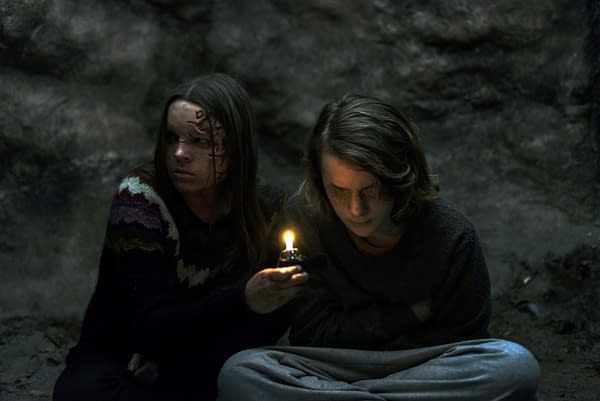 Here's a look at our review of The Dark, followed by a clip and overview of the film; as well as some additional info on the creative forces behind the project:

Being a teenage girl is already difficult enough—so imagine also being an undead ghoul. That's the horrible reality for Mina, a young woman who has been cursed to haunt her childhood home in the woods: Nobody gets in, and nobody gets out alive. That is, until she comes across Alex, a blind boy around her once-living age who is dealing with his own trauma. After she effortlessly dispatches his companion, Mina lets Alex live, and, by doing so, she begins to notice some old feelings, such as empathy and love, have resurfaced. It could be just a fluke—or Mina might be more alive than previously thought.

The Dark, the debut of writer-director Justin P. Lange, cleverly subverts the tropes of both zombie cinema and classical ghost stories. Lange's emotionally potent and quietly unnerving horror-drama taps into some of the vibes of Let the Right One In and features a remarkable performance from young star Nadia Alexander, who won the prize for Best Actress in a U.S. Narrative Feature Film for Blame at Tribeca in 2017. Despite her character's undead state, Alexander is The Dark's beating heart.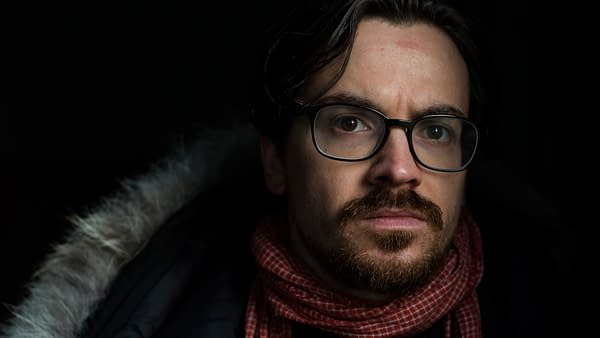 Justin P. Lange is a screenwriter and director with an MFA in film directing from the prestigious Columbia University Graduate Film Program. He only wears red shoes. Justin's short films have played numerous film festivals around the world. The Dark, his feature film debut as writer/co-director, made its world premiere at the 2018 Tribeca Film Festival. He is currently living in Los Angeles, where he has several feature films in development:
When I was a child, there was a feeling I would get at night, lying in my bed, just after my parents turned off the light in my bedroom and shut the door behind them. Immersed in the pitch-black darkness, a quiet panic would crescendo within me. My breathing would grow shallow, the hairs on my arms and neck would raise, my heart racing faster in my chest…There was something out there, lurking in the darkness. I didn't know what. It didn't have a name, or a shape. It didn't make a noise. It wasn't necessarily a monster, or a ghost, or an alien. But it could have been. It could have been anything, the possibilities were endless. Whatever it was, one thing was for certain: it was not to be trusted. It was there to find me, and it was there to hurt me.

Sometimes I wish I was still a child, when this feeling was relegated to bedtime. Sometimes I wish we, as adults, would just let children stay children…for as long as they possibly can.

I started writing The Dark over five years ago. It was born from a righteous anger, one that I realized I could no longer suppress. I watched with a sense of deep appreciation and wonder as a team of artists -two wonderful young actors, in particular – grew to feel as protective of these characters as I do, and poured their hearts into giving their stories life. I'm so grateful to finally get to share Mina and Alex with you.
Nadia Alexander (Mina) is quickly making her mark in Hollywood with dynamic and impactful performances in both film and television. Most recently, Alexander was seen starring in a supporting role on Veena Sud's Netflix drama series Seven Seconds, as the ill-fated witness Nadine. In 2017, she also starred in USA's limited series The Sinner opposite Jessica Biel.
Earlier this year, Alexander was seen starring opposite Chris Messina and Quinn Shephard in the feature film Blame, which written and directed by Shephard. The film premiered at the 2017 Tribeca Film Festival, earning Alexander Best Actress for her performance in the film.
Alexander will next star in Boaz Yakin's Boarding School, set to be released later this year by Momentum Pictures. Additional credits include 10,000 Saints, Admission, and Jamie Marks is Dead; while additional TV credits include Fan Girl, Boardwalk Empire, The Wilding, The Following, and Law and Order.
On stage, Nadia starred in the Rattlestick Theatre's production of There Are No More Big Secrets. She is a Presidential Scholar of the Arts, graduating with a double major in psychology and physics. She currently resides in New York.

Toby Nichols (Alex) will next be seen in a leading role in The Dark, set to premiere at the 2018 Tribeca Film Festival. Originally from Louisiana, Toby started acting at a young age and immediately began to find work in both film and television. He's had major recurring roles on the critically acclaimed Underground (WGN) as well as Marvel's Iron Fist (Netflix).
Other projects include a leading role in the feature film, Desolation, which was released in 2018; as well as a supporting role in Trumbo, directed by Jay Roach. Prior to that, Toby had guest roles in Salem (WGN) as well as American Horror Story (FX).