Dick Grayson, Robin was created as a side-kick to Batman by Bob Kane, Bill Finger, and Jerry Robinson, in 1940. Conceived as a way to attract young readership, Robin garnered overwhelmingly positive critical reception, doubling the sales of the Batman titles. In the 1980s, after leading the Teen Titans, he changed identities and became the independent superhero Nightwing.
The character's second incarnation, Jason Todd first appeared in 1983 until 1989, when the character was murdered by the Joker – later being brought back to life and becoming the Red Hood. But in between we got a third Robin, Tim Drake in 1991, training to earn the role. The monthly Robin ongoing series began in 1993 and ended in early 2009. In 2004 Stephanie Brown became the fourth Robin for a short duration before the role reverted to Tim Drake. And then in 2009, Bruce Wayne's son, Damian Wayne became the new Robin.
Following the 2011 New 52 reboot, Tim Drake was revised as having assumed the title Red Robin, Jason Todd, operating as the Red Hood, was slowly repairing his relationship with Batman, Dick Grayson resumed his role as Nightwing and Stephanie Brown was never a Robin, introduced as Spoiler. With Batman having only been around for ten years, that meant there were a lot of Robins to fit into that space.
When the DC Timeline was leaked by DC Comics at New York Comic Con, it established Bruce Wayne as having been Batman for decades. That Batman was being aged up. Taking that ten years of being Batman and making it more like forty. And earlier this week we heard that this was being embraced by the Batman offices as a way to give all of his Robin's their full careers back. And hey, maybe that will even provide space for Spoiler. After all, the motto for 5G and the new DC Timeline as a whole is that "everything happened"…
Look up, Robins, you got your lives back.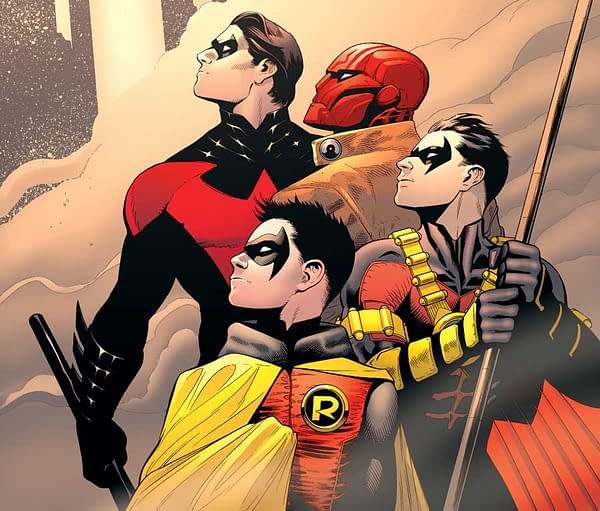 Enjoyed this article? Share it!