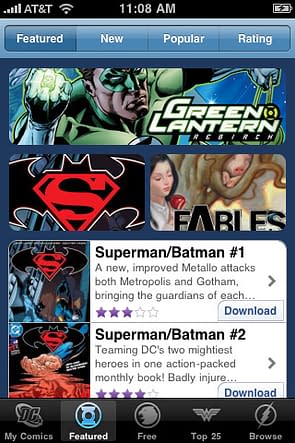 DC Entertainment have been incredibly reticent about their plans for digital comics, with co-publisher Jim Lee stating that they weren't happy with the digital reading experience yet and you'd have to wait a while.
And then DC suddenly, without warning or fanfare, launch a DC Comics App that's… basically just the same as all the others, built by Comixology who also provided Marvel and Boom with their readers .
You can read more about it here.
There's a free preview of Superman #700, a wide range of comics listed at 99c or $1.99. Anyone care to take it for a spin and report back?
More controversially, there is a day-and-date release for Justice League Generation Lost #4, out later today in the US and tomorrow in the UK, already available in the App at the full price of $2.99.
Interestingly, despite including mature readers comics from the Vertigo line, the App only gets a 12+ rating with the following provisos;
Rated 12+ for the following:
Infrequent/Mild Sexual Content or Nudity
Infrequent/Mild Simulated Gambling
Infrequent/Mild Alcohol, Tobacco, or Drug Use or References
Infrequent/Mild Horror/Fear Themes
Infrequent/Mild Mature/Suggestive Themes
Infrequent/Mild Realistic Violence
Infrequent/Mild Profanity or Crude Humor
Frequent/Intense Cartoon or Fantasy Violence
Would Sandman have been quite the hit if the original adline had been the following? Enjoyed this article? Share it!