DC: The New MAD Magazine SDCC Panel
With a history dating back to its founding by Harvey Kurtzman and William Gaines in 1952, MAD has released over 500 issues, countless reprint specials, original paperbacks, and has featured art and humor from some of the greatest artists and writers to ever take part of the medium, from Wally Wood, Jack Davis, Will Elder, Sergio Aragones, Mort Drucker, Dave Berg, Dick DeBartolo, and many more. MAD has influenced an endless number of your favorite funny and non-funny people, from "Weird" Al Yankovic, Terry Gilliam, Roger Ebert, and more. After all this though, in 2017 MAD moved from its 65 year home in New York City to Burbank, California, and then in 2018 MAD restarted its number releasing only its second first issue, which is still way less then most DC books.
At SDCC 2018, MAD was looking to present itself as the all new MAD, while still keeping and even renewing ties to its long history. The panel was moderated by new Executive Editor Bill Morrison, and included Senior Editor Dan Telfer, Editor Allie Goertz, Art Director Suzy Hutchinson, Design Director Doug Thomson, Associate Editor Paula Sevenbergun, artists and writers Luke McGarry, Tom Richmond, Peter Kuper, and the previously mentioned Sergio Aragones.
The room was full for the panel and the panel was prepared to entertain. Coming to the stage dressed in Hawaiian shirts and wearing sunglasses while Wipe Out by The Ventures played them on to the stage, the panel stated that they want to show that moving from New York to Burbank didn't them any less hip then MAD creators that came before them. Then the panel dropped the act and they all took off their sunglasses and Hawaiian shirts to reveal MAD t-shirts underneath, except for Morrison who had another Hawaiian shirt under the first one he took off.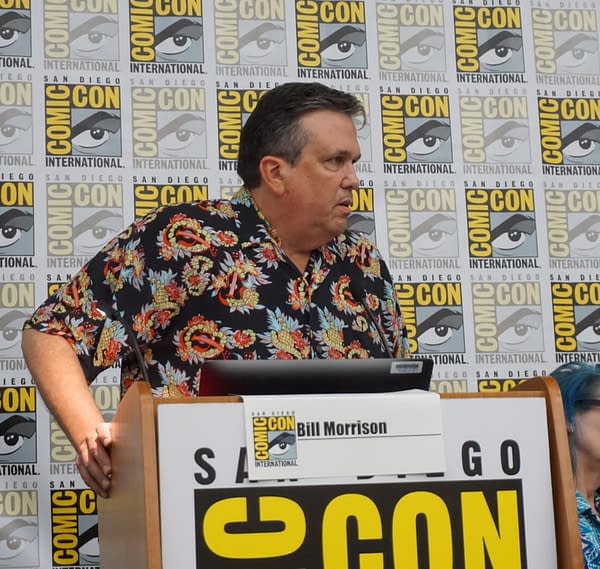 Morrison then asked everyone to stand as they were going to play President Trump's version of God Bless America, from when Trump sang along and those who read his lips couldn't figure out what he was saying, but knew the words were not right. I could not tell you all the lyrics as the sound was difficult to understand, but it definitely referenced missing Melania and Irritable Bowel Syndrome.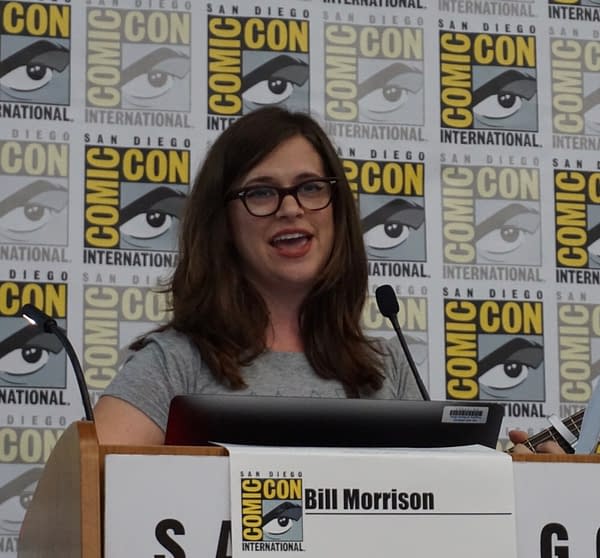 Goertz then came up to play guitar and sang what I assume is an original song, Everyone Loves Us. While this was playing the slideshow ran through a bunch of rather angry tweets about the new MAD. Goertz continued singing as the audience laughed at the posts from people on Twitter.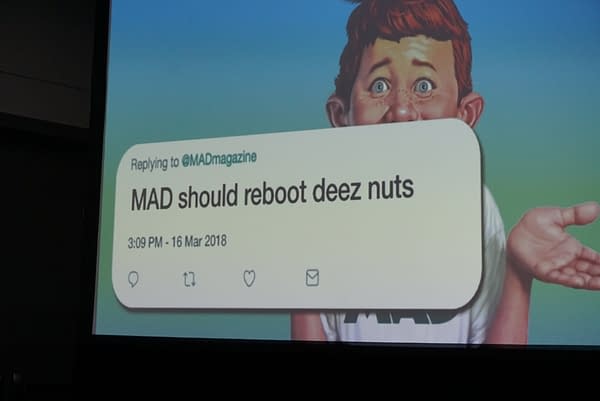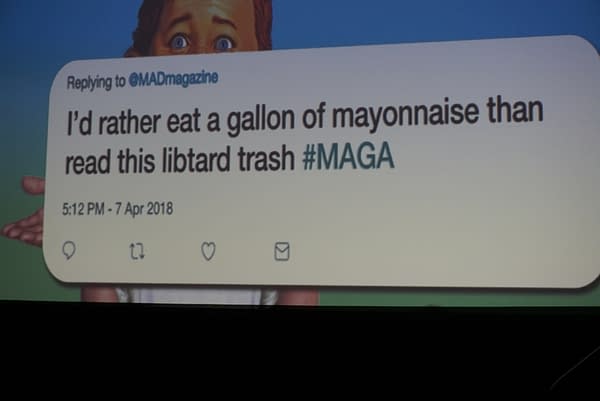 MAD will be bringing back The Lighter Side Of features, and they will be written by Tammy Golden with art by Jon Adams. At this point the panel was interrupted by the dancing Real Pee Tape. I don't think I can really explain it so just look at the pictures.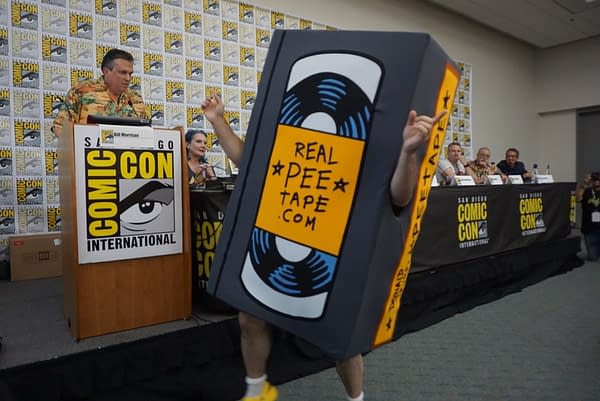 The great Al Jaffee will still be in the MAD, continuing to provide the MAD Fold-In even at age 97. One new feature introduced is by McGarry, called The 27 Club. Based around all the musical figures who passed away at age 27. The concept is that they are in heaven and come down to Earth to solve crimes Justice League style. Keith Richards serves as the conduit as he exists between the land of the living and dead.
Another reach into the past is the return of Starchie and Bottleneck. Morrison said they wanted to do a Riverdale parody, so what better way than using Starchie and Bottleneck as a lead in to Riverdull.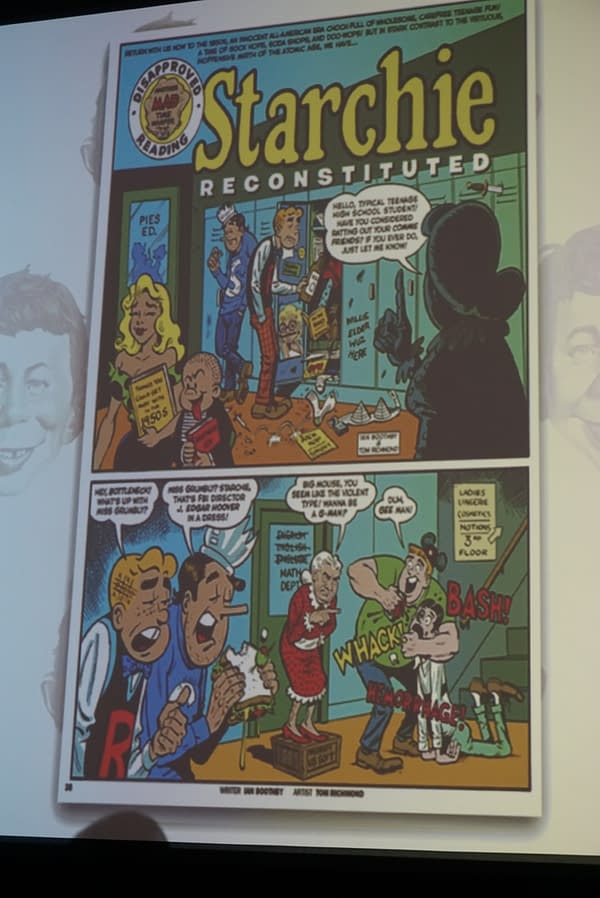 The panel introduced some new ongoing characters, Xander and Kam. This is part of an effort to increase representation in MAD to more closely match their staff and society.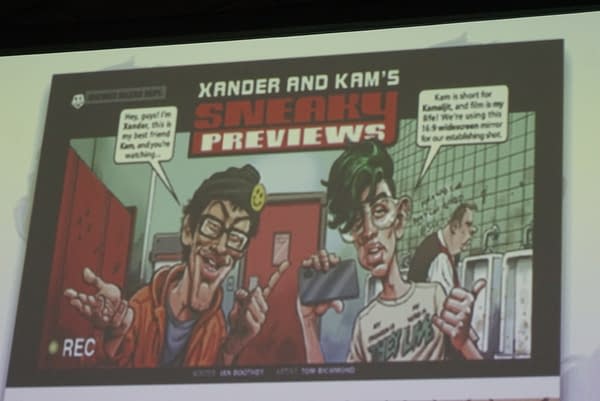 Spy vs. Spy will still be around with Kuper continuing to work on it, which he has been doing since 1996. Thomson also shared that one of the design changes is the table contents which will now be two pages, instead of one.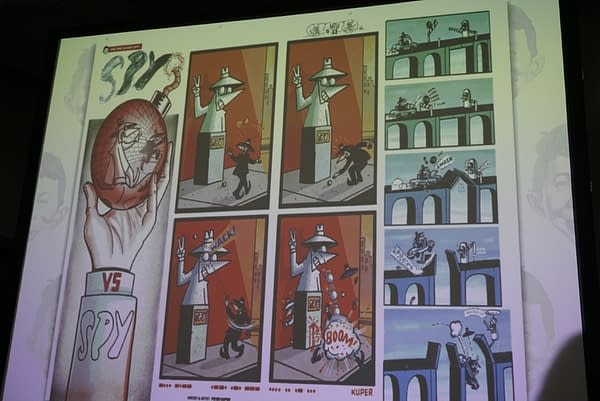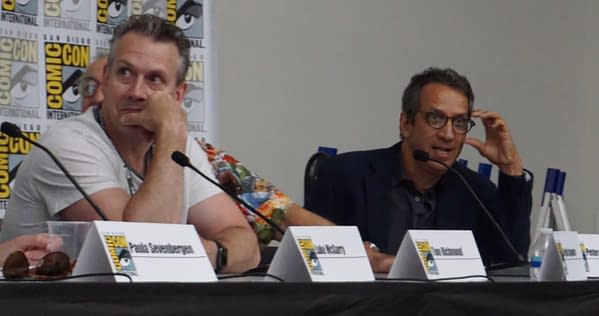 The new MAD isn't just about renumbering and moving across the coast, they are trying reach out across all social media. Besides a redesigned website, Twitter, and Facebook pages, MAD has a Twitch page. Telfer, who is the DM on one of my favorite podcasts Brian Posehn's Nerd Poker, is running the channel. They are recording gameplay but with the MAD twist on it, with video and game play, but doing things the wrong way. For example, they play Fortnite as Team Coward, with the goal being to to just hide as long as possible. They also have had comediennes play Injustice, but scoring was based on who had the best verbal burns against each other, not who wins the fights. This can be seen at twitch.tv/madmagazine.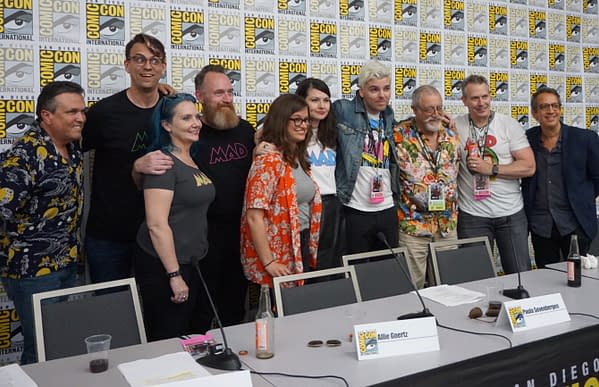 The mood got somber when Sergio gave a touching and heartfelt toast to remember Nick Meglin, a 20 year editor for MAD and someone who worked for the magazine for 48 years and was instrumental in MAD's direction over the years.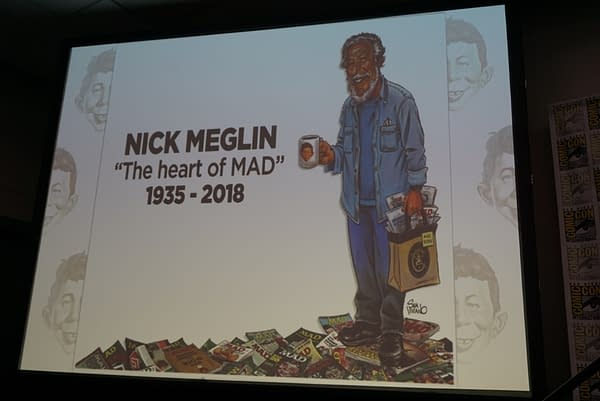 From there time was running out and Morrison wanted to get to as many questions as possible, so he said if five questions were asked that Telfer would hit Aragones in the face with a pie. That got Aragones' attention and he wanted to know whose idea this was. When it came out that Morrison was the culprit we found out that Morrison was wearing a third Hawaiian shirt as removed the second one after it got dirty when Aragones hit him in the face with a pie instead.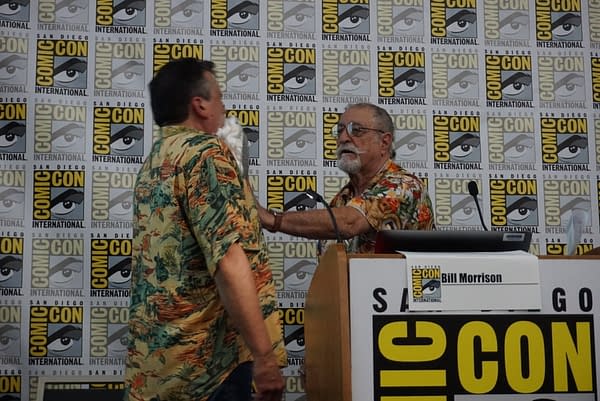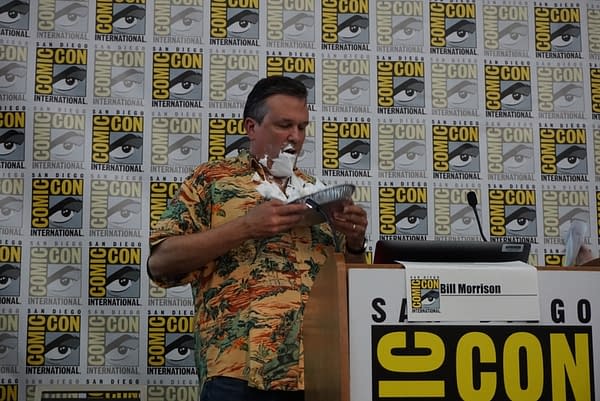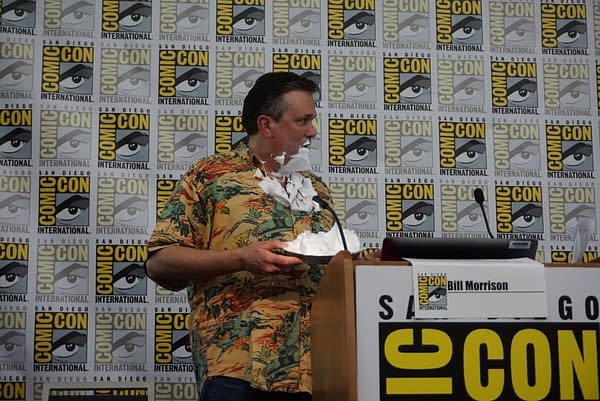 Overall a very entertaining panel, and if the "new" MAD even comes close to what the panel presented, then it is worth a subscription, regardless of what some people on Twitter say.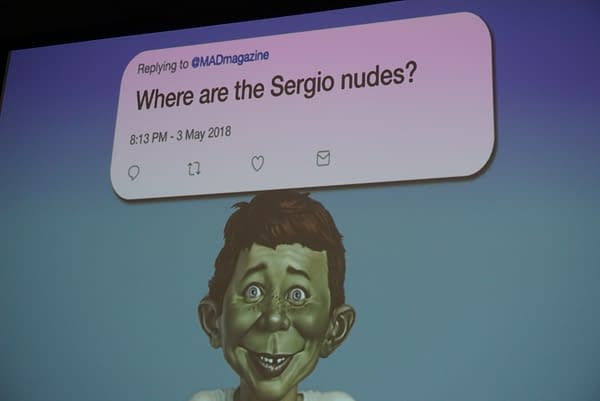 For further musings from Joshua Stone, follow him on the Twitter @1NerdyOne