Thursday Trending Topics: Deadpool, Daleks, Dan Aykroyd, And Days Of Future Past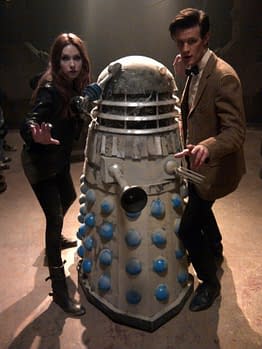 How's that for a D-list? The D's do indeed have it today on Bleeding Cool, with plethora of D-headlined topics making it to the top of our list of your favorite things today. Sadly, there was no Demon, Detective, Daredevil, or Deadman… but there's always tomorrow.
Most-Read Comic Stories Today:
The Venom Cosplay Photos That Facebook Banned
Okay, one last thing. The Venom cosplay photos using liquid latex that got the photographer two strikes and a Facebook lock out before he gets banned completely.
Power Girl's Boob Window Is Back
It's not like it's for long. And no doubt by next week it will be repaired for next month. But in today's issue of World's Finest, Power Girl gives us a flashback to an earlier iteration of her costume, and one that made her rather famous, if only in cosplay circles. The "boob window".
Brian Posehn, Gerry Duggan And Tony Moore Relaunch Deadpool For Marvel Now!
You can see how that might work.
Most-Read TV/Film Stories Today:
Dan Aykroyd Says Ghostbusters 3 Will Go Ahead, Just Without Bill Murray
Dan Aykroyd has stated two very clear things about Ghostbusters 3 in a new interview.
Bryan Singer On Days Of Future Past And Marvel Movieverse Style Connectivity Between Films In The X-Men Series
The producer says that it's so, so it's so: the sequel to X-Men: First Class is called X-Men: Days of Future Past and will take many of its cues from Chris Claremont and john Byrne's comics.
Daleks Aplenty In New Doctor Who Trailer – And Weeping Angels, Dinosaurs And More
This version of the new Doctor Who trailer is viewable globally.