Digital Phenomenon Red Light Properties Comes To Print From IDW – Talking Glow-in-the-dark Spirits with Dan Goldman
I discovered Dan Goldman's Red Light Properties digitally through Monkeybrain Comics on ComiXology, and it was one of those moments where you realize, "This. This is the sort of comic I want to read". For genre comics fans, it's a no brainer, but the series is such a mix of unusual elements that there's no possible way anyone but Dan Goldman could have created it. He both writes and illustrates the comic using a mixture of tools and features, combining aspects of photo-realism and psychedelic colors and accents to produce the necessary elements of a story that features a fairly down-to-earth version of Miami and the more than mundane elements of supernatural encounters.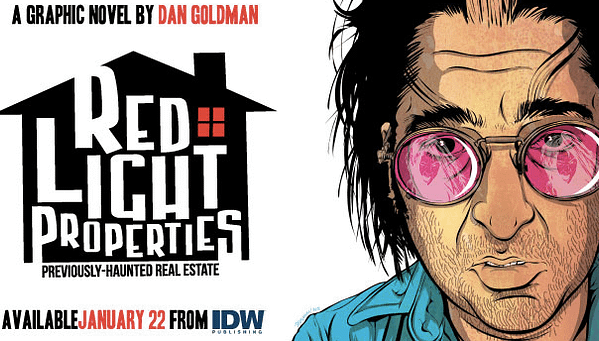 RLP follows the lives of Jude Tobin and his wife Cecilia who operate a real-estate agency flipping houses during tough economic times. Only Jude is a medium constantly assaulted by the lingering unresolved issues of former inhabitants willing to turn his affliction into profit by exorcising homes. What he really ends up doing is forcing people to confront, and resolve, their own dark legacies before he can make the sales he so desperately needs. Jude is a shamanic figure whose hapless, shambling personality makes for an unusual protagonist and his episodic encounters with the great beyond combine with his volatile family life for explosive effect. The hauntings Jude encounters are quite gritty and emotionally compelling, and really can't predict what you'll find in any one issue of the comic, which makes for a gripping read.
After a long and dedicated history of creator-owned work on the series by Dan Goldman, RLP is coming to a fully remastered print edition from IDW in January. It's going to be quite a tome, and I'm looking forward to seeing the transition into print. Goldman tells us that the book will have plenty of surprises, even for those who have followed the digital series. And his plans for RLP—well they don't stop there. It's become his most personal work, and one he intends to pursue into future arcs. For a creator who both writes and illustrates a work, then personally handles a transition into print, it's a long road, and in honor of the amount of labor that has gone into this volume, I asked Goldman to give us a retrospective on the series and a glimpse at the processes involved in the multi-media history of his comic.
Hannah Means-Shannon: So, in a nutshell, what is the history of Red Light Properties and why is this new collection so significant?
Dan Goldman: This is the definitive fully-remastered edition of the beginning of RLP and its first time in print. It's been over a decade since I started my work following this family-run exorcism-slash-real-estate agency; the lives of Jude and Cecilia Tobin have been slow-cooking on the back burner while I did Shooting War and all my political comics work. I was waiting until my chops felt strong enough to do this story justice, which turned out to be in early 2010 (and again even more so this year).
The story was serialized online at Tor.com, then jumped to a self-published e-books, then joined Monkeybrain Comics' lineup on Comixology, all before coming to IDW Publishing for its print home. For this first print book, I've added 20+ never-before-seen pages, re-lettered and recolored literally the entire graphic novel, as well as reworked dialogue, redrawn panels and replaced early 3-D models used for updated versions.
In essence, this is the book I saw in my head when I first created the work, and I couldn't be happier with it. It's also the start of the larger series in print, with the second volume due out this summer.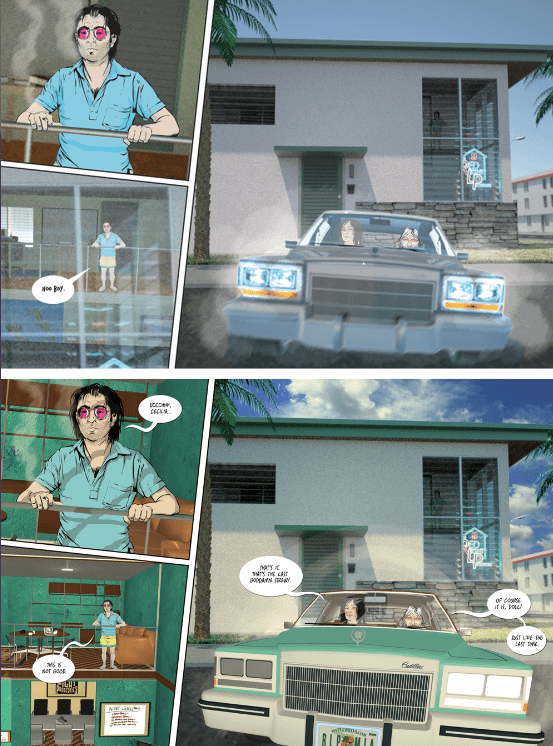 HMS: What insights has the time you've spent re-mastering the series given you into the characters and concepts behind the work?
DG: There's always the danger when you return to early work that you're going to hate it. I've already drawn another 100 pages beyond the end of this book and made significant improvements to my workflow and storytelling. So when I came back to this book, it was important to make my 2010 work look/feel/read like 2014 work. In the process of doing that, I fell in love with this whole world in a whole new way.
It's funny too, as I was torturing myself the whole time I was living down in Brazil for not having a print edition of this work out… but now I'm really grateful to IDW that I got the extra six months or whatever to deliver to them the book I just did.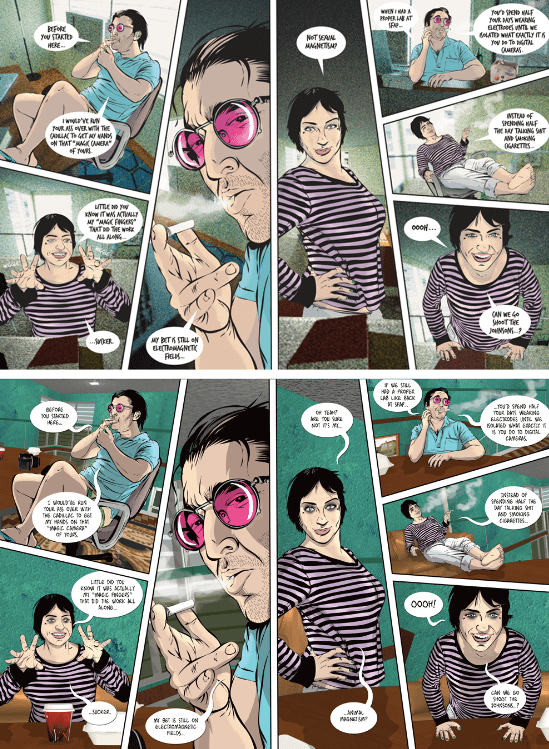 HMS: What are you most proud of about this new collection?
DG: I spent much of 2012 working with screenwriters instead of drawing comics, and the story-instincts I honed doing that helped me make tighten up the story-logic and character arc structure of RLP's world. It's a much stronger foundation for the whole series to move forward from now.
Also – and this was totally a last-minute idea I had while crashing on my deadlines – the cover's white background has glow-in-the-dark spirits in it… and by the time you've read the book, you'll know who each one of them are.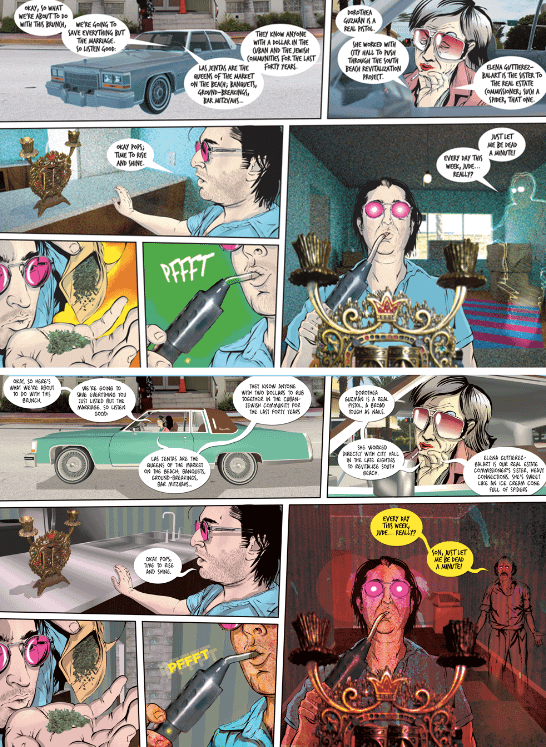 HMS: Why do you think that the supernatural works for modern comics readers? As a writer, what do you think is necessary to make that work?
Supernatural stories have been part of human culture since before history, so it's funny that nowadays they've been relegated to a genre. The reason they work so well in comics form is the visuals can go wild in ways other media haven't totally figured out yet (e.g. have you seen the way J.H. Williams III renders his Batwoman villain "La Llorona"…?)
To me, a good story just works, period. It doesn't matter what genre you're playing in. Give me a brilliant concept without compelling characters and I want out by the second act; I need someone to hold on to and feel for.
With RLP, having these paranormal elements inhabiting the landscape of this very fucked-up family just reflects who they are back at them, amplifies their own human dramas while giving the readers mysteries to follow that really the series' larger plot forward by making the Tobins grow and change as people.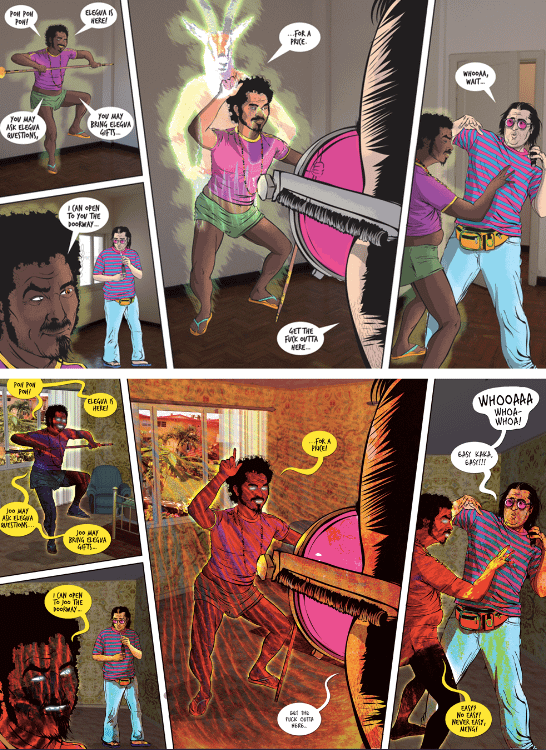 HMS: Can you tell the readers a little about the mechanics of re-mastering a digital-first comic into print format?
DG: Mostly it involves adjusting levels of black and tweaking color profiles, but I'll spare you guys that deep Photoshop design nerd-out. For me, going from digital to print means adjusting for a slightly different reading experience, going back to the beauty of the page-turn as a reveal in the story. I've been really lucky that these pages have survived these transitions so effectively, probably because I work in landscape pages instead of portrait spreads that can get broken up. Retrofitting this book has been pretty seamless in terms of storytelling flow.
For me, the bigger re-mastering challenge was more of moving from an online graphic novel serialized in chapters to individually-released digital singles to this final proper big hunk o' graphic novel. I wanted the final RLP to read both as a solid beginning to a larger story and a cracking read on its own. I've added transitional scenes that avoided these jump-cut feelings while reading, and I threw away probably 20 pages of story that just didn't feel right anymore with the book taking a single novel shape. In the end, I want everyone to read the whole thing and smile and desperately wish for more…which there is, already, on Comixology… and beyond. I aim on work with these characters for a long time to come.
Red Light Properties will be available on January 22nd from IDW.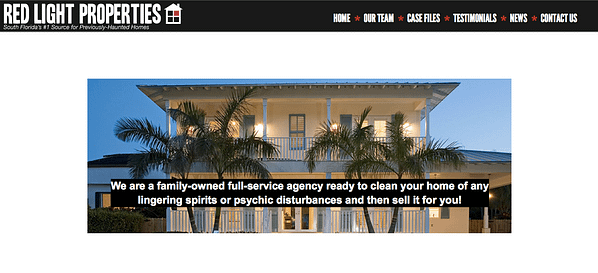 Hannah Means-Shannon is EIC of Bleeding Cool and @hannahmenzies on Twitter.