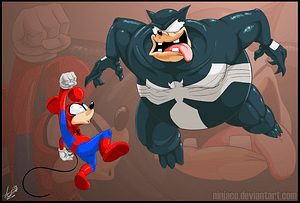 It seems that yesterday's report of Panini Comics taking over Bonelli's international distribution was a little on the late side. It actually happened a month ago. So why was I specifically hearing about it yesterday?
Seems it might be part of a little damage limitation. Because two days ago, Disney took over the handling of Marvel's international licensing. And Panini feels rather threatened.
As well it might be, Panini license Marvel extensively outside of the USA, all across South America and Europe. And this established network is one that Disney could utilise if it decided to withdraw that license and expand its own comics publishing operations with already established Marvel titles into those territories.
And in Italy especially, Panini and Disney are sworn rivals in the comic book arena. And suddenly Disney owns the rights to the majority of books that Panini are publishing there.
Is this the start of a new comic book world war?
Enjoyed this article? Share it!