By Dirk Manning
Time-travel, family matters, and a hard-boiled mystery all intertwine in the new Image Comics OGN Displaced Persons by writer Derek McCulloch and artist Anthony Peruzzo. Recently the two were kind enough to share several images – including a 20-page preview! – from the upcoming book while also taking a few minutes to talk about the evolution of the project, the approach it needed, and why you won't be seeing a sequel to this epic 168-page tome. Dirk Manning: You've both been working in the comic scene for a while, but as a quick reminder (or, in some cases, introduction), what are some of your favorite projects you've both had published to date?
Anthony Peruzzo: Both Derek and I collaborated on short stories for the Image anthologies Fractured Fables and Popgun (Vol. 4) and we've worked on other projects, so we're not strangers to each other. I've also illustrated some Nightmare World stories with some writer… I think his name was Manning or something. For those that remember Zuda (DC's online comic competition) I had two stories on there. I've also done quite a few web comics. Readers can check out a bunch of my stuff from my portfolio on flickr.
Derek McCulloch: I started out in comics in the mid-80s, self-publishing in the first black-and-white comics boom and bust. I checked out of the business in the early 90s and then popped back in about ten years ago when Image published my book with Shepherd Hendrix, Stagger Lee. I did a couple of other books for Image – Pug (with Greg Espinoza), and the children's book T. Runt! (with Jimmie Robinson). And I did an OGN for Vertigo with Colleen Doran, called Gone to Amerikay. DM: Displaced Persons is a very ambitious project on a lot of levels, not the least of which is the format itself. Derek, can you talk a little about what lead you to decide to do this story as an OGN as opposed to monthly? And Anthony, what was it about this project that drew you to drawing it… pardon the pun.
DMcC: The medium is the message, I guess. The structure I figured out for the story made it really difficult to do it in any form other than a stand-alone OGN. We did talk with Image at one point about maybe splitting it into three 56-page monthlies, but it was agreed that there wasn't much to be gained by doing that. I suppose it would have been possible to retool it as a monthly if anyone had really wanted us to do that, but I think I would have had to completely abandon the structure I used, and it would have lost a lot of what makes it unique in the process.
AP: I was actually the third artist on the project. Derek, I'm sure, can speak more about the long history of the book. I'd actually been watching the book develop from afar when it was first announced in early 2000's. Derek and I frequented the same online forum, which is how we connected on some of the other stories we worked on. Anyway, when the other artists finally parted ways from the book, I think out of desperation, Derek sent me the script. I instantly knew this was one of the best scripts I had ever read. After all of the hardships and bad luck the story and Derek had gone through, I felt a real obligation to help finish it so the world could read it.
DMcC: It definitely was not desperation. I'd worked with Anthony on three smaller projects of increasing scope and ambition, and saw him making leaps and strides with each successive one. His work on the physical environments on the third one (which took place in early 1930s New York) gave me the idea that he had the stuff to deal with the very specific time-and-place geography of Displaced Persons. I could see very quickly from the first pages he turned in for Displaced Persons that I had been right.
DM: Displaced Persons covers a lot of genres in its three different (yet intertwined) plots, including noir, mystery, drama, crime, and even a bit of science fiction… but what's the "quick pitch" you would each give new readers who want to know more about this book.
AP: The book is for anyone who loves a complicated mystery set over the course of a hundred or so years. There are detectives, drug-dealers and violence, but the heart of the story is about the relationships of family and how each generation can affect the next.
DMcC: I've been working on this book since 1999 and still haven't figured out how to give it a proper elevator pitch that really tells you what it is. "It's a story about one really messed-up family" is probably the most accurate summary, but that doesn't tell you anything. Sometimes I say "It's about how individual lives can get tossed around and destroyed by the impersonal destruction of grand historic forces," but that probably says even less. I think my best hybrid pitch for it would be "It's The Maltese Falcon meets Bullitt meets The House of Sand and Fog meets Time After Time.
AP: I actually used Bullitt and the The Maltese Falcon as image reference for the book by the way… DM: Along with the three plots in three different time periods that eventually all weave together, this book has a pretty huge cast. For both of you, who's your favorite character, and why?
AP: This is a real hard question! I like pretty much all of them, but if I had to pick, it would actually be a minor character who only appears on three or four pages. His name is Sterling Brewster who is a sort of lounge singer who indirectly helps solve one of the mysteries of the first chapter. I could see possibilities for a larger story for him in a separate book.
DMcC: I don't tend to think about the stuff I write in terms of having favorite characters. Not in the "oh they're all my children and I couldn't possibly pick one," sense, but more like they're a bunch of neighbors I've been interacting with for a really long time… but once I finished writing the book, I was ready to move into another neighborhood. Like, they were a crowd I observed for a while and some of them have made some questionable choices in life, and some of them have had kind of a hard time of it, but what's done is done. I guess I had more favorite relationships than favorite characters. The relationship between Garland Price and Davy Abramowitz, for instance. They're young men in the 1939 chapter – Gar's a private eye and Davy is his hapless assistant – and they're old or middle-aged men in the 1969 chapter, and by the time you see them in that middle chapter, they've had 30 years' worth of experiences together that we don't necessarily see, but that have clearly led to an enduring, familial closeness.
I actually see their relationship as the great love story of the book. I've been working on an article about the book where I select songs scene by scene for an imaginary soundtrack, and every time I have Gar and Davy together, I seem to pick a love song. This would probably mortify them if they were real people. I also really like the relationship in the 1999 chapter between Lucy, a lost and confused visitor from 1939, and Chad, the man who gives her shelter and tries to help her figure out what's happened to her. It's probably one of the saddest stories of the book, and one of the sweetest.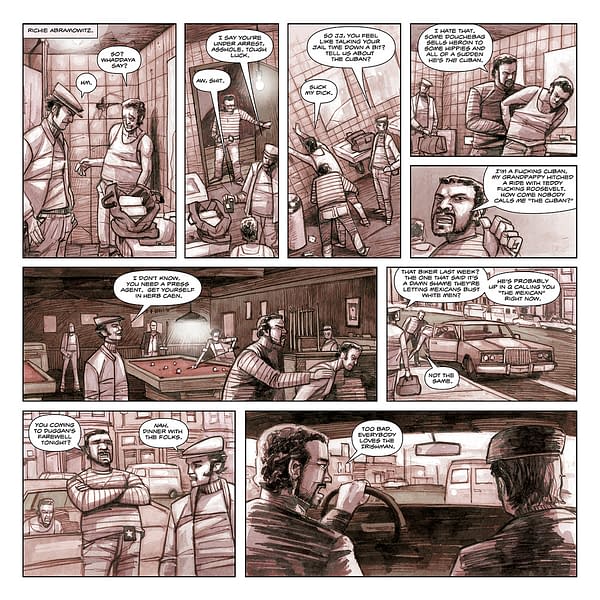 DM: Derek, you've publicly mentioned that your goal is for people to go back and re-read Displaced Persons upon completing it for the first time so they can catch everything they may have missed (or been unable to put in context) during their first reading… but have you given any serious thought to a sequel to this story, or is it a bonafide "done-in-one" tale?
DMcC: It's a novel, and it says what it set out to say. More than that, it's a closed loop. If you get to the end of the book and you feel like you want to spend more time with those characters and that world, then you can just go back to the beginning and start again. I guess I've never really liked the tendency in comics and science fiction to insist that once is never enough… that every story has to have a sequel, or be an ongoing serial. I'd rather have a single, complete, fully realized experience, and then go on to something else. I think Displaced Persons works really well as a solitary work, and I don't think there's anything I could add to it without cheapening what it does achieve.
And here's Bleeding Cool's 20 page preview of the graphic novel:

Displaced Persons by Derek McCulloch and Anthony Peruzzo is scheduled to be released by Image Comics on August 13th.
Dirk Manning is a semi-frequent contributor to Bleeding Cool via articles, convention retrospectives, and the inspirational/how-to column Write or Wrong, which he has not abandoned. Honest! To get all the latest news on his latest comic franchise Tales of Mr. Rhee from Devil's Due (and all of the other comics he's been writing as of late) check out www.DirkManning.com, or find him on Facebook, Twitter, or even Instagram… if you're into that sort of thing.
Enjoyed this article? Share it!