Fear the Walking Dead Season 4, Episode 11 'The Code' Preview: Morgan's at a Crossroads Once Again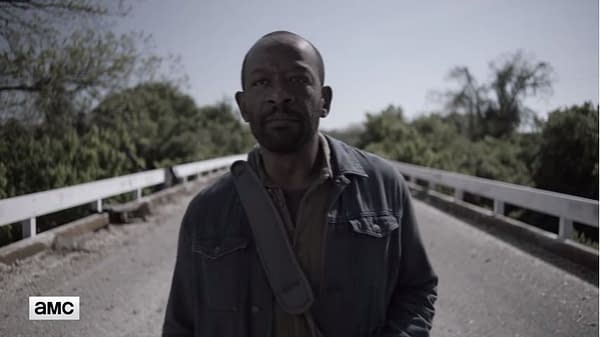 Look, Morgan's (Lennie James) done everything he can to get as many people to come back with him to Alexandria (and The Walking Dead) as possible — and now he's facing his own crossroads once again. As we can see from the following preview for AMC's Fear the Walking Dead season 4, episode 11, 'The Code', Morgan now has to deal with some pushback to his home plan from a very unexpected source: himself:
But our next episode isn't another one/two-character showcase like the previous 'Close Your Eyes' (make sure to check out our review here), but it also looks like we'll be getting our first introductions to: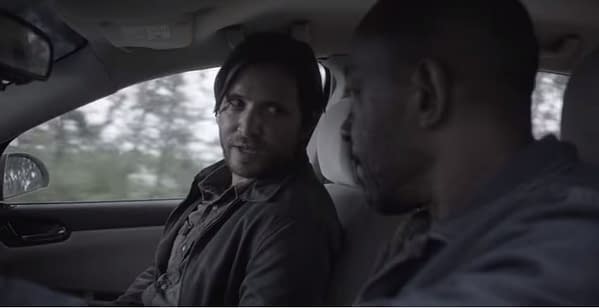 Aaron Stanford (Live Free or Die, The Hills Have Eyes, X-Men, Nikita, 12 Monkeys) as an entrepreneur with "a secret that could aid other survivors" who tries to get into the good graces of Collins and Mitchell's characters;
Mo Collins' (MAD TV, Parks and Recreation, Curb Your Enthusiasm, Family Guy) truck-driving character, partnered with Mitchell's character when they're first introduced;
Daryl "Chill" Mitchell's (House Party, 10 Things I Hate About You, Galaxy Quest, Law & Order) comedic, no-nonsense individual who is close to Collins' character — and is the Walking Dead universe's first wheelchair-bound lead.
Fear the Walking Dead s04e11 'The Code': Morgan's journey is derailed by some new acquaintances.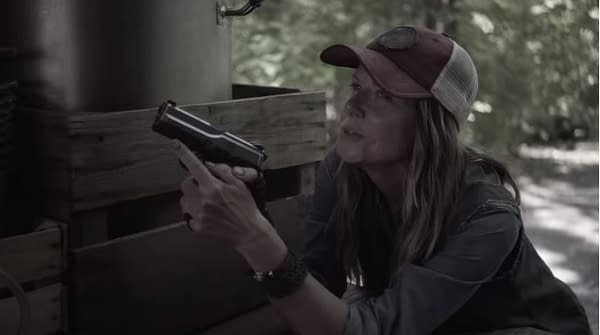 The cast and creators from AMC's Fear the Walking Dead take a look ahead at what's still to come as the series heads towards its fourth-season finale:

The first half of season four began with one figure huddled around a campfire, and ended with nine. Characters who started their journeys in isolation collided with each other in unexpected ways and found themselves in one of the last places they ever expected to be…together.

In the back half of the season they will explore who they are now – as individuals and as part of the greater group – and how they will forge ahead. They will find themselves pitted against new adversaries – human, walker, and even nature itself. Theirs will be a journey wrought with danger, love, heartbreak, loss, and ultimately, hope.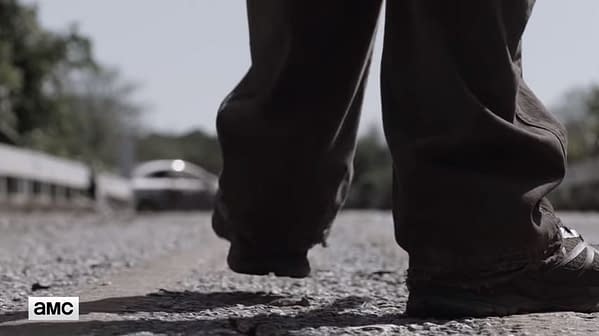 Fear the Walking Dead is executive produced by showrunners Andrew Chambliss and Ian Goldberg, as well as Scott M. Gimple, Robert Kirkman, David Alpert, Gale Anne Hurd and Greg Nicotero, and produced by AMC Studios. The series stars Lennie James, Alycia Debnam-Carey, Colman Domingo, Danay Garcia, Garret Dillahunt, Maggie Grace, Jenna Elfman, Alexa Nisenson, Mo Collins, Daryl "Chill" Mitchell, Aaron Stanford, Tonya Pinkins, and Stephen Henderson.