Fox's Sleepy Hollow Is Wildly Entertaining But Is It Wildly Inaccurate?
First off, I'm aware that we're dealing with a wildly fantastic fictional reality when it comes to Fox's new series Sleepy Hollow, so far up to 5 episodes and on a brief hiatus (due to the World Series), though it has been renewed already for a second season.
*[This discussion is spoiler free, only using information that appears in promo copy for the show, but if you really want to know nothing at all about the show before watching it up to episode 5, stop now!] I first encountered the pilot for the show at San Diego Comic Con last July. I had seen massive headless Redcoats striding around the con and taken photos of them though I wasn't sure exactly what these teams of decapitated soldiers were meant to represent. Suddenly, while waiting for another panel to start in the same room at the convention, the lights went dim on me and security assured me that if I didn't turn off my computer, I'd be thrown out.
And up on large screens came the premier of the show Sleepy Hollow. I wasn't able to type up my coverage of the con as I had planned, due to the digital device embargo, so I sat back and tried to make the most of my situation. What I saw was so wild and wacky that it eventually made me laugh. I appreciated the gusto with which the first episode attacked my sense of credulity. There were fairly high production values, loose name-dropping from characters and events in Washington Irving's famous short story, and some characters who do inspire curiosity, all in the first episode.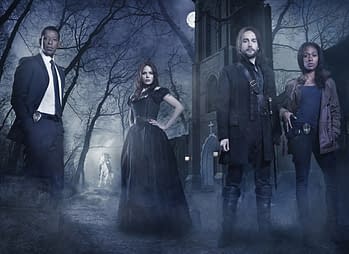 Lead actors Tom Mison as Ichabod Crane and Nicole Beharie as police responder Lt. Abbie Mills start off strong and actually warm to their roles in subsequent episodes. Casting was clever there, and add Orlando Jones as Frank Irving (a nod to the author), and John Cho in a guest role and you have a pretty winning combination. I was struck by the show, which features Ichabod Crane waking up in modern day Sleepy Hollow, pursued by a resurrected Headless Horseman, but I wasn't sure I would follow up by watching the show once it aired.
In the end, I gave it a second chance last week and caught up with the first 5 episodes "on demand". I only intended to watch one episode and instead watched all 5 in a couple of days, and started talking to friends about it. I found they had similar reactions to my own. At first they were impressed and interested, but by the second episode, they had found it so watchable that there was little thought of dropping out. Now they're hooked. I blame the utterly committed performances of the two leads, the use of suspense and high-grade special effects, and the use of flashbacks, jumping around in time, for the cocktail that keeps viewer interest. The finishing touch is the humor, mainly drawn from the situation in which an 18th century Oxford professor finds himself confronting modernity. He's unable to comprehend light switches, current taxation, or loofa sponges. Mison pulls off these scenes with aplomb, always the straight man in a world gone mad for him. Beharie also delivers a pretty mean one-liner when dealing with the hilarity.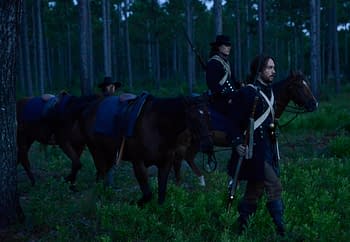 In terms of plot, one of the keys to the show's success is clearly variety. Sleepy Hollow, in some laudably unpredictable ways is a mash-up, a mash-up of many New England traditional folk-tales, of conspiracy theories, and of apocalyptic biblical traditions. Even the network's description suggests this feature, touting it as a "mystery adventure drama". That isn't all apparent in the first episode, though it is hinted at and later as the show becomes more episodic, each installment has something of its own arc to follow, a particular legend or tale its spinning out of, while moving gradually along its larger arc about preventing the end of the world. Essentially, and this isn't giving much away since it's all stated in promo copy, Crane thinks he's out to defeat the Headless Horseman but finds instead that the Horseman is one of the Four Horsemen of the Apocalypse, and he and Lt. Mills must defeat them all to prevent their ride to end the world, as drawn from the biblical Book of Revelation. And just for good measure, the Founding Fathers knew about all this so conspiracies abound. That's a wild plot, really wild and multi-layered, and most importantly, it enables the focus of the series to shift from time to time to keep things fresh.
But I had a slight problem with episode 5. It won't stop me watching the show, though I hope I don't keep encountering these kinds of issues or it might eventually put me off. I've researched, asked around, and done my level best to explain to myself why the fifth episode of a very strong show veered so strangely into the indefensible, but I can't find a clue. If you, dear readers, figure it out, please tell me because it would be a great relief to know. Basically, in the fifth installment, Crane and Mills encounter a little boy who seems to have wandered through time carrying a mysterious plague. This, of course, leads them to realize his apocalyptic role. I can accept all of that, since I've suspended of my belief pretty far in the interest of the show already. Here's the rub. The show has the boy, Thomas, and his kin-folk speaking Middle English. Pause for a moment. The rough age the boy turns out to be in his own time is such that he easily could have been William Shakespeare's kid (explaining more would be spoilers). We know this. We can look it up because the show makes that clear. Folks, they did not speak Middle English in Shakespeare's time. They spoke Early Modern English. That's why Shakespeare's language is readable, if a little difficult to understand from time to time for us modern people. I know whereof I speak since I'm a medieval scholar and professor. I could go into greater detail but I'll refrain from providing a full lecture. No way that kid or his people should be speaking the language of Geoffrey Chaucer.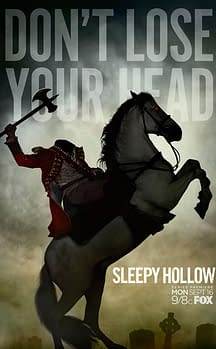 Now, the show spent money and time and coaching to provide a whole cast of actors speaking Middle English and to make things as authentic as possible. The Middle English is pretty good, even. It sounds great. But it doesn't fit. And it does break my brain a little. I'm not the only one. Students came up to me at my job and excitedly questioned whether the show was inaccurate, without prompting or previous discussion from me. My brother, who hasn't studied medieval stuff, and is, in fact, a very modern guy, started texting me about it. People noticed. Not just professors. That's not good. The show lost a thread there, and in a show that's managed to bring us all on board to near-fandom in only a few episodes, that's a little tragic. But I'm holding out hope that Sleepy Hollow won't do anything so aberrant to its own tenuous magico-historical framework in the future. I hope. Because I really have enjoyed it so far.
But in that pleasantly darkened room in San Diego, still blissfully ignorant of the Middle English debacle, I was nodding with some approval at the premier of Sleepy Hollow. I'm a fan of occult horror, and even criminal investigation shows, as well as more humorous takes on the horror like Buffy the Vampire Slayer, so I wasn't entirely out of place in the totally packed screening hall. Looking around, I saw that viewers were absolutely rapt and enthusiastic, a fan base waiting to happen. And I thought, "This could be really big". It still could be. Fingers crossed.
Hannah Means-Shannon is a regular correspondent at Bleeding Cool, writes and blogs about comics for TRIP CITY and Sequart.org, and is currently working on books about Neil Gaiman and Alan Moore for Sequart. She is @hannahmenzies on Twitter and hannahmenziesblog on WordPress. Find her bio here.
---
---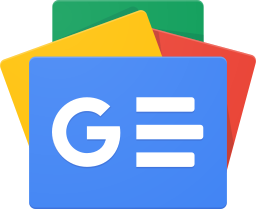 Stay up-to-date and support the site by following Bleeding Cool on Google News today!