Friday Trending Topics: "B&N Will Become THE Destination For Comic Book Lovers" [DELETE] [DELETE] [DELETE]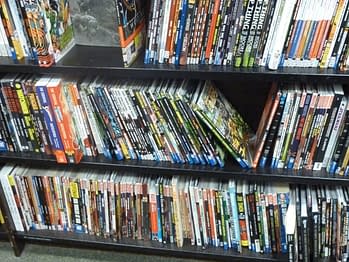 Welcome to the front lines of the Digital vs Print War. Little more than 5 months ago, Bleeding Cool reported on Barnes & Noble's plans to become "the destination for comic book lovers" by offering a greatly expanded selection of comic book singles. Now, they're taking many of the best-selling graphic novels and collections ever published off of their shelves.
There is, of course, a very interesting tangent to this tale — with the country's major book chain taking many of the most popular DC titles off its shelves, and with DC's comic book visibility as high as it's been in forever — there may be a huge window of opportunity here for direct market shops over the holiday graphic novel gift-giving season.
Most Read Comic Book Stories Today:
Barnes & Noble Pulls Watchmen, Sandman And 100 DC Graphic Novels From Their Shelves Over Amazon Kindle Fire Deal
Well now the other shoe has dropped. I understand that Barnes & Noble executives are furious over this, specifically citing DC's reluctance to release any of their graphic novels on the Nook Color, Barnes & Noble's own colour E-reading device.
Photos – Down Come The DC Books At Barnes & Noble
When we first reported this morning that Barnes & Noble were removing from their bookshelves the 100 graphic novels digitally exclusive to the Amazon Fire Kindle, there was some doubt. Even as Neil Gaiman tweeted the news, people got in touch to say their Barnes & Noble had received no such instruction. As one Upper Side New York Barnes & Noble had cleared its bookshelves, one store in the middle of Manhattan still had them all up on the shelves and hadn't been told anything.
Batwoman #2 Deletes Azrael And Lady Blackhawk From The DC Universe
On the three page preview of Batwoman #2 posted by Entertainment Weekly, the splash page has one peculiar scene. It portrays Batwoman fighting in front of a series of Batmen of Batman Inc. Except, some are frizzing out as if they don't exist.
Most-Read TV/Film Stories Today:
New Stills For Tarsem Singh's Snow White, Plus A Universal vs. Relativity Face-Off Bleeding Cool Comic Book, Movies and TV News and Rumors
Tarsem Singh's Untitled Snow White has been in the news mainly because of the unfortunate race that it's started up against Rupert Sanders' Snow White and the Huntsman, with both Relativity Media and Universal pushing their release dates forward in an effort to get their film in cinemas first. So it seems only fair, with the latest batch of photos from Singh's Snow White, to do a compare and contrast between the two pictures.
Judge Dredd Director Locked Out, Replaced By Writer Alex Garland
I wasn't sure he was going to get Dredd right, but I was still rooting for him.
Free Movie Rentals Hit YouTube UK – But What Should You Bother With?
But then, there are also the free movies that you can stream from the new service without paying a penny. Go to the new Movies area and select the free ones and you'll find a modest selection – a month's worth of viewing, maybe.
Most-Clicked Pics Today: