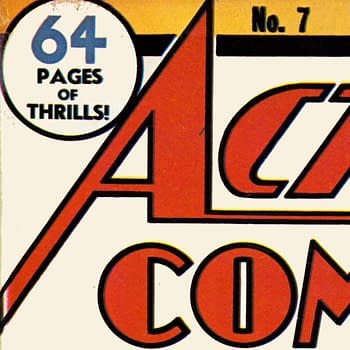 One of the interesting and lesser-discussed aspects of the page-count moves of the past year is what it says about the comic economics of the near future. If 20 (story pages) sticks as a new standard, some serious front-office bean-counting is soon going to come into play.
Because the next step is to start thinking about how many ad & supplemental pages are really needed, and at what point it makes sense to drop total standard page count (story+supplements+ads) down from 32 to 24 — and what in turn that will ultimately mean for story page count (will we stick with 20 story pages plus 4 ad pages? Or then move to 16-18 story pages plus 6-8 ad pages…?).
Significant printing and shipping savings would be garnered at that point, which would have to be weighed carefully against ad revenue. Some publishers have experimented with this format for years, sometimes with accompanying cover-price savings, but often without having to weigh additional ad pages very heavily into the equation as Marvel and DC might.
Given that the 32-total-page-count format American comic book has been the general standard (with many exceptions of course, but still) since the mid-1950s, a jump to 24 pages industry-wide would be a fairly dramatic move. But with the rapid page-count/price changes happening now, it may be inevitable.
Most-Read Comic Stories Today:
The Incredible Shrinking Marvel $3.99 Comic
But in the last few months, something changed. Pretty much all the $2.99 Marvel books have moved to the DC model. And all the $3.99 comics started shrinking. Until Ultimate Fallout #2 was 19 pages for $3.99. Some kind of numbercrunching was in order.
(UPDATE) Five Teaser Panels For X-Men Regenesis
Marvel has given itself, Comic Book Resources, Newsarama, iFanboy, and IGN teaser panels for X-Men Regenesis from Uncanny X-Men #1 by Kieron Gillen and Billy Tan. Bleeding Cool didn't get any, obviously. Nevertheless we can do what all those others haven't and… put them all on the same page! What scamps we are!
Is This Green Lantern Corps? Or Green Lantern SAW?
Featuring an unknown enemy attacking a Lantern installation, in a detailed Bryan Hitchy style, which sees a prisoner feeling gutted.
Most-Read TV/Film Stories Today:
Friday Morning Rushes – Zod, The Dark Knight, A Werewolf And Doctor Who – UPDATED
The untitled werewolf film that Universal are planning as a kind of Wolfman reboot is to feature Steven Bauer as a wolfhunter, and also have roles for Stephen Rea and Ed Quinn. I'm hoping Rea has been cast as the hairy one.
The Star Wars Stand Up To Cancer Video With Emma Stone, Bill Hader, Aziz Ansari And More
So… here are those comedians and actors you like* acting out bits of that film you like.**
Downton Abbey Is 'Officially' The Best Show On TV
Well. Because it's more than just some Sunday night Postcard TV show show for Mums.
Enjoyed this article? Share it!