Gendercrunching November 2013 – DC Drops And Image Expo Raises Questions
By Tim Hanley
DC may have snapped Marvel's 16-month streak for the highest overall percentage of female creators in October, but things returned to normal this month. Both publishers were down noticeably, but Marvel regained the top spot. We also take a look at Image comics in light of the recent discussions about diversity at Image Expo 2014.
DC COMICS
After a record breaking October, DC dropped like a stone across the board. In November 2013, DC put out 73 new comics featuring 656 credited creators, 579 men and 77 women. Here are their stats:

While their overall total is in keeping with their recent average, the numbers were rough compared to last month. DC was down 2.4% overall, and had losses in every single category. Colorists were the only substantial drop, however, falling almost 7%. Every other category was down just a percentage point or two. DC is capable of a lot better than this.
Compare To A Year Ago: DC was at 11.4% last November, so they're up just 0.3% since then.
MARVEL COMICS
Marvel might have come out on top this month, but it wasn't due to a strong showing on their part. In November 2013, Marvel released 69 new comics with 591 credited creators, 519 men and 72 women. Let's look at the numbers:

Marvel fell 1% overall and posted one of their worst totals of the year as the last quarter of 2013 continued to go poorly. There was a nice gain for cover artists, who hit double digits, and a small increase for editors and writers, but everything else was down. Colorists were the hardest hit, falling more than 6%, and female letterers remained at zero, as always. Marvel is really drifting down from their previously strong numbers.
Compared To A Year Ago: Marvel had 12.9% female creators overall in November 2012, so they've fallen 0.7% since then.
IMAGE COMICS
Image announced a slew of new comics at their Image Expo 2014 two weeks ago in San Francisco, bringing in creators from around the world to present their new titles. Across social media, the initial reaction among comic fans was "Wow, those books sound great," but it was quickly followed by "Wow, that's a lot of white guys." Kelly Sue DeConnick and Leila Del Duca were the only female creators onstage at the Expo, and the entire panel was a sea of white people. Only 4 of the 18 books announced had a female creator involved. It appeared that Image, best known for being able to do things that DC and Marvel can't do, was following in the footsteps of the Big Two when it came to the diversity of their creators.
These new titles are set to launch throughout the year, so it will be a while until we can see the full roster for each book and look at the overall impact on Image's numbers, but what we can do is take a look at Image now. Coincidentally, it's been exactly a year since we ran Image's full stats, and taking a look at their November 2013 totals will let us see how things have progressed over the year and how Image stacks up against DC and Marvel.
Compared to last year, Image is doing quite well. In November 2013, Image put out 41 comics featuring 206 credited creators, 184 men and 22 women. Here are their stats:

Image was at 8.5% female creators overall last year, so they've grown 2.2% since. That's quite good, especially when you look at DC and Marvel's yearly comparisons above. The numbers improved by category as well; only cover artists were down, falling 2%. Image went from no female writers to 3.9%, a small increase that's even smaller in terms of raw numbers (2 female writers instead of 0) but which is progress nonetheless. Pencillers and inkers were up about a percentage point each while colorists rose a whopping 12%. There were no letterers again, but editors gained nearly 3%. Overall, Image is doing much better in terms of female creators, and doing so across the board.
Compared to DC and Marvel, Image holds their own, but they remain firmly in the territory of the Big Two. Let's look at the percentages for female creators in every category for all three publishers: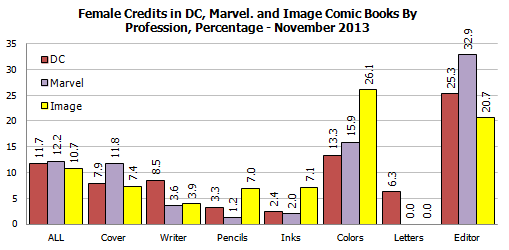 Overall, Image is pulling up the rear. DC has a 1% lead, while Marvel is 1.5% ahead. Now, these aren't substantial differences, and Image has made up a lot of ground from where they were last year. Nonetheless, having almost as many female creators by percentage as DC and Marvel is not something to be proud about. The Big Two are hardly bastions of female representation. If you can't top the Big Two, you're not doing well.
Image was behind in cover artists too, though they're close enough to DC that it's almost a tie. Marvel is the clear winner, which is somewhat odd considering the interior art numbers. More on that in a moment.
For writers, Image came in second place, just barely nudging out Marvel, who is in the midst of a female writer slump. DC dominated this category, which has been steady for them for several months now.
Interior art was where Image dominated. Their percentages for pencillers and inkers more than doubled the best that the Big Two put up in November. These are perennially poor categories for DC and Marvel, while Image has had relatively strong numbers here two years running. Image also had a substantial lead with female colorists; DC and Marvel combined would just barely top Image. While it was an uncharacteristically poor month for colorists for both Big Two publishers, Image would still have topped the best recent total of either publisher with ease.
DC was the only horse in the race for letterers, as Image and Marvel both posted zeroes. To be fair, Image credits are sometimes incomplete and occasionally letterers are left out. There MAY have been a female letterer at Image somewhere, but if there was they weren't credited.
Finally, Image slipped into last place again with editors, firmly behind DC and way below Marvel's top number. Image lacks the editorial presence of the Big Two, with only 60% of their books having an editor. There were also no assistant editors at Image, while DC and Marvel benefit overall from a strong female presence among their assistant editors.
SIDENOTE: If we compiled an average just based on the creative side, leaving out editorial, Image would come out on top. They'd be at about 9% while DC and Marvel would be in the mid-7% range. But comics have editors, and there are several women working hard at all three publishers who should be taken into consideration in the overall numbers.
All together, Image is slightly behind the Big Two, but certainly in the ballpark. They're doing better than they were a year ago, and are comparatively strong with interior art, but they're hardly putting up impressive stats, especially compared to what we've seen at other publishers like Boom. Image is an independent publisher, free of the conservatism of corporations and the inertia that comes from doing business the same way for decades and decades that characterizes the Big Two. And yet, they lag behind. When people critiqued the lack of diversity at Image Expo, some Image employees were frustrated at the response; they know what goes on behind the scenes, and they know what else is coming later on. I sincerely hope that there's more to come, and that Image's numbers will continue to improve for female creators. But as of right now, Image is doing no better than the Big Two when they, of all publishers, could be.
To learn more about this statistics project and its methodology click here, and to see the previous stats click here. You can visit Tim at Straitened Circumstances and follow him on Twitter@timhanley01.