The Daughters Of Liberty is a new team of women operatives in the Marvel universe with some ties to Captain America. After breaking him out of jail, they include The Dryad, Echo, Invisible Woman, Iron Patriot, Misty Knight, Mockingbird, Sharon Carter, Peggy Carter, Spider-Woman, White Tiger and more.
Sharon Carter assembled the team by saying "aeternum filias," the Latin for "Eternal Daughters" and indicates that the team has been for a while. The Daughters of Liberty were a union of women patriots that first banded in 1765 to protest British taxation, and the name was extended to any woman who fought for American freedom during the Revolutionary War. In today's Captain America #19 that becomes canon, but also extending further.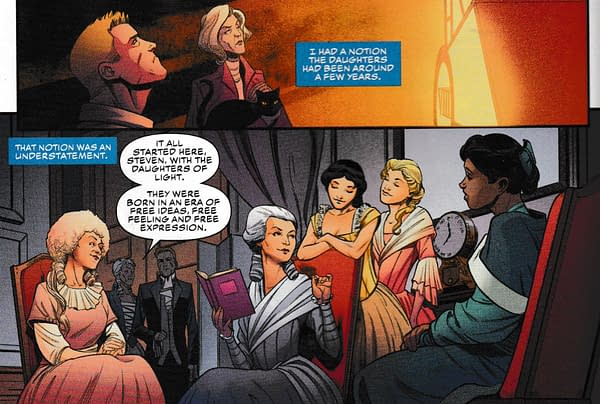 The Daughters of Light is the name given to women Quaker preachers in the 18th century – here, the Daughters Of Light and Daughters Of Liberty are the same group across time as the Eternal Daughters, with the same ideals.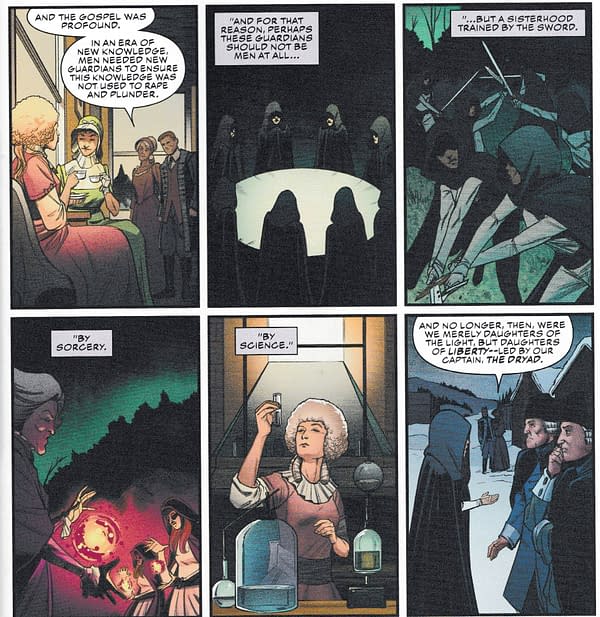 Okay, okay, maybe a little more violent than the Daughters Of Light may have been traditionally portrayed. But they do have one very notable member.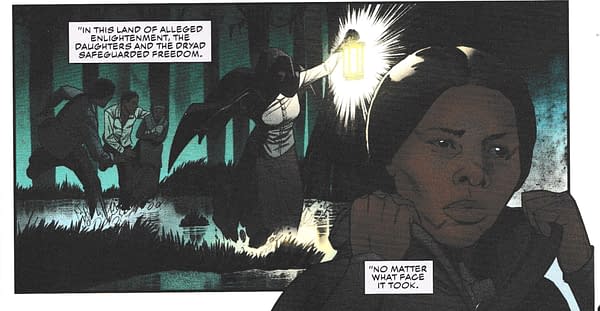 Harriet Tubman. The Quaker movement helped establish and maintain the Underground Railroad for the emancipation of slaves in the USA, and Tubman who probably made the greatest contribution to its success… is now fictionalised as part of that legacy that carries on to the present day, within the Marvel Universe. Of which Agatha Harkness is now a part, too.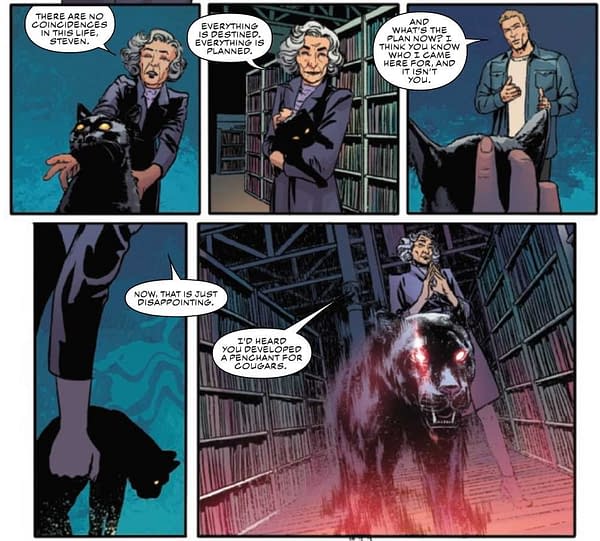 Yes, in a relationship with Sharon Carter, who is now physically older than her great aunt and former partner of Steve Rogers, Peggy Carter, may just complicate things a tad. Cougars indeed…
CAPTAIN AMERICA #19
(W) Ta-Nehisi Coates (A) Jason Masters, More (CA) Alex Ross
THE LEGEND OF STEVE Concludes!
Cap comes face-to-face with the Dryad and learns her game-changing true identity!
Rated T+In Shops: Feb 19, 2020
SRP: $3.99
Captain America #19 is out today from Marvel Comics… I bought mine from Piranha Comics in Kingston-Upon-Thames. Piranha Comics is a small south London comic store chain with a small south-east store in Kingston-Upon Thames's market centre, which runs Magic The Gathering nights on Fridays, and a larger south-west store in Bromley, which also runs Magic nights and has an extensive back issue collection and online store. If you are in the neighbourhood, check them out.

Enjoyed this article? Share it!