 SPOILERS FOR ASTONISHING X-MEN: XENOGENESIS #3 BY WARREN ELLIS AND KAARE ANDREWS.
What seems like an age ago, I reported that Warren Ellis was reintroducing the Warpies back to the Marvel Universe in Astonishing X-Men. And so it came to pass in Astonishing X-Men: Xenogenesis, three years later. As I wrote then;
Created for the Captain Britain series back in the day, warpies were vestigial remnants of the Jaspers' Warp storyline, where reality fell apart. Ostensibly similar to mutants, warpies weren't analogies for adolescence, prejudice or powerlessness. Warpies were the analogy for the stillborn, the disabled, the deformed, the fear of every parent that there is something wrong with their unborn child. And so these creatures were born as superpowered monsters.
In the new comic out this week, the X-Men are investigating the emergence of warpies again, this time in Africa. And not only do they come across a Jim Jaspers, in some way related to Sir James Jaspers that created the Jaspers Reality Warp. And then the return of something else. Something very familiar but something new. Something called The Furies. Which bear an instant resemblance to one of Alan Moore and Alan Davis' finest creations, The Fury.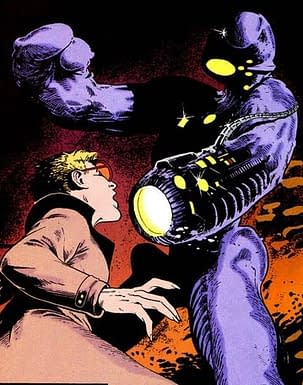 The creature that killed a world, killed Sir James Jaspers and came close to killing Captain Britain for a second time. Possibly one of the most terrifying, most focussed comic adversaries to date. And now, he's back. Ish…
Okay, what can I say. make a big impact on me as a kid. I'm a sucker for this, I really am.
Enjoyed this article? Share it!