Indie Spotlight: American Nature And Surrealist Cheeseburgers (VIDEO)
By Shawn Perry
'Sup Bleed-Freaks.
At NYCC we spoke with the creative team behind American Nature and learned a little about what goes into makes good storytelling.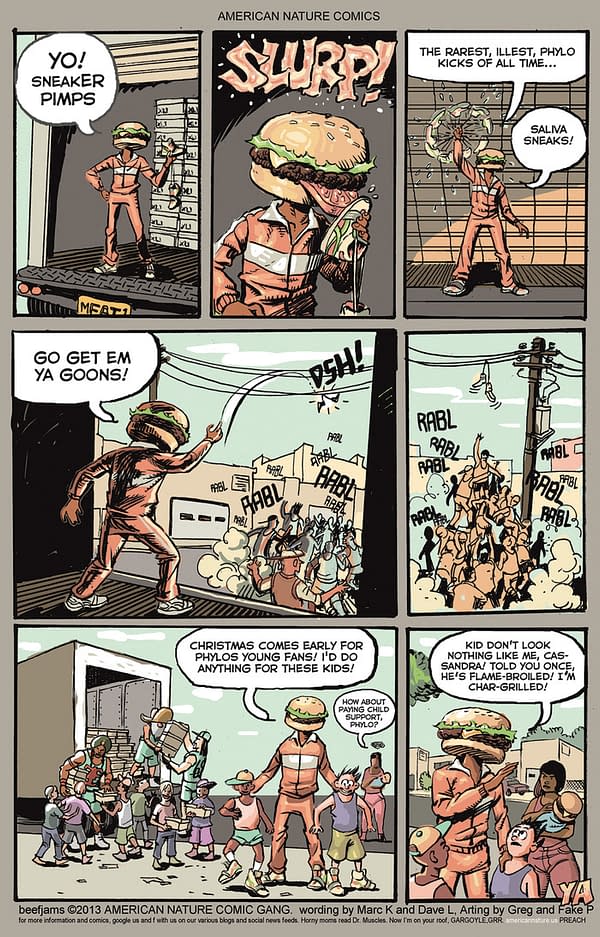 American Nature by writers Dave Landsberger and Marc Koprinarov and artists Greg & Fake is a great example of what happens when a talented collective lets their creative juices flow without restriction. This book is about the unconscious realities of contemporary society as told through the buns of an eclectic cast lead by a surrealist cheeseburger named Phylo who markets high-end sneakers laced with his own saliva to adoring masses.
The book is about as wonderfully absurd as Ignatius Reilly splashed against the lively color scheme of Adventure Time with some of the satirical sensibilities of the beloved classic Clone High. That was oddly specific but I feel it hits the nail pretty darn near the head.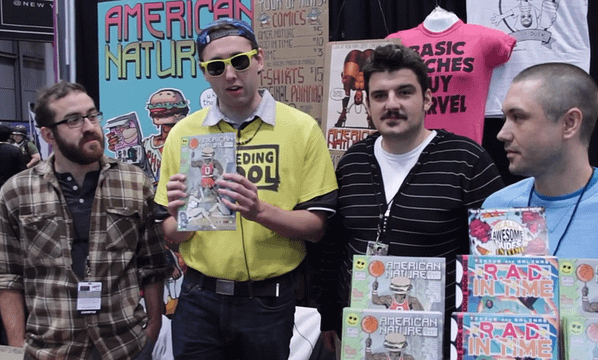 In lieu of a full review, which I am saving for this week's Halloween-themed edition of Indie Spotlight, I am going to cut to my interview with Koprinarov, Greg and the Fake at NYCC who explained how American Nature came to life. Until then, for additional information check out Dan Wickline's insightful coverage from when the comic first spun out of the pages of Image Comics Hoax Hunters earlier this year.
Shawn Perry is a proud geek from East Hartford, CT who is striving to be here now. He enjoys yellow journalism, yellow sunglasses and The Flaming Lips crazy-awesome new tribute album to Sgt. Peppers. You can tweet him @thesperry or send him email after email about anything at Shawn.Perry88@gmail.com.