From Invisible To Inevitable: Talking With Nilah Magruder About The First Dwayne McDuffie Award for Diversity
By Michele Brittany, West Coast Bleeding Cool Correspondent On Saturday, February 28, Phil LaMarr (MADtv, Static Shock) hosted the first ever Dwayne McDuffie Award for Diversity panel. Joining LaMarr were Long Beach Comic Expo Co-Founder Martha Donato, Dennis Cowan (Static Shock), and keynote speaker Reginald Hudlin (producer of Django Unchained).
Director of the McDuffie Award for Diversity Matt Wayne announced the nominees. They included the writer Kelly Sue Milano and artist Lisa K. Weber for Hex11; Nilah Magruder for the webcomic M.F.K.; writer G. Willow Wilson for Ms. Marvel; The Shadow Hero by Gene Luen Yang & Sonny Liew; and Shaft written by David Walker.
Charlotte McDuffie Fullerton took the stage and pointed out that on the award was a singular quote from her husband, which summed up the meaning of diversity: "from invisible to inevitable." She then announced that Magruder had been selected as the recipient of the first Dwayne McDuffie Award for Diversity.
Magruder jointed Fullerton on stage to accept her certificate and award. After the standing ovation and the clapping died down, Magruder asked that the audience indulge her so she could take a photo to send to her mother, to which many in the audience waved a greeting to her mom. Magruder said, "Diversity is not a trend. We are not a risk; we are an asset – our voices are being heard." She then asked that we support all of the writers and artists nominated for the award.
The panel concluded and many people went up the congratulate all of the nominees and Magruder, whose smile was infectious. Later, I had an opportunity to interview Nilah. Michele Brittany: Nilah, first off, congratulations on being honored with the first Dwayne McDuffie Award for Diversity. What does the award mean to you now that you have had an opportunity to soak it all in?
Nihal Magruder: Thank you! For me, I guess it feels like validation that I'm doing good work. I can't always be sure, haha! I'm just so close to it, and M.F.K. is very personal to me, but I'd like to create a story that others can enjoy, too. I'm thrilled to see so many people responding to it.
MB: Why is it so important that a webcomic was selected and honored?
NM: I think a lot of the time the webcomics community gets lost and ignored in comics discussion. Whether it's because they're only available online, or because they're free, or just lack of awareness, they're simply not given the same weight or critique. And it's a shame because we're such a big community. There are so many great webcomics and so many dedicated, talented creators. A lot of the diverse storytelling that readers are hunting for exists right on the Internet. I hope this award brings more attention to webcomics, and I hope it give artists and writers the courage to share their stories. MB: Can you give me a synopsis of M.F.K. for my Bleeding Cool readers?
NM: M.F.K. follows the story of fourteen-year-old Abbie, who's on a cross-country trek to her homeland to scatter her mother's ashes. She ends up stranded in a small desert town that suffers from periodic attacks from super-powered bandits called rogues. The town's grown to hate these unwelcome visits, but what they don't know is Abbie wields strange powers too.
MB: What prompted you to write M.F.K.?
NM: I think it came at a time when I was frustrated with what I was reading and watching. It definitely came at a time when I was realizing I didn't draw characters very much and I was asking myself why that was. I was also very into shounen manga and other action-packed stories, but disappointed by the treatment of girls and women. I wanted to do something different than what I was seeing. It was a challenge to myself, to work through my own insecurities and explore possibilities.
MB: I reviewed several of your projects listed at our website, which I found is rich in beauty and magic – you have an amazing talent. What's next for you project wise?
NM: Thank you! Nothing set in stone at the moment. I'm working on Chapter Four of M.F.K., and I have a few other projects in the works. We'll see what turns up first!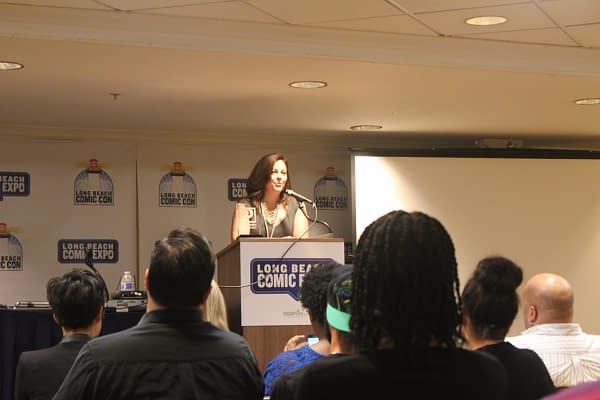 MB: Where can people find you in social media and will you be attending any cons in the coming months?
NM: I'm be at WonderCon Anaheim in April [3 – 5] and Denver Comic Con in May [23 – 25]. I'm @nilaffle on Twitter and Tumblr. M.F.K. also has a Facebook page.
MB: Congratulations to Nilah and all of the nominees!
Headshots courtesy of Long Beach Comic Expo. All other photos by Michele Brittany.
Michele Brittany is an independent popular culture scholar and semi-professional photographer and editor of James Bond and Popular Culture: Essays on the Influence of the Fictional Superspy (McFarland & Company). She regularly posts reviews and analysis on the spy/espionage genre on her blog, Spyfi & Superspies and can be followed at Twitter @mcbrittany2014.