Welcome to a semi-regular round up of some of the more interesting comic book projects on the social networking fundraising site, Kickstarter. And possibily IndieGoGo We'll be happy to promote projects that haven't yet reached their funding goals – and maybe even help them on the way a little. Do let us know, in the comments, if you've agreed to fund one or more of them.
Title: Max Overacts Volume One
Creator: Canan Grall

Funding for: Printing 3000 copies of a 164 page full colour book at 8 x 10 inches.
Fund details: $1645 of $16,000 with 67 days to go

Best reward: $25 – This is it! The book we're all here for! Signed, with a little Max head sketch on every book! Mailed anywhere in the world!
Pitch: Max Overacts is my webcomic I've been updating for over a year now. The comic centres around the life of Max Fogherty, an emerging serious thespian at the age of 8. It was nominated for a 2011 Eisner Award, but lost, rightly, to Charles Christopher. The comic has a larger story developing underneath the daily gags, and the characters will age, go through changes, make big decisions, and have big things happen to them whether they like it or not. "Volume One: Hold On To Your Stubs" sets us on that journey.
If you've found your way here but never read the comic, please visit occasionalcomics.com and have a read! If you were a fan of Calvin and Hobbes, you may like it. Some people may say it's too similar and I'm just a pale imitation, but to those I say "read more than 5 strips! You'll see…"
The book will collect the first 142 strips plus 12 exclusive strips not seen on the web, focusing on Max's sister, Andromeda. See Andi at work, meet some of Andi's band mates, and even witness the moment Jacob fell for her and she didn't even notice him. Title: Vitruvian Underground
Creator: Craig Cermak and Ramon Villalobos
Funding for: printing somewhere in the ballpark of 1000 copies of the first issue. All the money that we get for this first issue will be used to print this first issue, and pay for the costs of the distribution, the website, the incentives, and shipping. Then, after we sell those issues in stores, at conventions, online, (and in dark alley ways?), we will use that money to do the second issue (tentatively titled: Testament NOW!), and the third issue (tentatively titled: Bola, King of the Monkeys), and then the FOURTH issue (definitely titled: How We Were Lost in War).
Fund details: $237 of $2500 with 27 days to go

Best reward: $5 – You will receive a copy of the first issue and your name will be printed in the acknowledgments section of this issue!
Pitch: Every issue of Vitruvian Underground will be a single issue story accompanied by a backup story that thematically compliments the main story wherein we aim to tell classic feeling politically-charged science fiction stories with modern sensibilities.
So this issue of Vitruvian Underground, the one you'd be helping us print, contains a 22 page main story called "Issue One," and is written and colored by Ramon Villalobos and penciled, inked, and lettered by Craig Cermak. The back up in it is an 8 page story titled "To Earth, With Love," written by Kris Krause and penciled, inked, colored and lettered by Ramon Villalobos. Both of these stories are being published online as a webcomic because, really, the point of this is almost entirely so that people know about what we are doing, regardless of whether or not they pay for it.
Title: The Raptor FPS
Creator: Blair D. Shedd.

Funding for: Production and printing bill. Some of the funds raised will pay me a small page rate as artist, in order to keep my family in mac and cheese during the production period of the book. I'm taking no page rate as writer, colorist, or letterer, and will be paying many basic expenses out of pocket. The rest of the funds raised will be used to pay fees related to the Kickstarter campaign, print the first limited-run of copies, go towards promotion of the comic (flyers, prints, cards, trade show banners, possible convention travel expenses, etc), and produce and ship incentives to the backers.
Fund details: $2088 of $5000 with 13 days to go

Best reward: $55 – THE PORTFOLIO REVIEW BUNDLE! For aspiring comic artists only! Pledge $55+, and you'll get THE BIG BUNCH, plus I'll review your comic book portfolio. I can be brutal, but I'm honest, and I always find something good to say about your work. I'll do draw-overs if that helps you, recommend sources to research to help improve your art, and do what I can to get your portfolio in fighting shape. If you want to Skype or AIM/iChat about it, I can do that as well.
Pitch: This is a story I've been waiting a long time to tell, and thanks to Kickstarter, and your support, I'll have a chance to tell it.
Whether you support by spreading the word, viewing the/this video, or best yet, by backing me (and getting some neat incentives to boot), thank you.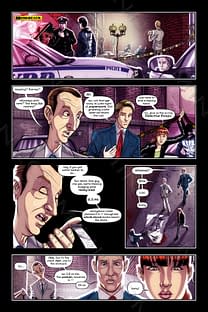 Title: Fuzzy Face: The Agnew Chainsaw Massacre 3
Creator: John Chihak
Funding for: The new, bigger and better edition of Fuzzyface is going to contain, brand spankin' new pinups, two different covers, and both a prologue and an epilogue to extend the action even further than its original 54 page story. The original pages will be remastered in gray scale, and relettered. Hopefully we can get Jaymes Reed, aka Digital-CAPS to handle that massive job. Not to mention, we will have some extras, including some of the original page layouts included in the final cut of the Fuzzyface reprint.
Fund details: $50 of $3500, 29 Days To Go
Best reward: $20 for a button, signed book and signed postcard.
Pitch: Fuzzyface originally debuted at Phoenix Comic Con 2010. It has since SOLD OUT of its initial print run!
A diminutive chainsaw wielding fuzzball is running wild just outside of Apex City's city limits. He lops off his victim's limbs and heads and then wears them as masks. It's as if Jim Henson himself declared war on his own beloved Muppets via Tobe Hooper's Leatherface.
Paying both tribute and parody to greats Jim Henson and his Muppets and Tobe Hooper and the horror film that changed the genre, Texas Chain Saw Massacre, Fuzzyface also incorporates a little bit of Mary Shelly's beloved novel of Frankenstein. Within these pages, hidden way down deep is a love story.
Fuzzyface is a spinoff from Anti-Hero Brand Press's flagshit title, Youth in Asia, where Fuzzyface's secret identity, Agnew Pennworth is sidekick to John Nash, pro wrestler, chicken wing eating, part time vigilante. But this is Agnew's tale of blood and stuffing. And it gets better before it gets so much worse. Worse for his unsuspecting victims that is.
Jimmie Robinson who created "Evil and Malice" And Bomb Queen digs the concept too. And there will be a Jimmie pinup in the new edition when we reach our funding goal. Xenescope's cover artist extraordinaire Mike Debalfo, who sat in the booth next to me at Phoenix Comic Con 2010, laughed as he read the book, and has offered his support and a pinup too. We may even be able to wrangle one from Biz, but we gotta find him first. And some of the biggest news to date, DC Comics colorist femme fatale, Nei Ruffino is set to color the covers for this amazing reprint.
[youtube]http://www.youtube.com/watch?v=MhvvC36j994[/youtube]
Enjoyed this article? Share it!