Kidding Season 1 'Every Pain Needs a Name': Just Say "Presto!" to Drugs (PREVIEW)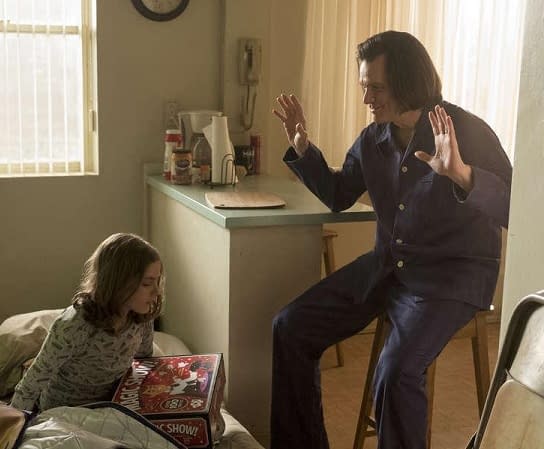 It's not exactly front page news to say that Kidding's Jeff "Mr. Pickles" Piccirillo's (Jim Carrey) has some serious issues: a year after his son Phil's tragic death, Jeff finds his personal and Mr. Pickles' Puppet Time lives playing not-so-nicely with each other and everyone – especially dad/producer Seb (Frank Langella) – is getting concerned. But for Jeff to reclaim his life, it might be time for Jeff Piccirillo and "Mr. Pickles" to work together.
In Showtime's preview for Sunday's 'Every Pain Needs a Name,' Jeff takes another shot at proving that very point with a very "Mr. Pickles" approach to dealing with his son Will's newest "hobby":
Kidding s01e03 'Every Pain Needs a Name': Jeff tries to fix his heartbreak. Deirdre deals with her daughter's developing medical condition. Seb outlines the future of Mr. Pickles' Puppet Time without Jeff. Jeff tries to get Will off pot by giving him a hobby.
Here's a look back at Bleeding Cool's review of last week's episode, 'Pusillanimous':

Jim Carrey sits down to discuss Kidding and the scene at the end of the premiere episode, when Jeff shaves his head – and breaks the norm: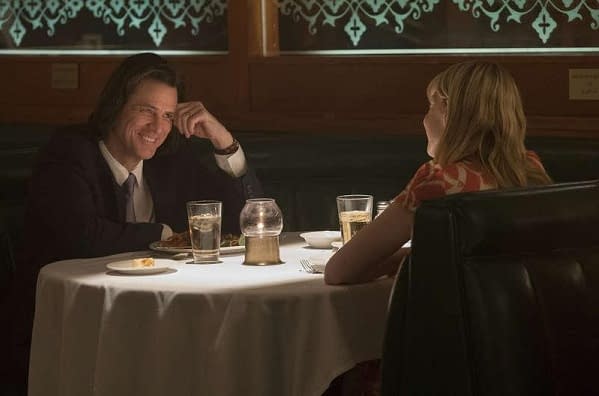 Kidding centers on Jeff, aka Mr. Pickles (Carrey), an icon of children's television and a beacon of kindness and wisdom to America's impressionable young minds and the parents who grew up with him. But when this beloved personality's family begins to implode, Jeff finds no fairytale, fable or puppet will guide him through this crisis, which advances faster than his means to cope.

The result: A kind man in a cruel world faces a slow leak of sanity as hilarious as it is heartbreaking. Jeff begins to push back against the limits of the well-oiled machine that is Mr. Pickles' Puppet Time, and of his executive producer, Seb (Frank Langella). Seb fears Jeff's mental state could ruin the branding empire they've built, and thus begins preparing the show for a life after Jeff, while Deirdre (Catherine Keener), the head puppet maker, grapples with her own personal and professional life issues. Judy Greer stars as Jeff's estranged wife, and Cole Allen plays their son.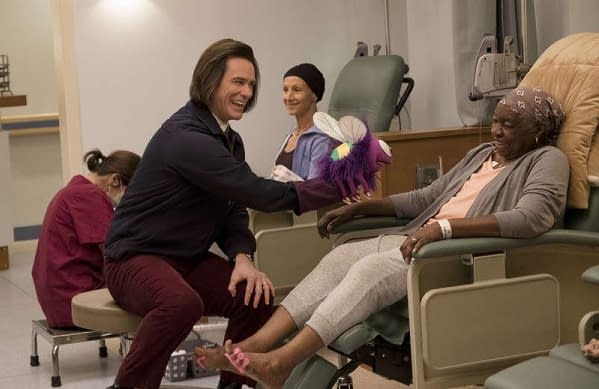 Directed by Eternal Sunshine of the Spotless Mind's Michel Gondry, Kidding also stars Judy Greer (I'm Sorry), Sorry), Catherine Keener (Get Out, Death to Smoochy), Frank Langella (The Americans, Frost/Nixon), Justin Kirk (Weeds), Ginger Gonzaga (I'm Dying Up Here), and Bernard White (Captain America: The Winter Soldier). Carrey, Gondry, Dave Holstein, Jason Bateman (Arrested Development, Ozark), Jim Garavente, Raffi Adlan, and Michael Aguilar will serve as executive producers.
Images: Showtime