Courtney B. Vance, Aunjanue Ellis, and Elizabeth Debicki Join HBO's 'Lovecraft Country' from J.J. Abrams, Jordan Peele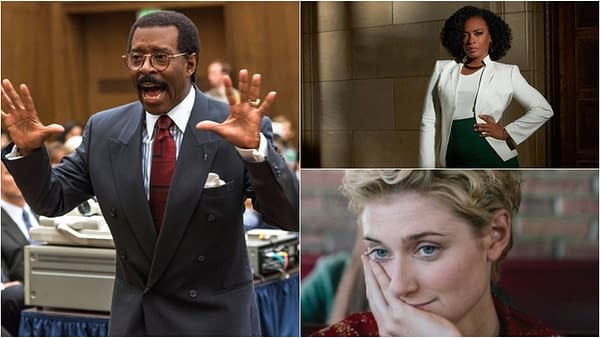 Courtney B. Vance (American Crime Story: The People vs. OJ Simpson), Aunjanue Ellis (Quantico) and Elizabeth Debicki (The Tale) have been cast opposite Jurnee Smollett-Bell, Jonathan Majors, and Wunmi Mosaku in HBO's upcoming drama series Lovecraft Country. Adapted from Matt Ruff's novel of the same name, the project stems from Academy Award winner Jordan Peele's (Get Out) Monkeypaw Productions, J.J. Abrams's Bad Robot and Warner Bros. Television. Yann Demange (Top Boy) will direct and executive produce the first episode; with Underground's Misha Green writing the pilot and serving as showrunner, and executive producing alongside Peele, Abrams and Ben Stephenson.
Lovecraft Country introduces us to 25-year-old Koren war vet Atticus Black (Majors), who joins up with his friend Letitia "Leti" Dandridge (Smollett-Bell) and his Uncle George to embark on a road trip to find his missing father. Atticus, known for always having a pulp novel in his back pocket, wears his heart on his sleeve despite the daily injustice of living in 1950s Jim Crow America. The trio must survive and overcome both the racist terrors of white America and the malevolent spirits that could be ripped from a Lovecraft paperback.
Vance's George Black has always been more like a father to Atticus (Majors). Warm, funny, and well read, he was the first to introduce Atticus to the wonderful and strange world of pulp novels. As the publisher of the "Safe Negro Travel Guide" he's been on enough adventures to understand there's no place like home.
Ellis's Hippolyta Black is George's wife, Atticus's aunt, and a star gazer. She's been a housewife most of her life with dreams of getting into some adventures of her own, despite her husband's misgivings. Her itch for adventure will eventually, literally and figuratively, take her to the stars and beyond.
Debicki's Christina Braithwhite is the only daughter of Samuel Braithwhite, the leader of a secret order calling themselves the "Sons of Adam." She's gone to great lengths to earn her father's respect, to no avail. She's going to pave her own path to power, and she's going to use Atticus and his family to do it.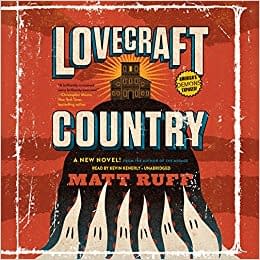 Originally published in 2016, the overview of Ruff's novel might offer some insight into what viewers can expect:
Chicago, 1954. When his father Montrose goes missing, twenty-two year old Army veteran Atticus Turner embarks on a road trip to New England to find him, accompanied by his Uncle George—publisher of The Safe Negro Travel Guide—and his childhood friend Letitia. On their journey to the manor of Mr. Braithwhite—heir to the estate that owned Atticus's great grandmother—they encounter both mundane terrors of white America and malevolent spirits that seem straight out of the weird tales George devours.

At the manor, Atticus discovers his father in chains, held prisoner by a secret cabal named the Order of the Ancient Dawn—led by Samuel Braithwhite and his son Caleb—which has gathered to orchestrate a ritual that shockingly centers on Atticus. And his one hope of salvation may be the seed of his—and the whole Turner clan's—destruction.