Max Brooks' Extinction Parade Invades The Market As First Printing Sells Out, Goes To Second, Is Picked Up By Walmart
The first trade collection of The Extinction Parade is blowing up in sales, and that's no surprise considering the team on the book–New York Times Best-selling author Max Brooks (World War Z, Zombie Survival Guide) and Raulo Caceras. In late April, we announced here at Bleeding Cool that Extinction Parade had been optioned for TV by Legendary Entertainment, and Brooks has also discussed a considerable ramping up of the plot on the second arc of the series, generating buzz. Some of the developments in the sales of Extinction Parade are that the first printing of the trade for Volume 1 have already sold out, even though the edition doesn't reach stores until July 1st, but Avatar Press have announced that the collection is going back to print this week to meet demand. Direct Market Comic Stores will be given preference over mass market, however, receiving their orders a week before the latter. Avatar Press have committed to keeping the edition consistently in print and giving priority to comic shops as the book is bound to keep facing greater and greater demand.
Brooks' previous books have followed a similar pattern, so this run on the trade edition isn't a total surprise, with World War Z and Zombie Survival Guide each selling millions of copies, literally, and Brooks' very first graphic novel Zombie Survival Guide: Recorded Attacks selling hundreds of thousands of copies, too. But a bit more surprising, perhaps, is that Walmart have actually taken a big interest in Extinction Parade: Volume 1 suddenly as well, and will be carried by the chain, driving sales up even further.
Basically, the trade is going to be ubiquitous this summer, and even Diamond are highlighting the volume, where it attained a seat of preferred honor at Book Expo America in New York this past weekend. Extinction Parade is clearly the new black for summer. Expect to see it dotting beaches and lounging poolside in a veritable zombie invasion as the season kicks off.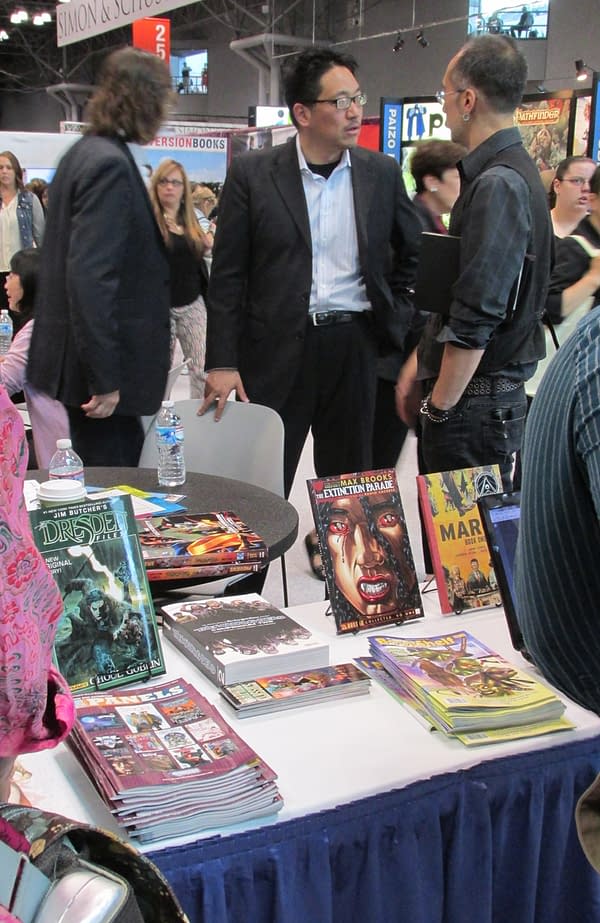 You can find The Extinction Parade: Volume 1 in Previews here; it's even a "staff pick".