Meghan Hetrick is a popular superhero artist working on the likes of Nightwing, Red Thorn, Bodies and Batman, posted on Facebook.
I've been debating on posting this for a few days, but this morning, after seeing a number of posts from artists needing to do fund raisers, and people's mostly well-meaning questioning as to why this happens so often, I finally decided to share.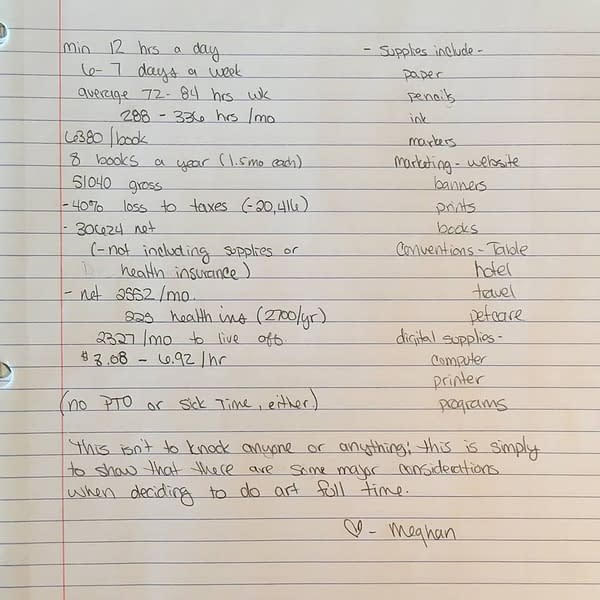 It's also because i get approached quite often, like i'm sure many other pro or might-as-well-be-pro artists do, about what it's like to work in comics. Whenever i provide any sort of info, at their behest, about the financial side of it, i'm met with disbelief. I don't think people are fully aware of just how much actual work needs to be done just to stay afloat financially, but that's what this little breakdown is for.

This is only my experience. I am a low level artist for the major publishers, and am paid as such. I'm not looking to slander anyone involved, as it's not their fault. This is simply to show folks how things break out a bit, and to provide a bit of enlightenment for those wondering. I'm sure many artists do much better, as well as many artists doing much worse. I also do pencils and inks, so while my rate looks quite good, it also takes me a month and a half to do one book, which means only 8 books done a year.

Keep in mind that this doesn't show income from commissions or original art sales, this is just a straight pay for books and pages. Most of my "livable" income comes from sales after the fact, and when i can't do those for months on end, i end up in a very uncomfortable financial position. Budgeting is something i'm very aware of, and when some inevitable unexpected expense occurs, i've only been able to survive by the good will and trust of some amazing people and patrons (you know who you all are ♥)

Again, since i'm sure this will probably end up blasted on some website somewhere, this info isn't meant to hurt anyone involved. The financial side of things is rarely discussed for some reason, but it's such a hugely important issue that many artists face, that i think it really needs to be. This is hopefully one of many steps towards and open, honest, and fair discussion about it.
No blasting here please – this is education.
Enjoyed this article? Share it!