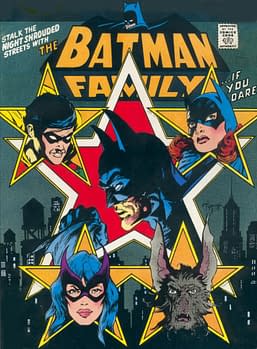 Today's DC Relaunch news was largely about Batman and related titles, and there was plenty of controversy along the way. Bleeding Cool also told you about George Perez on Superman, Jeff Lemire on Animal Man, and lots of other stuff. Definitely another manic monday in comics news, so let's get caught up:
Most-Read DC-Relaunch Stories Today:
DC Comics Relaunch: Batman And Robin, Dark Knight… And Batgirl! Bleeding Cool Comic Book, Movies and TV News and Rumors
Batman #1 is written by current Detective Comics scribe Scott Snyder and, as we reported, Greg Capullo. Detective Comics #1 is written and drawn by Batman writer/artist Tony Daniel. Both books will star Bruce Wayne in the lead, and will be the only Batman going, Batman And Robin #1 is written by Peter Tomasi and Patrick Gleason, with Damian as Robin. And Batman: The Dark Knight #1 will be by David Finch, making it the second number one in three issues.
DC Relaunch: Cover To Nightwing #1
We told you there was a Nightwing #1 coming in September from DC. Well, here is the cover by Eddy Barrows…
DC Relaunch: George Pérez To Write And Draw Superman
George Pérez of course has major chops in this field previously. He co-wrote, then fully wrote, the Wonder Woman #1 relaunch in 1986, as well as co-plotting Teen Titans and writing and drawing various Superman titles around the same time. Indeed he left DC for some time after writing duties on Wonder Woman were passed to William Messner Loebs for the marriage issue.
DC Relaunch: Animal Man #1 (UPDATE)
Bleeding Cool understands that DC exclusive creator Jeff Lemire, of Vertigo's Sweet Tooth and the Eisner nominated Superboy, is to write a new Animal Man #1, launching in September.
Most-Read Other Comic Stories Today:
Colossus Relaunch: Getting Cyttoraked For Fear Itself
When Bleeding Cool first ran the image, this member of The Worthy was labelled Juggernaut. And it sure looked it. But it was otherwise teased as Colossus taking the helmet.
Geek Girl On The Street Reports: Acid PopTart Demands Rob Granito Take Responsibility
In the two short months since Bleeding Cool broke the story of the comic con grifter, Rob Granito, there have been countless thousands of words devoted to reviling the man written and posted on countless Internet spaces. Conversely: With exception of hearing from Ethan Van Sciver and Mark Waid at the very beginning of this long, strange trip into Granitoland, not a lot of column space has been devoted to giving the artists who were victimized by Rob Granito a voice.
Stan Lee And Todd McFarlane Create Rock Star Comic Together
But until this question was answered, we didnlt know that Todd McFarlane was involved… take it away boys.
Most-Read TV/Film Stories Today:
BBFC Refuses Human Centipede 2 A UK Release Certificate
It's not fair to say that the BBFC have "banned" Tom Six's Human Centipede sequel, but I'm sure a lot of people will do so. What they've done is denied it a certificate. This means that any cinema in the UK looking to screen it will need to get special dispensation from their local council.
The Amazing Spider-Man DoP: "This Is The Best Footage I Have Ever Seen "
Some footage from Marc Webb's The Amazing Spider-Man was screened at Sony over the weekend, and the gurus from RED, the digital camera people who provided the kit on which the was shot, were invited along. Of course he has a vested interest, but the subsequent comments of Jim Jannard, the founder of RED, are nicely encouraging.
New Fright Night Promo Introduces David Tennant's Peter Vincent
"You want to know how to kill a vampire? Seriously? You're going to need an army."
Enjoyed this article? Share it!