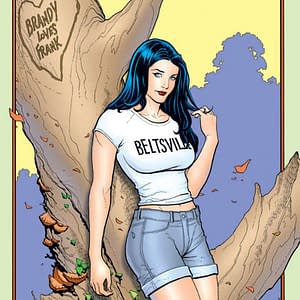 Because Frank Cho back in action on Liberty Meadows comics is a good thing. In other news today, I thought the return of The Flintstones to tv was gonna be a good thing when I saw the headline too, but then I read Brendon's post. I guess we'll have to wait and see on that, but I do still wonder if the Great Gazoo is going to be in it. Here's what I do know today:
Most-Read Comic Stories Today:
Tr!ckster, The Creator Owned Comic Bar For San Diego Comic Con
The San Diego Wine And Culinary Center wine bar directly across the road (and the tram tracks) from San Diego Comic Con will be transformed for one week into Tr!ckster, a 4,500 square foot area for comic creators to launch books or sell limited runs of new books or items with gallery space for display and a symposium spot as well.
How Josh Hoopes Is Trying To Scam Rob Granito
I already told you that Josh Hoopes had been talking to Rob Granito, helping him, sympathising with him, joining with him as painting me as their mutual nemesis. And I wondered what his angle was. Now I know.
Frank Cho Gets Liberty Meadows Back To Do With As He Pleases
So I go back and re-polish the original script, adding more scenes to make it longer to fit the television episode time frame. As I'm doing this, a new Sony television contract is being drafted to replace my Sony digital contract. Then the recession hit. Then the three Sony executives who were shepherding this project along since the beginning leave Sony. The new guy who takes over have no interest in projects started by his predecessors. Thus Liberty Meadows TV show goes into limbo… and we wait and wait. Ultimately under the inactivity clause, all the Liberty Meadows rights revert back to me, and concludes my 2 year journey at Sony.
Most-Read TV/Film Stories Today:
The Cleveland Show Hits San Diego Comic Con. Hard. Bleeding Cool Comic Book, Movies and TV News and Rumors
"Imagine a hundred thousand unwashed comic books fans in costume shoehorned into a musty convention centre that smells like ass and corn chips all waiting in line to see in three minutes of something the rest of the world will have to wait two weeks to see"
Look! It Moves! by Adi Tantimedh #100: Three Odd Instances Of Adaptation
In a rare burst of good sense, NBC has chosen not to pick up David E. Kelley's WONDER WOMAN for a series after they got mixed reactions from a market screening. In this instance, "trust the market-test" was the right thing to do. I got a chance to read the script a few months ago, and it was one of the worst pilot scripts I've ever read, and I read a lot of rubbish in my job. Basically it was "WONDER WOMAN McBEAL IN THE CITY", cobbling bits from other successful shows together to create a horrible Frankenstein of a script that should have been dumped before millions were spent shooting it.
Seth MacFarlane Rebooting The Flintstones For TV And Cinema
Fox have announced that they're bringing The Flintstones back to primetime, and Family Guy creator Seth MacFarlane is the main in charge. Apparently it took a whole year of negotiations between the studio and Warner Bros. TV who hold the Flintstones' rights to get this deal set up.
Most-Clicked Pics Today: Enjoyed this article? Share it!