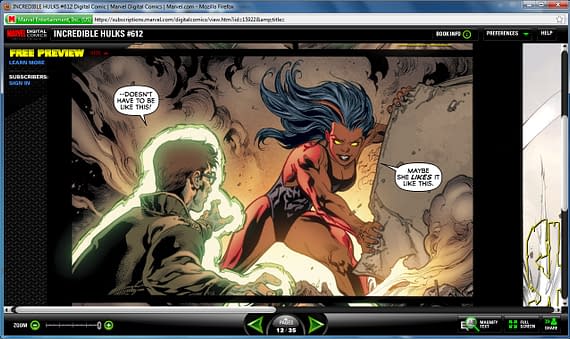 By: Greg Pak, Scott Reed, Tom Raney, Brian Ching
Cost: Free
Really? For now. Marvel have put the entire comic up as a digital preview
By mistake? Not sure. It is an odd decision.
So… story pages: 30
Price per story page: $0
Hulks: 5

So what's going on? Apparently the various Hulks have done something good, have the gratitude of a nation but are now in hiding, where Bruce Banner is coming to terms with his revived wife Betty Banner. Except she's not his wife any more, she was declared legally dead and the Hulk remarried. So the marriage is off, without anyone getting divorced.

Hmm. Did Joe Quesada not think of that?
Apparently not. Would have saved a devil of a problem.
Possibly. Though this is the internet. People would have complained anyway.
True. Also we get a second chapter, following the other Hulk son, Hiro Kala on the planet K'ai, confronting his past and forging his future.
You should write the words on the backs of DVDs sold in gas/petrol stations. Thanks. I think.
You haven't read this book for a while. So what impression overall? The Hulk has gone forth and multiplied and it's all coming back to haunt him. Hulks to the left of him, Hulks to the right, here is his, stuck in the middle with Rick Jones.
Who is also a Hulk. Well, Hulkish. Doesn't really sound like Rick much to be frank.
Mmm. The Betty/Bruce confrontation is pretty much worth it though. And they're creating what seems to be a new world order for the book.
Another one? If nothing else The Hulk book does like to put itself through changes, just to see what shakes out. And there's some very nice Hulky art here to boot, lots of explosions, punches, and general smackdowns.
And it is free. Until someone at Marvel wakes up and presses a button.
What part of Dark Son is this? Parts one and two. Even at $3.99, the 30 story page count will make the book appealling in that respect at least.
Chance you were going to buy this before: 12%
Chance you'll buy the second part now you've read this: 78%
Chance Marvel are going to double check this happening again: 70%
Chance retailers are going to kick off: 100%
Enjoyed this article? Share it!