Orbital In Conversation With Nick Roche And Scott McCloud
By Chris Thompson

[audio:http://popculturehound.net/podcast/OiCPodcastEpisode122.mp3]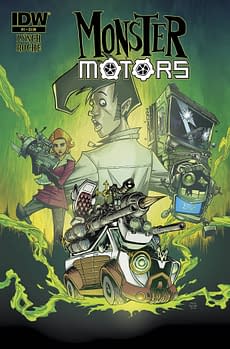 After last week's chat with Descender's Dustin Nguyen, followed by Beast Wagon's Owen Johnson & John Pearson (which you can still listen to here), this time I'm back with Nick Roche (Transformers, Monster Motors, New Warriors) to launch the Irish Invasion exhibition in the Orbital Gallery.
Nick & I discuss the burgeoning creative scene in Ireland right now, how he first started out in comics, the perils of being 'typecast' as a certain kind of creator, and where he sees himself going next.
Then, as an extra bonus, I present my Q&A with Scott McCloud from his signing of The Sculptor earlier this month. We delve into his approach, what the book means to him, and how it feels to be putting out new sequential work for the first time in many years.
And never fear, you can still enjoy the Pop Culture Hound back-catalogue right here, as we continue to put out the same quality interviews and discussion with Orbital in Conversation going forward. It's only gonna get better, folks!
To get in touch, send feedback or submit projects for consideration, please email chris@orbitalcomics.com. And if you missed last week's episode (or any others) you can find them right here or subscribe via iTunes. You can also support the Orbital in Conversation podcast by clicking here to make a donation. Your contributions are greatly appreciated and will help us maintain the site, get new equipment, and encourage us to keep going on those cold lonely nights.
Chris Thompson's Twitter: @popculturehound
Chris Thompson's website: popculturehound.com
Orbital Comics' Twitter: @orbitalcomics
Orbital Comics' website: www.orbitalcomics.com
Nick Roche's Twitter: @Nick Roche
Nick Roche's website: nickroche.blogspot.com
Scott McCloud's Twitter: @scottmccloud
Scott McCloud's website: scottmccloud.com
And you can listen to my previous Q&A with Scott McCloud at the Lakes Comic Art Festival right here:
popculturehound.net/episode-106-the-magic-of-comics-with-scott-mccloud