By Julz Hendricks
I admit that I haven't yet read The Walking Dead, although the first Compendium stares at my from my bookshelf. It's just very intimidating since I am very far behind. You can imagine my joy when I heard Robert Kirkman was doing a new comic. I absolutely had to jump on board, because I wasn't making that same mistake twice! Outcast is perfect in so many ways. It is dark in places it needed to be and heartbreaking in other places. It was the combination of both that made the comic so pleasing to me. [*Spoilers for Outcast #1 below!]
Kyle is the main character, and we get little bits and pieces of how demonic possessions have come into his life and ruined it in many ways. We see that both his mom, and his wife were possessed, leading him to the empty life he know has. The flash backs are done so brilliantly that you are reading the past and present simultaneously, so you have to pay attention to the panels carefully. Kyle gets dragged back against his better judgment into the demonic world when, Joshua, a young boy is possessed. After much struggle, Kyle, is able to expel the possession with his own blood. It's not all happy endings though, and Kyle wants to find out why all this is happening.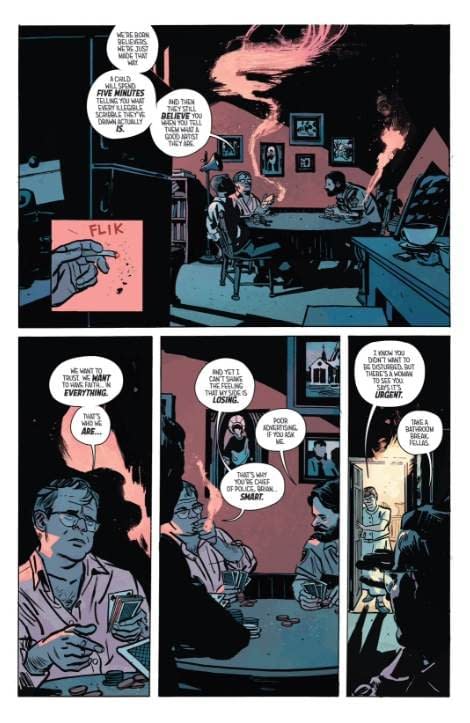 Kirkman really set the tone early on, making us sympathize with Kyle as well as all the characters. I really like that he is careful to hit all of the proper feelings evoked when reading an excellent comic. You can tell that he puts his whole heart into writing this and it is what really made me root for this comic. Outcast has already sold out at the distributor level and is on it's second printing, even out selling The Walking Dead. This just shows what a loyal fan base Kirkman has and I am solid proof that it is still building up. Although I am not as familiar on his writing, this issue really made me a Kirkman follower.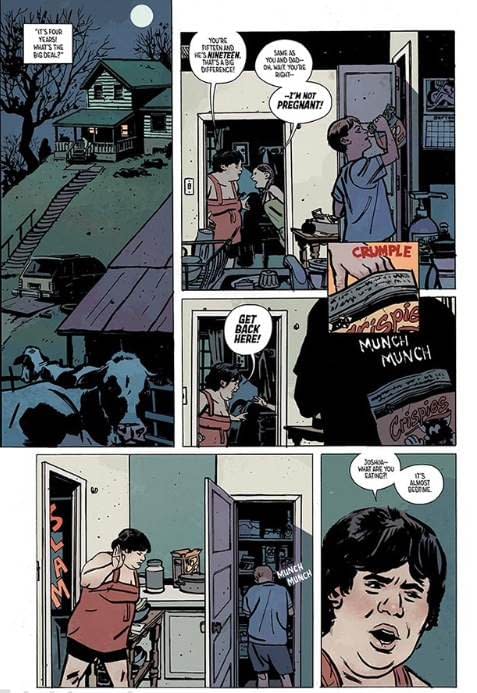 Paul Azaceta is such an incredible artist. He puts a tremendous amount of detail into the characters and I have a hard time imagining anyone else doing the art for this comic. His faces speak volumes which is extremely important to this comic. Elizabeth Breitweiser's colors have a dark noir feel in places and the oranges and brown hues add nice color to the panels. I am extremely happy with the overall look of this comic and can't wait to see what they have in store for us. Together, these two will take this comic to places we all want to go.
Outcast, take me away!
Julz Hendricks is a co-host of podcasts Panel 2 Panel, as well as the all female podcast Chickcast, She is a huge advocate of kids' comics but reads a lot of different titles. You can find her on Twitter as @JulzHendricks.
Enjoyed this article? Share it!