This is a comic that doesn't need much sell, but written and drawn by Art Baltazar and Franco, this lush beauty of a book brings you the whole Itty Bitty ethos in a whole new series Grimmiss Island, now on its third issue releasing May 13th. This gorgeous little series features a strange avatar demon, with a skull head, adorable of course, who gets up to trickster behavior and zaniness, but is also kind of a sweetie. He's at the behest of magical control by the shaman of Grimmiss Island, which is a kind of hybrid of a South Sea Island and a South American locale, perhaps. There's not a panel that isn't vibrating with activity and mad interweaving events. Dark Horse describe this issue thus:
Grimmiss's old pals the Grimm Reaper and B. L. Bubba Crisp are coming to visit the island! The boys are excited to see what Grimmiss has been up to, but time may be running out for the little skull head!
And here's our preview of Issue #3 courtesy of Dark Horse: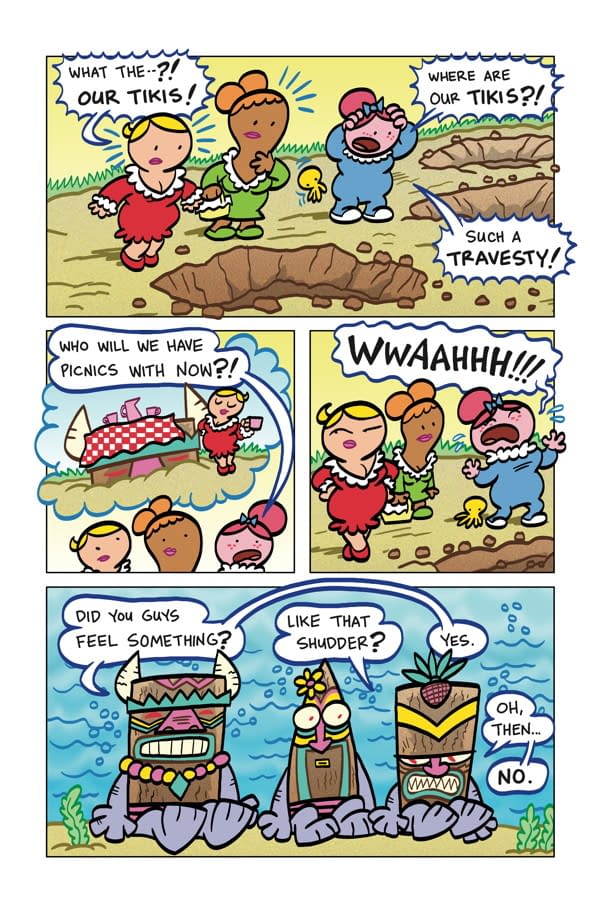 Itty Bitty Comics: Grimmiss Island #3 arrives in shops on May 13th, and is currently listed in Previews World with item code: MAR150036
Enjoyed this article? Share it!